5th Medium to Long-Term Plan
Environment
Development of agricultural technologies for climate change, resource recycling and environmental conservation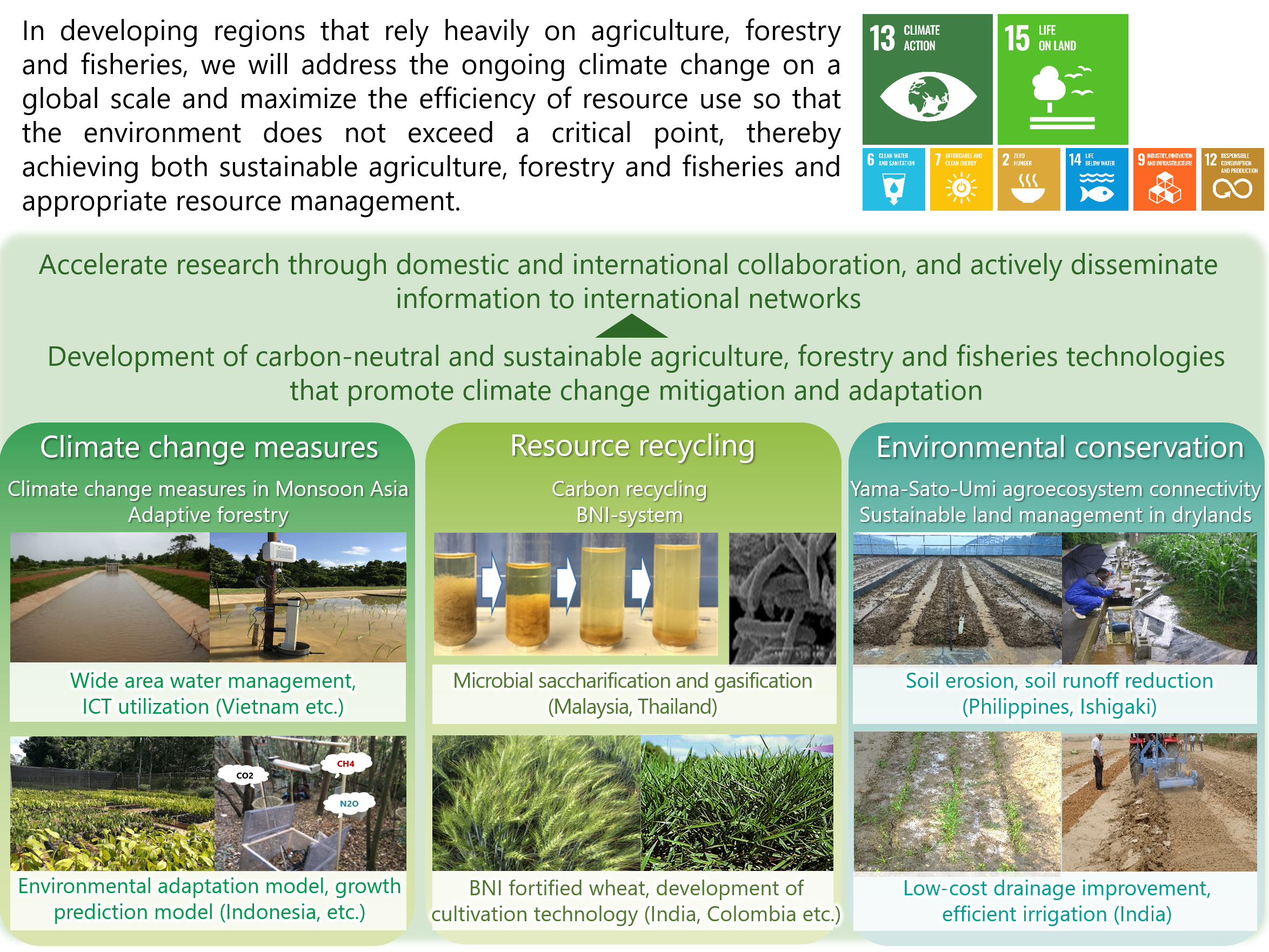 Related JIRCAS Report

The Deputy Director-General of the Food and Agriculture Organization of the United Nations (FAO), Ms. Beth Bekdol, paid a visit to JIRCAS on Tuesday, November 14, 2023.

Dr. IWASAKI Shin-ya, Researcher in the Rural Development Division, received the Best Oral Presentation Award for Young Scientist at the annual meeting of the Japanese Society of Soil Science and Plant Nutrition (JSSSPN) held at Ehime University.
Events


Field
Pick Up

The 900th Pick Up focuses on tropical forests, which is also the theme of the 2023 JIRCAS International Symposium, to be held tomorrow, November 17. In addition to supporting biodiversity, ecosystem services, social and cultural identity and livelihoods, tropical forests play a critical role in climate change adaptation and mitigation through regional and global climate regulation. To build strong tropical forests, the key drivers of deforestation and forest degradation must be addressed in conjunction with adaptation measures.

Pick Up

In commemoration of the International Year of Minor Millets 2023, the Japan International Research Center for Agricultural Sciences (JIRCAS) organized a seminar titled "Millets: Unlocking Potentials for Addressing Nutritional, Agricultural, and Climate Challenges" on September 26, 2023. The event provided a platform for domestic and international researchers to discuss the latest advances in millet research and their potential applications.

Pick Up

The tropical rainforests of Southeast Asia are highly biodiverse and are home to some of the world's most diverse plant and animal species. In the future, Southeast Asia's tropical rainforests are expected to experience increased drought due to climate change, and the ability of trees to tolerate drought will become increasingly important for their survival. We have now investigated how the drought tolerance of trees will change through hybridization.

Pick Up

The JIRCAS International Symposium 2023, to be held on November 17, 2023, will bring together researchers, companies, and policy makers working in the field of global and Asian tropical forests to discuss opportunities and challenges that can combine tropical forest resilience and industrial sustainability.

Pick Up

Research on greenhouse gas (GHG) emissions from paddy fields and its mitigation started in the 1980s, and a great deal of knowledge has been accumulated so far. Although meta-analyses have achieved success to synthesize fragmentary knowledge, it has been two decades since GHG emissions from paddy fields were comprehensively reviewed. Therefore, JIRCAS together with international research experts, especially those from Nanjing Agricultural University, China, revisited the the mitigation of GHG emissions from paddy fields and published a comprehensive review paper from Nature Reviews Earth & Environment.