5th Medium to Long-Term Plan
Environment
Development of agricultural technologies for climate change, resource recycling and environmental conservation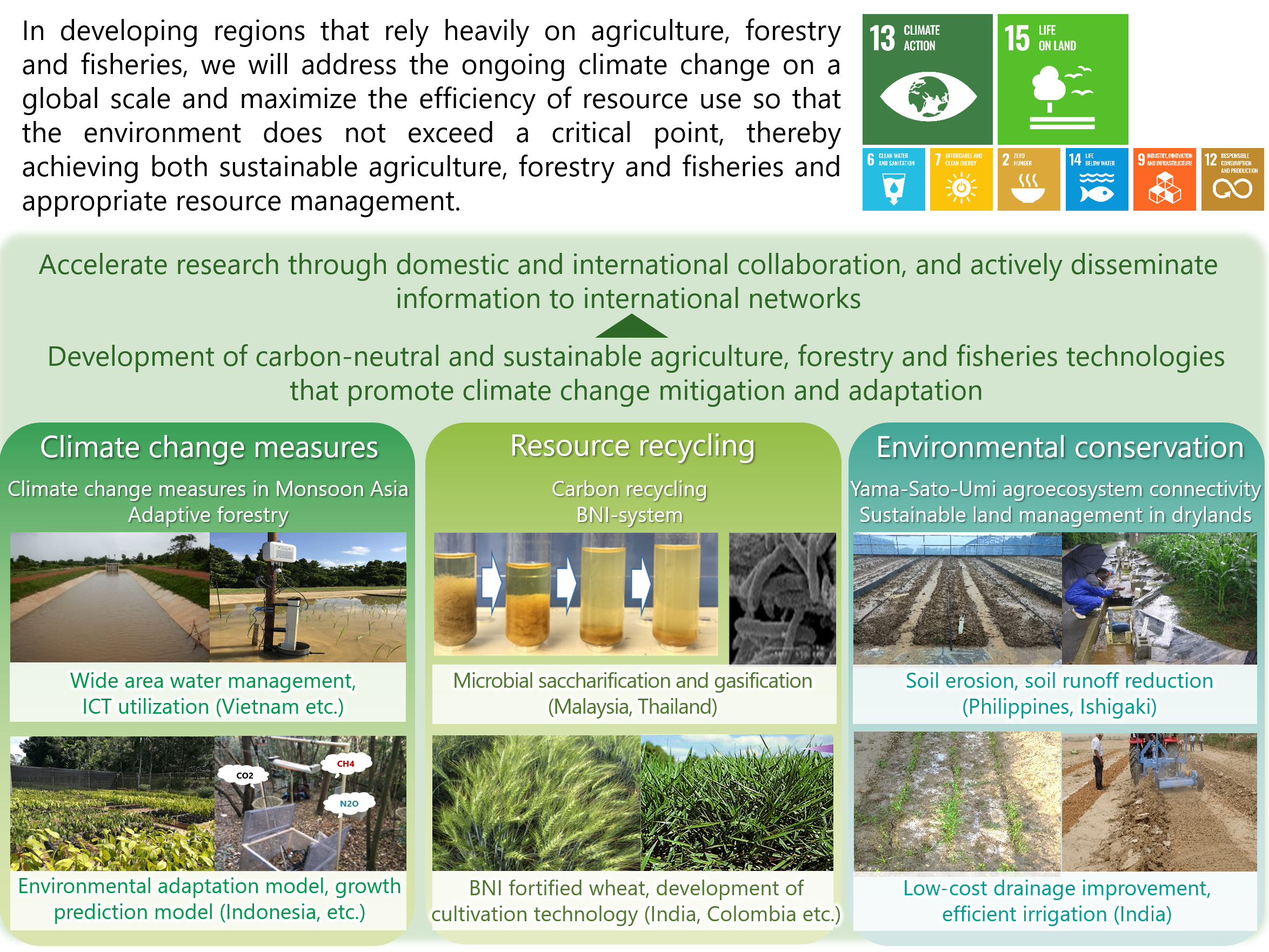 Related JIRCAS Report

A group of 17 third-year students and two faculty members from Tokyo University of Agriculture visited the Tropical Agriculture Research Front (TARF) on November 22, 2022.

The archived video of "TED Talks" by Senior Researcher Guntur V. Subbarao at the TED2022: A NEW ERA held in Vancouver, Canada from April 10 to 14, 2022 is now available for viewing.
Field
Pick Up

On November 12 (Sat), JIRCAS researchers will participate in the COP27 side-event hosted by the Ministry of Agriculture, Forestry and Fisheries (MAFF) to introduce the results of technology development projects in Japan that will contribute to addressing climate change.

Pick Up

JIRCAS will hold a seminar titled "Where is the Forefront of Agricultural Research to Promote Resource Recycling in Ishigaki Island?" on Wednesday, October 26, 2022, jointly hosted by Ishigaki City. In this seminar, we will focus on resource-recycling agriculture and will introduce research content for maintaining and improving the productivity of sugarcane and other major crops in Ishigaki Island, while simultaneously reducing the environmental impact. This will be a hybrid seminar, with both on-site and online sessions. To join the online seminar for persons interested, please fill out the form on the registration page (in Japanese only) at the JIRCAS website (https://www.jircas.go.jp/ja/event/2022/e20221026).

Pick Up

Tomorrow, October 15, is "Mushroom Day" in Japan. A research project of JIRCAS aims to conserve forests in the Philippines and other tropical islands by increasing their value through the combined cultivation of non-wood forest products such as mushrooms, fruit trees, and valuable tree species in mountain areas where forests have been cut down and soil erosion has occurred.

Pick Up

Changes in behavior patterns due to extreme weather can have a variety of consequences for the survival of many organisms, including insects. There is concern that climate change will affect the survival of organisms in unexpected places around the world, leading to loss of biodiversity. Today, I would like to consider climate change and biodiversity from the perspective of issues close to home in Tsukuba, where JIRCAS is located.

Pick Up

Focusing on the results of collaborative research conducted by JIRCAS in recent years, we have compiled technologies that can contribute to the development of sustainable food systems, which are expected to be utilized in the Asia-Monsoon region and Sub-Saharan Africa. We hope that the technologies presented in this showcase will serve as a reference for a wide range of stakeholders and help to transform sustainable food systems.