5th Medium to Long-Term Plan
Environment
Development of agricultural technologies for climate change, resource recycling and environmental conservation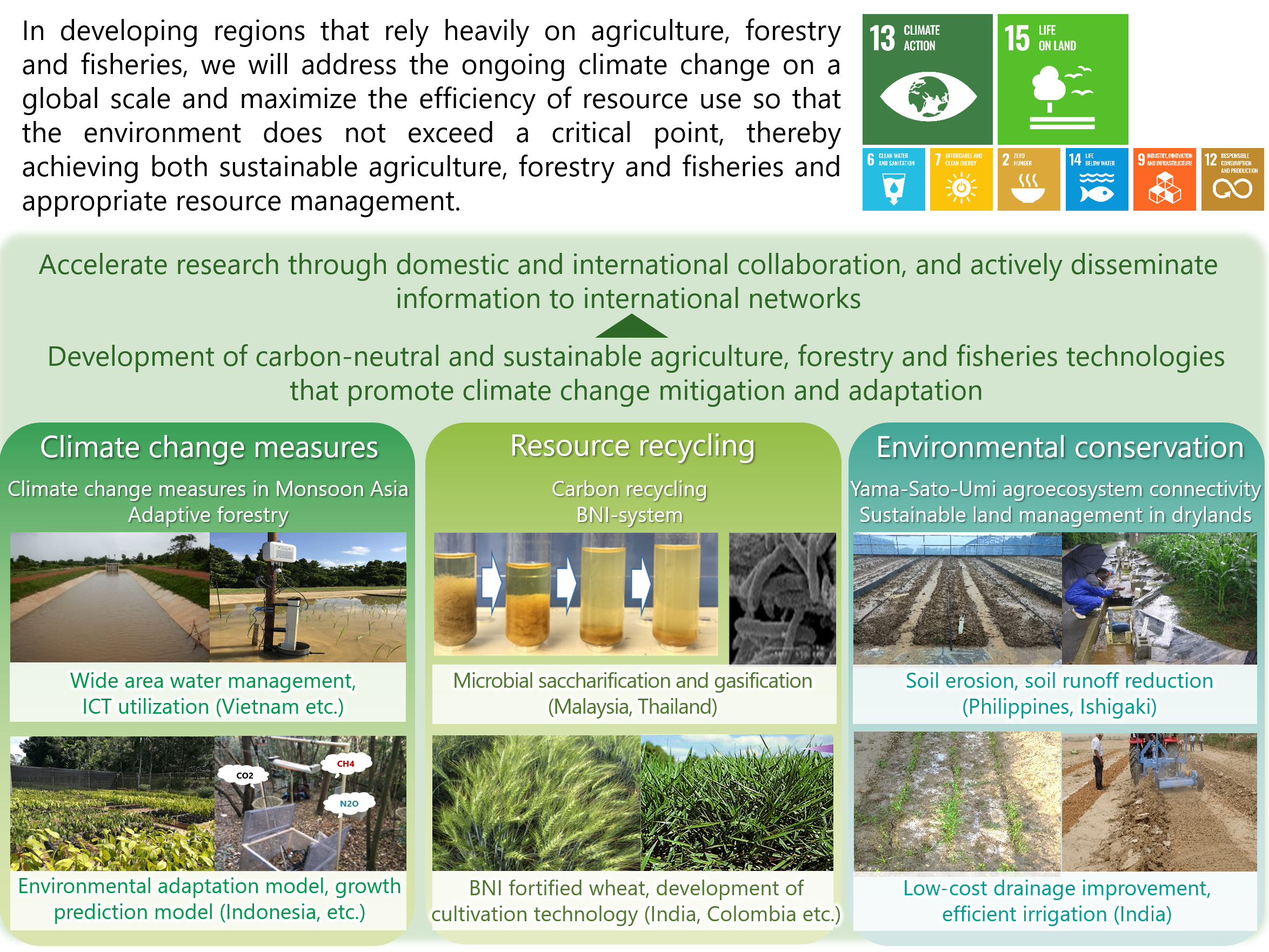 Related JIRCAS Report

The Proceedings of the National Academy of Sciences of the United States of America (PNAS) has issued the "Cozzarelli Prize" certificate for the best paper of 2021, which has now been awarded to the recipients from JIRCAS.

The Science Council of Japan is organizing a public symposium with the theme "Problems and Challenges of Sustainable Development of Oil Palm Plantations in Southeast Asia" to be held online on September 29 (Thu), 2022. Dr. KONDO Toshiaki, Senior Researcher of the Biological Resources and Post-harvest Division will give a presentation in the symposium.
Field
Pick Up

Focusing on the results of collaborative research conducted by JIRCAS in recent years, we have compiled technologies that can contribute to the development of sustainable food systems, which are expected to be utilized in the Asia-Monsoon region and Sub-Saharan Africa. We hope that the technologies presented in this showcase will serve as a reference for a wide range of stakeholders and help to transform sustainable food systems.

Pick Up

The Mekong Delta, located in southern Vietnam, is the country's largest paddy rice cropping region, with fertile lowlands and abundant rainfall. In recent years, the area planted with rice has been expanding, and measures to cope with greenhouse gas (GHG) emissions, including methane, and water demand are required. Using farmer survey data, JIRCAS evaluated the effects of year-round implementation of alternate wetting and drying (AWD) technology on farmers' profits and GHG emissions reduction, and showed that it is an agricultural system with co-benefit that both increases farmers' profits and reduces environmental impacts from agriculture.

Pick Up

June 29th is designated by the United Nations as the "International Day of the Tropics" to celebrate the extraordinary diversity and highlight the challenges of the tropics. The tropical regions account for 40% of the world's total surface area, approximately 80% of the world's biodiversity, and the majority of the world's diverse languages and cultures. The tropics have experienced significant economic development in recent years, but with the accompanying population growth and urbanization, coupled with climate change, the region faces challenges such as the degradation of the natural environment and ecosystems and a rapid decline in biodiversity. The rich natural environment and diverse biological resources of tropical regions need to be protected as common assets of the Earth.

Pick Up

The World Day to Combat Desertification and Drought is held annually on June 17th to promote public awareness of international efforts to combat desertification. Desertification is the deterioration of land in arid areas, which occupy more than one-third of the world's land area and are home to nearly 40% of the world's population, primarily due to human activity and climate change. In fact, this desertification is not the expansion of existing deserts. Desertification is the decline in land productivity due to poverty and political instability, as well as excessive cultivation and grazing, improper irrigation and deforestation.

Pick Up

A joint research group of JIRCAS and King Mongkut's University of Technology Thonburi (KMUTT) has been developing a saccharification technology to efficiently and inexpensively obtain glucose, which is necessary for the production of biofuels and biochemicals, from cellulose-based biomass, including stems, leaves, peels, and lees from harvesting and processing agricultural crops, and food residues, fiber and paper waste from everyday life. The newly developed "microbial saccharification" is a revolutionary technology that converts cellulose to glucose using only microbial culture, without the need for any enzyme addition, and is expected to be applied to materials such as waste cotton fiber that have not been recycled before, since it is expected to reduce costs.