5th Medium to Long-Term Plan
Environment
Development of agricultural technologies for climate change, resource recycling and environmental conservation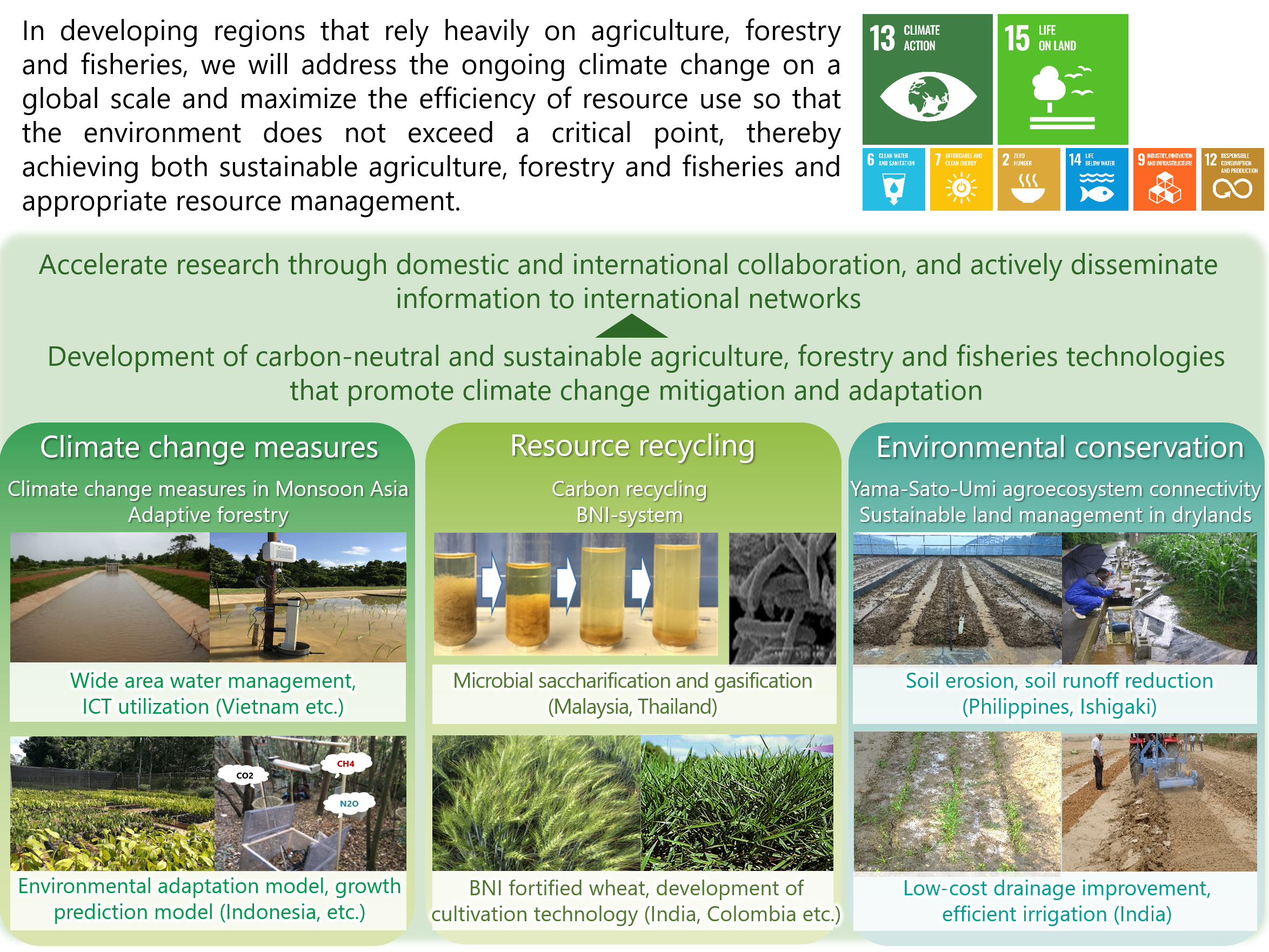 Related JIRCAS Report

The JIRCAS research proposal has been provisionally* selected as a new research project in the field of environment and energy for the FY2023 Science and Technology Research Partnership for Sustainable Development (SATREPS) program, which is jointly implemented by the Japan Science and Technology Agency (JST) and the Japan International Cooperation Agency (JICA).

On April 7, 2023, three staff members of the technical support officer of the JIRCAS Tropical Agriculture Research Front Technical Support Office, namely, SHIKINA Yasuteru, MAETSU Masahide, and HATERUMA Yuto, received the Award for Creativity for their achievement entitled "Invention of a low-cost observation system for solute dynamics in soil". The award is given to those who have contributed to the advancement of technology in their fields through outstanding originality and ingenuity.
Field
Pick Up

March 22 is World Water Day. World Water Day was established with the aim of accelerating change to solve the water and sanitation crisis. The Synthesis Report of the IPCC Sixth Assessment Report (AR6), released on March 20, also points out that with climate change, water-related challenges will increase, potentially threatening food nutrition and water security. Water affects everyone, so action is needed by all.

Pick Up

Tomorrow, March 21st, is the International Day of Forests. The theme for 2023 is "Forests and health". Forests are not only important sources of food and nutrition, but also play a major role in the fight against climate change. However, forests are threatened by destruction and degradation caused by human economic activities and need support for conservation and protection. A team from JIRCAS is implementing the SATREPS project "Strengthening Tropical Forest Resilience Based on Management and Utilization of Genetic Resources Capable of Climate Change Adaptation" in Indonesia for sustainable use and conservation of tropical forest resources.

Pick Up

What kind of forest comes to mind when you hear the word "tropical rainforest"? Tropical rainforests are a treasure trove of living organisms that have not only provided mankind with a variety of benefits, but also help mitigate global warming by storing carbon dioxide. Today's article introduces research to understand and protect the power of tropical rainforests from the perspective of a young JIRCAS researcher, who is active in the field of tropical rainforest.

Pick Up

On November 12 (Sat), JIRCAS researchers will participate in the COP27 side-event hosted by the Ministry of Agriculture, Forestry and Fisheries (MAFF) to introduce the results of technology development projects in Japan that will contribute to addressing climate change.

Pick Up

JIRCAS will hold a seminar titled "Where is the Forefront of Agricultural Research to Promote Resource Recycling in Ishigaki Island?" on Wednesday, October 26, 2022, jointly hosted by Ishigaki City. In this seminar, we will focus on resource-recycling agriculture and will introduce research content for maintaining and improving the productivity of sugarcane and other major crops in Ishigaki Island, while simultaneously reducing the environmental impact. This will be a hybrid seminar, with both on-site and online sessions. To join the online seminar for persons interested, please fill out the form on the registration page (in Japanese only) at the JIRCAS website (https://www.jircas.go.jp/ja/event/2022/e20221026).