Rural Livelihood Improvement
Technology development for income and livelihood improvement of the rural population in developing regions
We launched this new "Rural Livelihood Improvement Program" to achieve "Technology development for income and livelihood improvement of the rural population in developing regions", which is one of JIRCAS' Third Medium-Term targets.
It aims to improve income in rural areas, and promote the practical uses of local resources, missions that JIRCAS will tackle. We are also planning technological innovations for application to these areas. It's likewise important to improve agricultural productivity and increase value-addition to agricultural products in order to generate more income. On practical uses for local resources, we are aiming for recycling-oriented societies based on sustainable productivity and diversity of both the environment and culture. The program consists of six projects geared to achieve these targets (Table 1, List of Rural Livelihood Improvement Research Project themes). The core research project of the program is the "Establishment of Sustainable and Independent Farm Household Economy in the Rural Areas of Indochina", and the outlines of the other five projects are likewise indicated hereafter.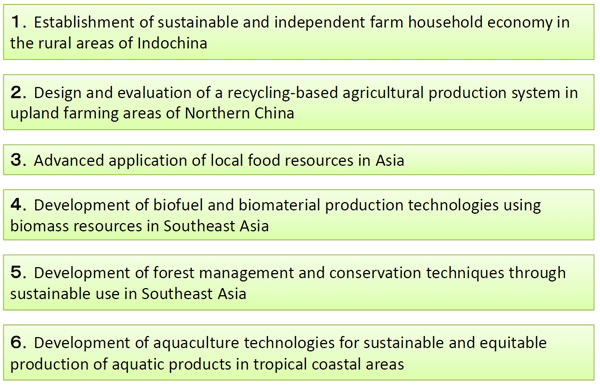 Related JIRCAS Report

A certificate of appreciation and a commemorative gift from the Lao PDR Forest Science Research Center (FSRC) Director, Dr. Vongvilay Vongkhamsao were presented to Dr. Kenichiro Kimura, Senior Researcher of the Rural Development Division, at the National Agriculture and Forestry Research Institute (NAFRI) meeting room on March 4, 2016.

JIRCAS carried out a joint research project with the Thai Royal Forest Department (RFD), and the results were summarized in JIRCAS's "Research Highlights 2012" report titled "Soil suitability map for teak plantation in the Northeast of Thailand." One of the outputs of this JIRCAS-RFD project was the publication of a map for Udon Thani and Nong Bua Lam Phu Provinces (Figure 1a) in Northeast Thailand, the project's study area.