4th Medium to Long-Term Plan
Value-adding Technologies
Development of high value-adding technologies and utilization of local resources in developing regions
This program aims to support rural development by practicing sustainable agriculture, forestry and fisheries in harmony with the environment in the Asian region where development needs have increased as economies have grown. Toward this end, the various uses of regional resources will be identified and technologies that create high value-added products will be developed. The achievements of the program will contribute to the Japanese government's "Global Food Value Chain Strategy" as well as increase the incomes of farmers in developing regions. To meet the objectives of the program, the following research studies will be implemented:
To ensure high quality products and stable food value chains, food processing and evaluation methods will be developed. In addition, a customer needs analysis will be performed and ways to improve the distribution system will be proposed to further increase the added value of the products.
In order to establish a highly sustainable agriculture, forestry and fisheries that integrate resource recycling, advanced biomass conversion technologies utilizing agricultural wastes and unused biomass will be developed to produce biofuels and biomaterials. Furthermore, technology management solutions, utilizing various regional resources for producing high value-added products in hilly and mountainous rural areas, will be developed. In harmony with the ecosystem, forest resource conservation will be practiced and forest productivity will be improved to provide high value-added timber products. Moreover, efficient farming technologies in aquaculture will be developed to achieve sustainable use of fisheries resources.
Efforts will be taken to actively promote and use the resources available through the international research network, thus accelerating systematization, technology transfer, and cooperation between Japan and local private companies. In addition, technology exhibits will be held, technical manuals will be published and disseminated to farmers, and information will be made accessible to facilitate technology transfer activities to people engaged in processing and to the distribution sectors in the region.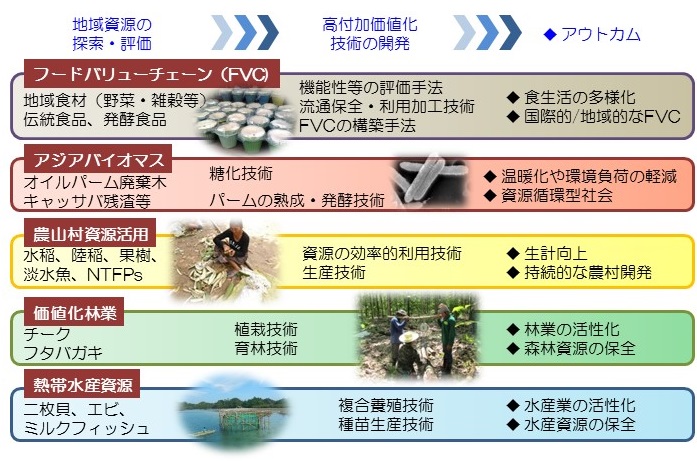 Related JIRCAS Report

The research activities and achievements of the JIRCAS Asia Biomass Project were exhibited at the Agro Innovation 2020 (Organizer: Japan Management Association) held at the Tokyo Big Sight Aomi Exhibition Hall from November 11th (Wed) to 13th (Fri), 2020. The event was a specialized exhibition for cutting-edge technologies and products related to the entire value chain of the Japanese agricultural industry. Countermeasures against the new coronavirus infection such as temperature measurement, wearing a mask and disinfecting were thoroughly implemented at the exhibition hall.

Among the research results obtained through experiments and research activities in each fiscal year, we select and publish those that are particularly noteworthy among results that can be used as production technology in the field etc., results of academically advanced and effective new methods, new knowledge etc. and results that are extremely effective or helpful for improving administrative measures. The major research results for dissemination in FY2019 are (1) SSR marker technology package for variety identification of white Guinea Yam, and (2) Liquefaction of Thai fermented rice noodles can be prevented by maintaining the product in acidic condition of pH around 4.