5th Medium to Long-Term Plan
Information
Strengthening function as an international hub for providing strategic information on agriculture, forestry and fisheries, and mobilizing new research partnerships
Download
Technology Showcase for the Asia-Monsoon region
Technology Showcase for Sub-Saharan Africa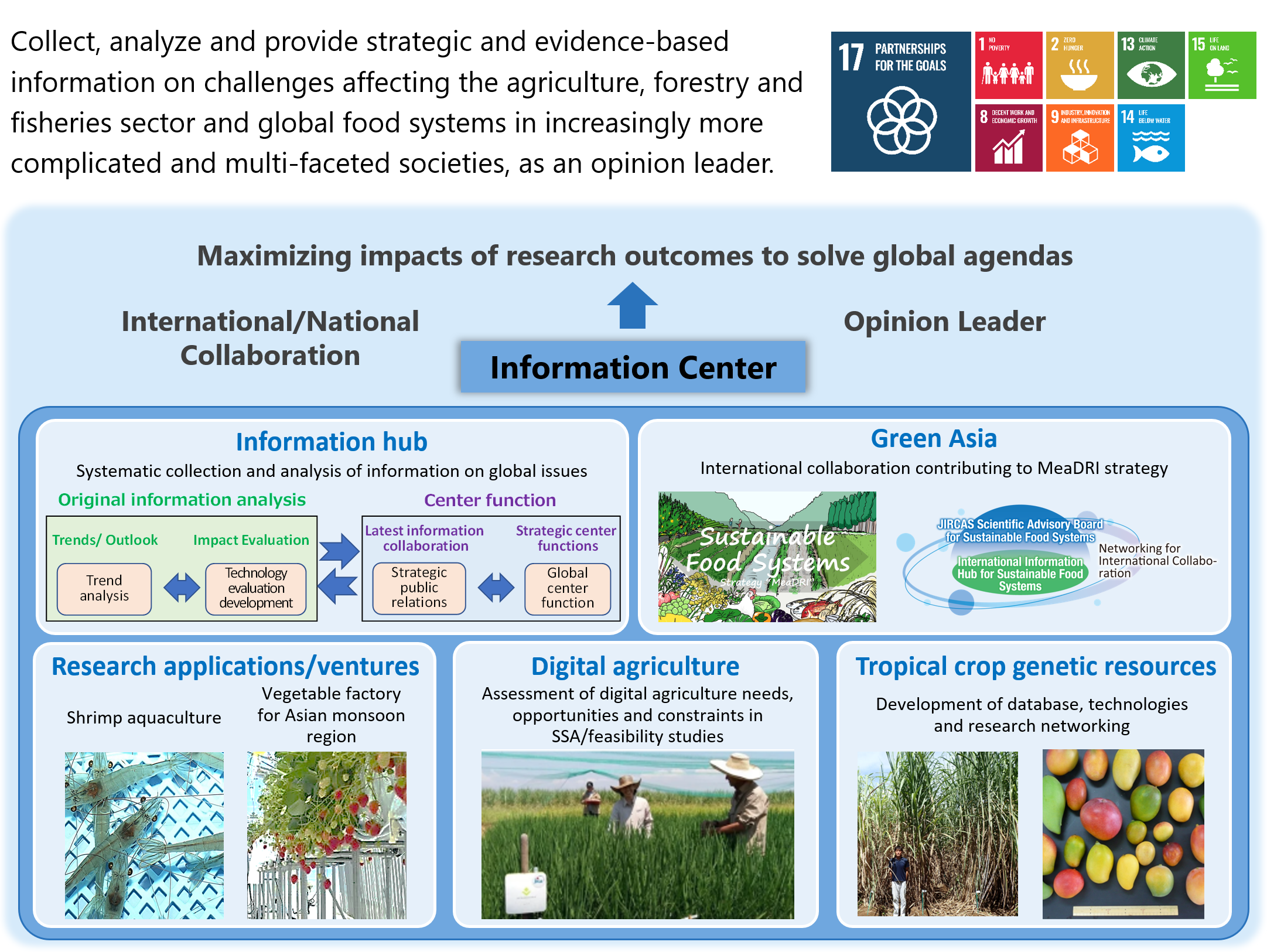 Related JIRCAS Report

Counsellor Fabian Tan of the Commercial Section of the Embassy of the Republic of Singapore in Japan, and three others visited the JIRCAS plant factory at the Tropical Agriculture Research Front (TARF) in Ishigaki City.

Dr. Marcy N. WILDER, Project Leader of the Fisheries Division, has been selected by the Association of Japanese Agricultural Scientific Societies to receive the 2023 Japan Prize of Agricultural Science / Yomiuri Prize of Agricultural Science.
Events


Field
Pick Up

March 22 is World Water Day. World Water Day was established with the aim of accelerating change to solve the water and sanitation crisis. The Synthesis Report of the IPCC Sixth Assessment Report (AR6), released on March 20, also points out that with climate change, water-related challenges will increase, potentially threatening food nutrition and water security. Water affects everyone, so action is needed by all.

Pick Up

Tomorrow, March 21st, is the International Day of Forests. The theme for 2023 is "Forests and health". Forests are not only important sources of food and nutrition, but also play a major role in the fight against climate change. However, forests are threatened by destruction and degradation caused by human economic activities and need support for conservation and protection. A team from JIRCAS is implementing the SATREPS project "Strengthening Tropical Forest Resilience Based on Management and Utilization of Genetic Resources Capable of Climate Change Adaptation" in Indonesia for sustainable use and conservation of tropical forest resources.

Pick Up

The Ministry of Agriculture, Forestry and Fisheries (MAFF) releases a monthly food security report on the supply, demand, and market prices of agricultural products based on published data from the U.S. Department of Agriculture (USDA), the Food and Agriculture Organization of the United Nations (FAO), and reports from various countries. The main contents of the February issue are as follows: (1) Harvest in the northern hemisphere ended in February. (2) Global wheat production exceeded the previous year's level due to bumper wheat crops in Australia and Russia. (3) International wheat prices returned to pre-Russian invasion levels. (4) For corn, world production was lower than the previous year due to dry conditions in the US, Europe and Argentina. (5) For soybeans, production will decrease in the US and Argentina, but increase in Brazil.

Pick Up

Since Russia's invasion of Ukraine, uncertainty surrounding the stagnation of food and fertilizer exports from the two major food exporting countries has caused food prices to soar in the first half of this year, affecting global food security. An agreement guaranteeing exports of Ukrainian grain via the Black Sea was signed last July and extended in November, but as the deadline, March 18, looms, officials are reportedly negotiating an extension with Russia.

Pick Up

Climate change is increasing the frequency and magnitude of extreme events, with a profound impact on local economies, people's livelihoods, and the natural environment. An article in Nature pointed out that flash floods are more likely to occur in arid regions because the drier the soil, the more it repels water, and people tend to live in flood plains unprepared for flash floods.