5th Medium to Long-Term Plan
Information
Strengthening function as an international hub for providing strategic information on agriculture, forestry and fisheries, and mobilizing new research partnerships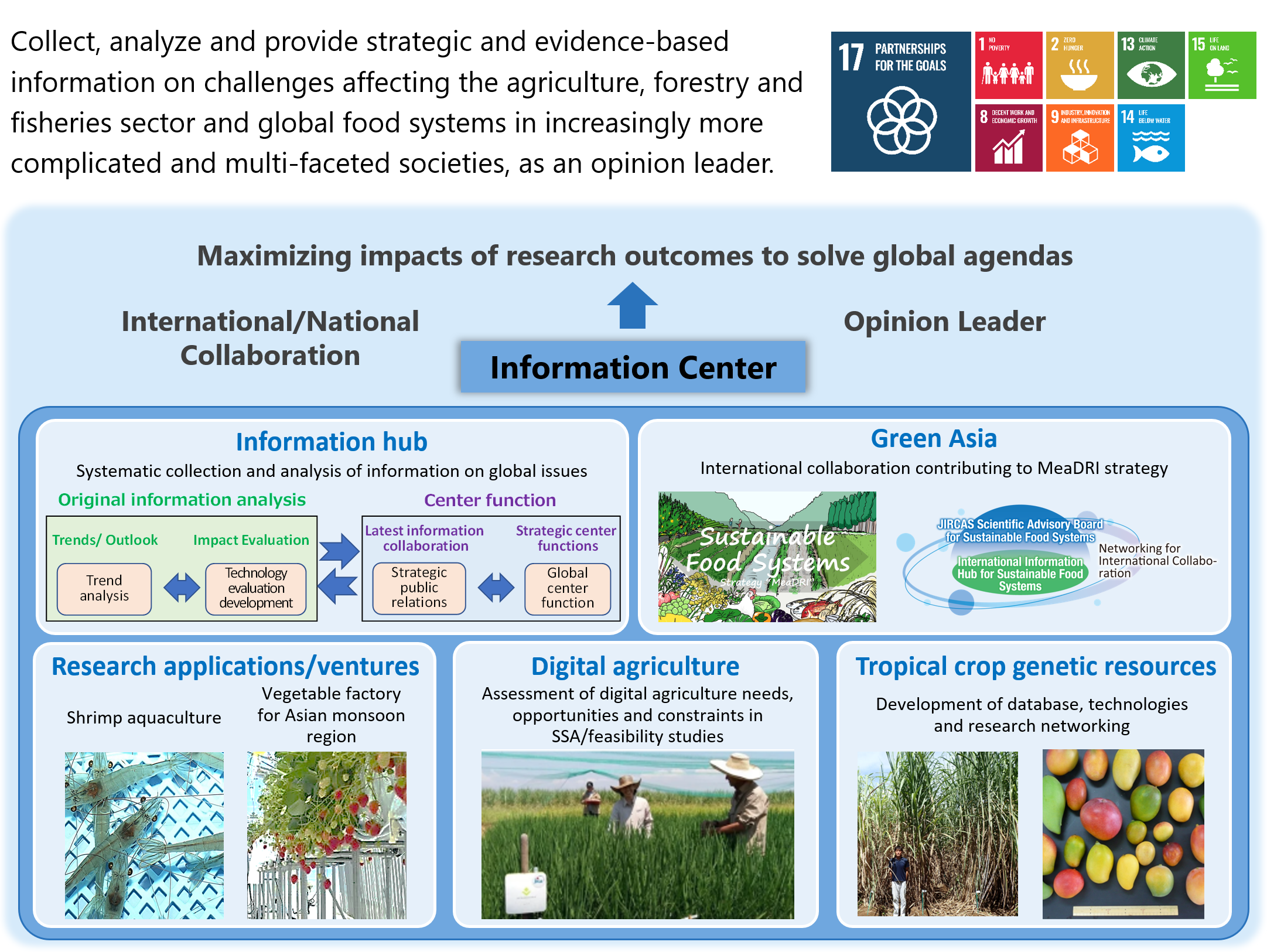 Related JIRCAS Report

On September 19, 2023, a workshop was held in Thailand to introduce liquefaction control technology for fermented rice noodles (Thai name: khanomjeen). This technology was jointly developed by JIRCAS and the Institute of Food Research and Product Development of Kasetsart University, Thailand, and is included in the technology catalog published by JIRCAS in the project "Accelerating application of agricultural technologies that enhance production potentials and ensure sustainable food systems in the Asia-Monsoon region" of the Ministry of Agriculture, Forestry and Fisheries (MAFF). Senior Researcher MARUI Junichiro participated in the workshop as a project collaborator.

The 51st TARF Public Lecture entitled "Exploring the Diversity of Tropical Fruit Trees Around the World" was successfully held at the Ishigaki City Health and Welfare Center on Tuesday, September 12, 2023. The event was attended by 52 people.
Events


Field
Pick Up

On July 20, the Indian government announced a ban on exports of non-basmati rice in an effort to contain domestic prices, raising concerns that this will lead to a spike in world prices. In addition, the impact of unfavorable weather conditions caused by the El Niño phenomenon on rice production has also become a source of uncertainty regarding rice price trends. The following is a discussion paper by researchers at the International Food Policy Research Institute (IFPRI).

Pick Up

Over the past few decades, global food security indicators have improved, driven by the economic boom in China. Africa, however, still faces the same challenges of hunger and malnutrition as it did decades ago. To accelerate change to solve the problem, the continent itself must change, as discussed in this article on the African food system published in Nature Food.

Pick Up

The JIRCAS International Symposium 2023, to be held on November 17, 2023, will bring together researchers, companies, and policy makers working in the field of global and Asian tropical forests to discuss opportunities and challenges that can combine tropical forest resilience and industrial sustainability.

Pick Up

Research on greenhouse gas (GHG) emissions from paddy fields and its mitigation started in the 1980s, and a great deal of knowledge has been accumulated so far. Although meta-analyses have achieved success to synthesize fragmentary knowledge, it has been two decades since GHG emissions from paddy fields were comprehensively reviewed. Therefore, JIRCAS together with international research experts, especially those from Nanjing Agricultural University, China, revisited the the mitigation of GHG emissions from paddy fields and published a comprehensive review paper from Nature Reviews Earth & Environment.

Pick Up

September 29, 2023 marks the 4th year of the International Day of Awareness of Food Loss and Waste designated by the United Nations. Reducing food loss is necessary for the people and the planet.