5th Medium to Long-Term Plan
Information
Strengthening function as an international hub for providing strategic information on agriculture, forestry and fisheries, and mobilizing new research partnerships
Related Research Projects
"Information hub"

Strategic information hub for international agricultural research

"Research applications/ventures"

Practical application of global research results and establishment of a model platform for promoting private-sector research collaboration and creating new business ventures

"Digital agriculture"

Towards the development of digital agriculture technologies in Sub-Saharan Africa

"Tropical crop genetic resources"

Advancement of tropical crop genetic resources utilization through the development of database, technologies and research networking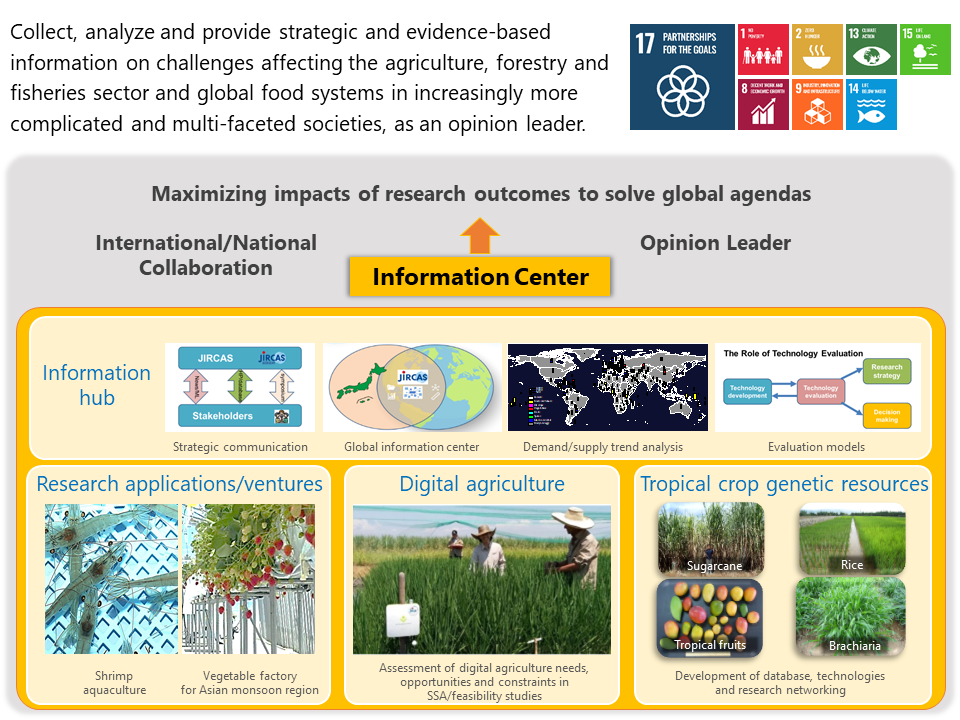 Related JIRCAS Report

The FAO Liaison Office in Japan, in cooperation with JIRCAS, hosted a webinar-style event on July 14, 2021, to commemorate the publication of the OECD-FAO Agricultural Outlook 2021-2030. More than 250 participants, not only from Japan but also from 15 other countries, including Germany and the United States, attended the webinar. The event is now available on the JIRCAS Youtube channel.

The Director of the Food and Agriculture Organization of the United Nations (FAO) Liaison Office in Japan, Ms. HIBI Eriko, and Senior Advisor MITSUGI Hiroto visited JIRCAS on April 16, 2021 and exchanged opinions on strengthening cooperation with President KOYAMA Osamu and JIRCAS Special Advisor Dr. IWANAGA Masa.
Field
Pick Up

JIRCAS has started a five-year "Food Program" in April 2021 to promote the development of technologies to improve productivity, sustainability and resilience with the aim of building a new food system. This program contributes to stable food production, international food supply and demand, and food and nutrition security in the target areas through the development of technologies that meet the needs of the diversifying food systems in developing regions.

Pick Up

The Japan International Research Center for Agricultural Sciences (JIRCAS) is working with national agricultural research institutes and other organizations in developing countries of tropical areas through cooperation, to develop technologies needed by small-scale farmers who are exposed to the effects of climate change. In addition, as part of the Green Food System Strategy, which is the culmination of Japan's science and technology innovation, a model for initiatives in the Asian monsoon region, we are promoting international joint research with countries in the region.

Pick Up

Modern agriculture is sustained by high inputs of nitrogen fertilizer. On the other hand, crops grown in the field, such as maize, cannot utilize more than 50% of the applied nitrogen fertilizer, and the unused nitrogen fertilizer flows out of the farmland. Most of this wastage is caused by nitrification by soil microorganisms. JIRCAS aims to reduce nitrogen loss from farmland by utilizing the BNI (biological nitrification inhibition) compounds produced in the roots of crops. This time, our research group searched for BNI compounds in maize roots and discovered four compounds, including one new highly active compound, zeanone. With the identification of these four compounds, JIRCAS will proceed with the construction of a new agricultural system.

Pick Up

Earth Overshoot Day marks the day in a given year when humanity's demand for ecological resources and services exceeds the Earth's ability to regenerate and supply them. This year, it falls on July 29, three months earlier than last year's August 22, due to COVID-19 pandemic deterrence policies and other factors, and has reverted to 2019 levels.

Pick Up

This September, the UN Food System Summit will be held in New York in parallel with the UN General Assembly to discuss the global food system. Prior to this, the Pre-Summit was held in Rome, Italy from July 26-28, described as a "People's summit" and brought together many people, including government officials, farmers, producers, indigenous people, youth, women, civil society and the private sector.