5th Medium to Long-Term Plan
Food
Technology development towards building a new food system with improved productivity, sustainability and resilience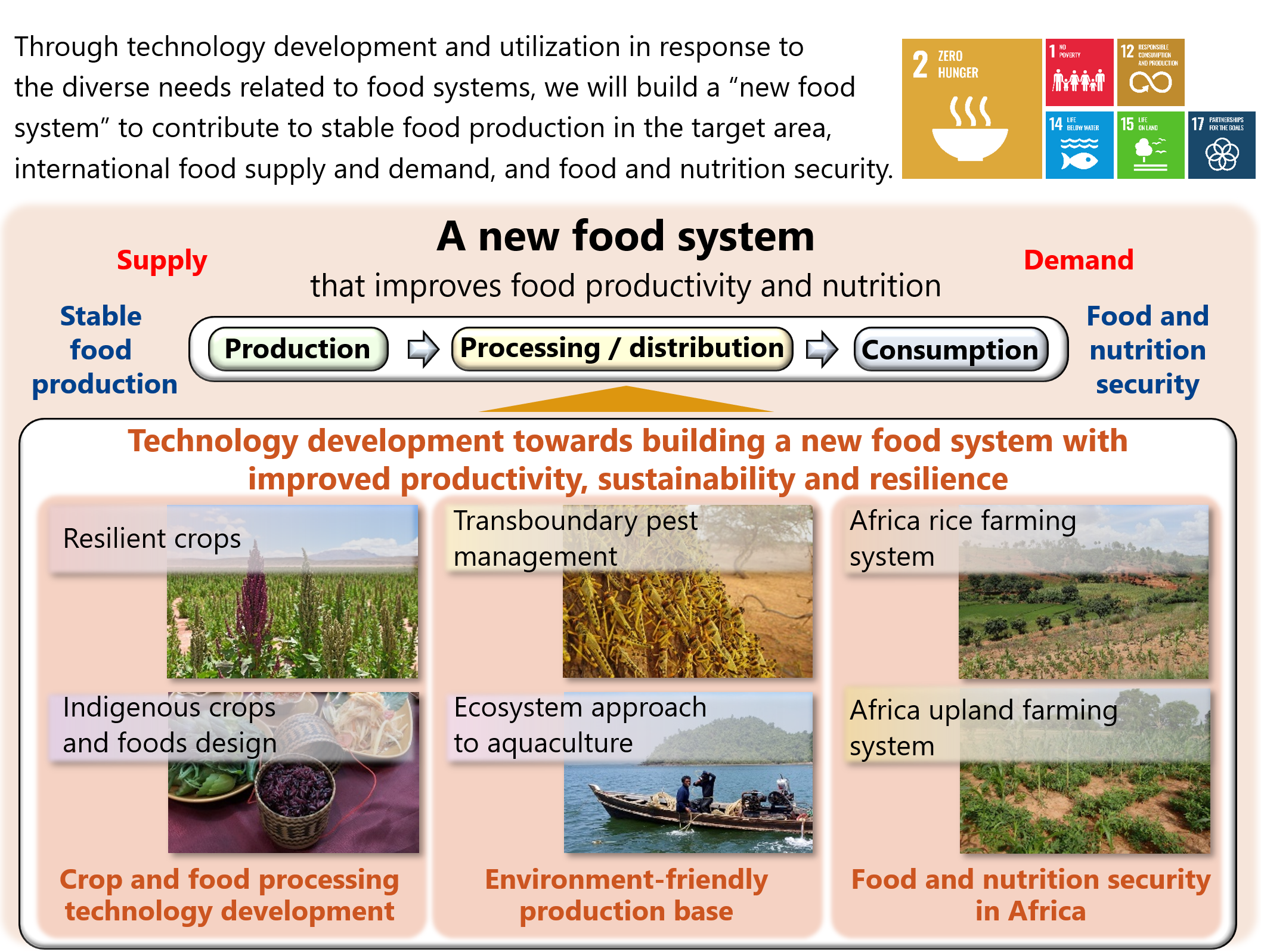 Related JIRCAS Report

Four technical manuals summarizing the results of joint research in Burkina Faso have been published, and a ceremony was held to hand them over to the relevant local institutions. The technical manuals consist of English and French versions, respectively.

Project Leader Tsujimoto made a studio appearance on Lucky FM Ibaraki's radio program "Weekly Newspo" on May 27, 2023, to communicate the importance of rice research in Madagascar and the results of the phosphorus-dipping treatment technology (P-dipping) developed by JIRCAS.
Events


Field
Pick Up

One component of food security is stability, and seasonality is a major factor affecting food security, especially for smallholder farmers in developing regions. Even if food is available immediately after harvest, it may not be available before the harvest season.

Pick Up

Iron toxicity occurs in many rice-growing regions in Asia and Africa and significantly reduces rice yields, so there is a need to improve tolerance to this stress. However, the key genes and physiological factors for tolerance have not yet been identified, and a search for key factors is needed. Based on a two-year study using genetically diverse rice lines in iron toxic fields in Madagascar, JIRCAS has shown that iron toxicity tolerant lines have different mechanisms depending on the growth stage and that iron toxicity tolerance is supported by more complex mechanisms than previously recognized. The study also demonstrated that evaluation of iron toxicity tolerance should be carried out at all stages in the field, and suggests that iron toxicity tolerance can be improved by breeding using parental lines with superior specific physiological functions.

Pick Up

Tillering is an important trait for rice productivity. JIRCAS has shown that modifying the rice gene OsTB1, which is involved in suppression of rice tillering, by genome editing can increase the number of tillers and improve rice yield under phosphorus deficiency. This finding is expected to be useful for improving rice productivity in regions such as sub-Saharan Africa, where phosphorus supply from fertilizer and soil is scarce.

Pick Up

Tocopherol is a fat-soluble antioxidant known as vitamin E. It has physiological functions in the prevention of lifestyle-related diseases such as cancer and atherosclerosis, as well as cardiovascular disease. Among the tocopherols, α-tocopherol has the highest vitamin E activity. However, the α-tocopherol content in soy is low, which limits the exploitation of the functional properties of soy. JIRCAS was able to identify the DNA regions and candidate genes that regulate the tocopherol biosynthetic pathway in soy. Modification of the tocopherol biosynthetic pathway may lead to the development of soybean with higher α-tocopherol content.

Pick Up

May 12 is International Day of Plant Health (IDPH). The purpose of International Day of Plant Health (IDPH) is to raise global awareness of the importance of preventing the spread of plant pests and diseases. JIRCAS also promotes international collaborative research to control plant pests, which are a global problem.