5th Medium to Long-Term Plan
Food
Technology development towards building a new food system with improved productivity, sustainability and resilience
Related Research Projects
"Resilient crops"

Development of resilient crops and production technologies

"Indigenous crops and foods design"

Design of crop breeding and food processing of indigenous resources to create new and diversified demands

"Transboundary pest management"

Development of environment-friendly management system against transboundary plant pests based on ecological characteristics

"Ecosystem approach to aquaculture"

Development and dissemination of sustainable aquaculture technologies in the tropical area based on the eco-system approach

"Africa rice farming system"

Development of sustainable rice cultivation and food production system in Africa

"Africa upland farming system"

Technology development towards supporting farmers' decision-making to boost sustainable upland farming system in Africa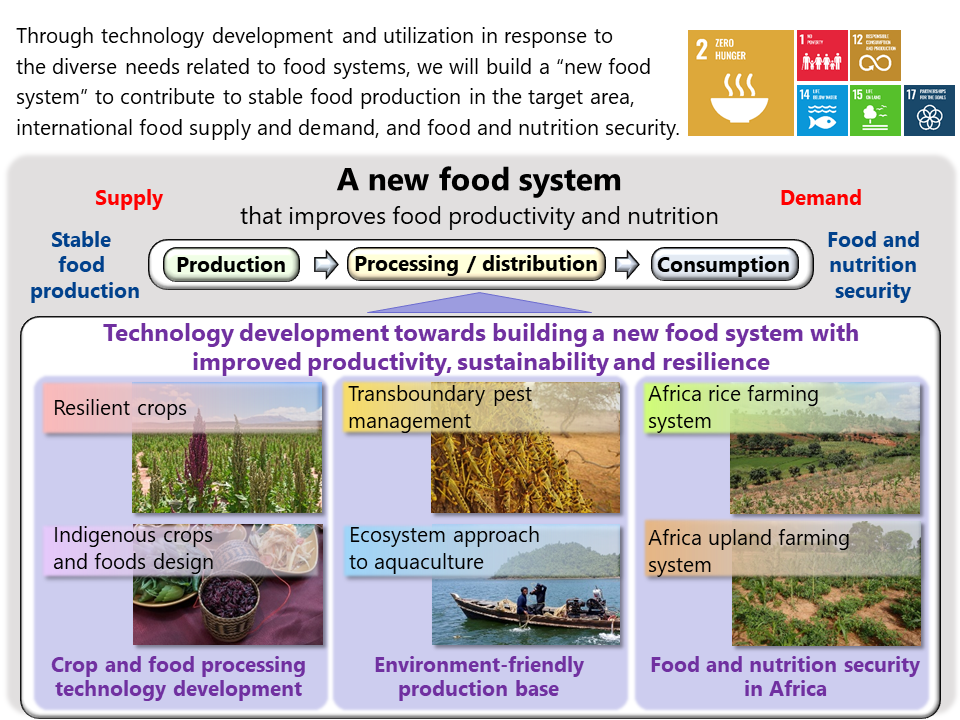 Related JIRCAS Report

The proceedings of the JIRCAS-FFTC International Rice Blast Workshop held on September 18, 2020 have been published and now available for downloaded from the FFTC website.

Dr. TSUJIMOTO Yasuhiro, Project Leader and Senior Researcher of the Crop, Livestock and Environment Division, received the 18th Japanese Society of Crop Science Best Paper Award for the paper titled "Challenges and opportunities for improving N use efficiency for rice production in sub-Saharan Africa".
Field
Pick Up

JIRCAS has started a five-year "Food Program" in April 2021 to promote the development of technologies to improve productivity, sustainability and resilience with the aim of building a new food system. This program contributes to stable food production, international food supply and demand, and food and nutrition security in the target areas through the development of technologies that meet the needs of the diversifying food systems in developing regions.