5th Medium to Long-Term Plan
Food
Technology development towards building a new food system with improved productivity, sustainability and resilience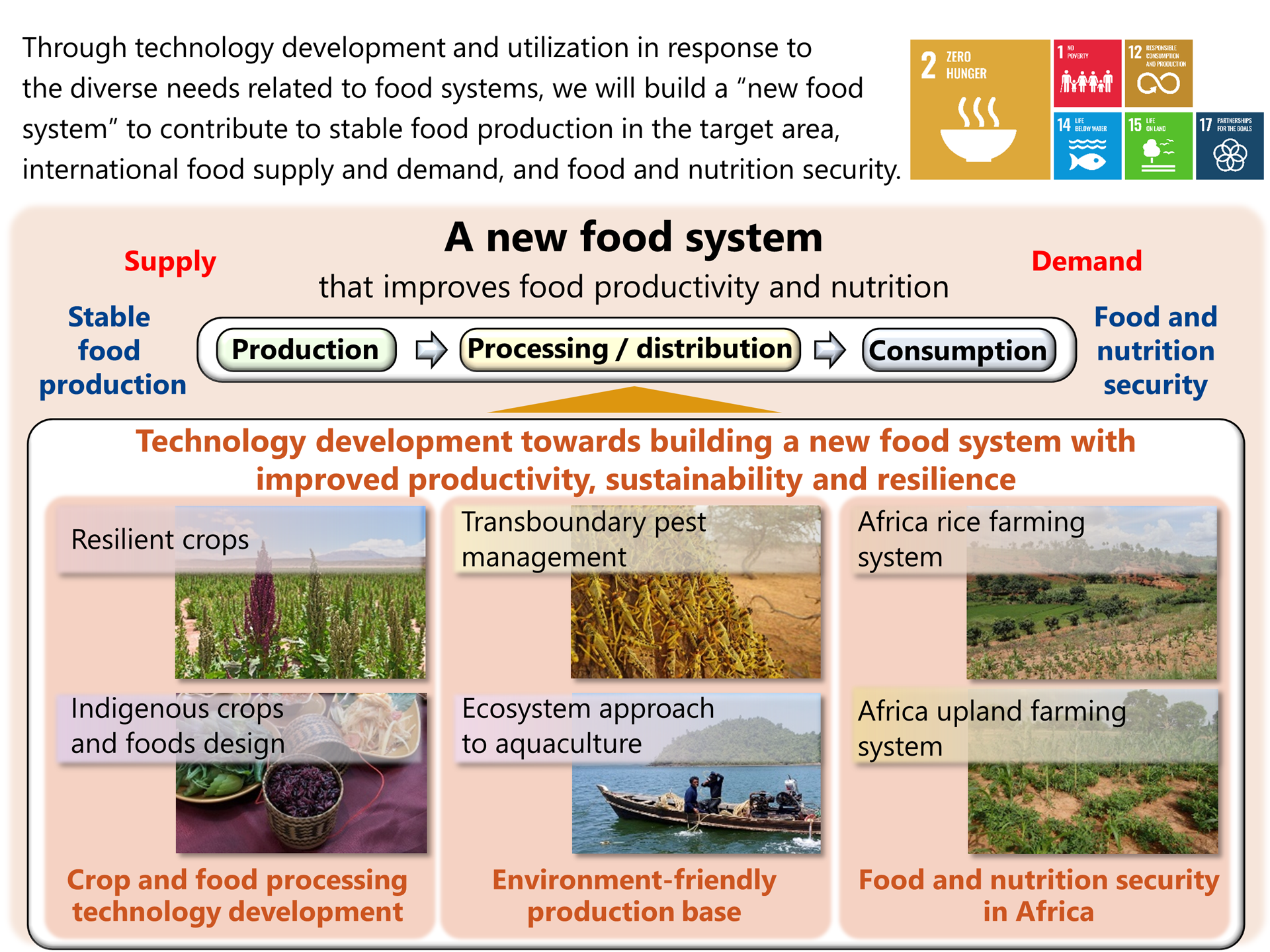 Related JIRCAS Report

JIRCAS participated in the international cooperation event "Global Festa Japan 2023" and introduced its research activities and international cooperation in Bolivia, South America, on quinoa, a highly nutritious crop that grows in harsh environments.

On September 19, 2023, a workshop was held in Thailand to introduce liquefaction control technology for fermented rice noodles (Thai name: khanomjeen). This technology was jointly developed by JIRCAS and the Institute of Food Research and Product Development of Kasetsart University, Thailand, and is included in the technology catalog published by JIRCAS in the project "Accelerating application of agricultural technologies that enhance production potentials and ensure sustainable food systems in the Asia-Monsoon region" of the Ministry of Agriculture, Forestry and Fisheries (MAFF). Senior Researcher MARUI Junichiro participated in the workshop as a project collaborator.
Events


Field
Pick Up

From September 30 (Saturday) to October 1 (Sunday), JIRCAS will participate in the "Global Festa Japan 2023" event and present its research activities and international cooperation related to "quinoa".

Pick Up

Phosphorus, one of the three main plant nutrients, is closely linked to plant growth and yield. It is therefore essential to provide plants with sufficient phosphorus. However, many agricultural areas around the world are deficient in phosphorus, and in developing regions such as Africa, economic constraints make it difficult to purchase enough fertilizer. As a result, crops often suffer from chronic phosphorus deficiency. Through genetic analysis of two rice varieties with contrasting root shapes, JIRCAS has discovered genetic loci that control lateral root development and the number of crown roots in rice, and has shown that these genes play a role in increasing phosphorus uptake by plants in phosphorus-deficient fields. The results of this research are expected to lead to improved rice yields in developing regions where phosphorus deficiency is widespread, and to reduced fertilizer application as a result of improved phosphorus use efficiency in rice.

Pick Up

The desert locust is an important pest that causes serious agricultural damage in Africa and Asia. Because there are many unknowns about its ecology in the field, inefficient and environmentally damaging pest control measures have to be used after an outbreak of desert locusts has occurred and the problem has become apparent. To address this problem, JIRCAS has been developing efficient pest control techniques based on desert locust ecology to reduce the damage to agriculture. In this issue, we present the results of research on the collective behavior of desert locust nymphs, in particular the avoidance of cannibalism during molting, which is essential for the establishment of pest control methods that lead to a reduction in the use of pesticides.

Pick Up

On the occasion of the International Year of Millets 2023, JIRCAS is pleased to announce an upcoming seminar dedicated to millets. This event is scheduled for September 26 and will be conducted in a hybrid format, allowing participants to join either in person at a venue in Tokyo or virtually online. The seminar aims to create a platform for both international and Japanese researchers specializing in millets to engage in discussions regarding the pivotal role of millets research in addressing pressing global concerns, notably climate change and nutritional challenges. Through this gathering, we aspire to enhance awareness of the remarkable climate resilience and nutritional advantages that millets offer. We would like invite everyone to join us at this seminar.

Pick Up

JIRCAS conducted research on the preparation of silage using mulberry branches and leaves, which are also used as fodder trees worldwide, and showed that the silage fermentation quality and synergistic effects were improved by adding lactic acid bacteria inoculant and cellulase. Using the latest DNA sequencing technology, the dynamic variation of the bacterial flora in silage fermentation and the correlations among bacterial species were also clarified. Lactic acid bacteria and cellulase promoted the succession of dominant bacteria from Gram-negative to Gram-positive in anaerobic fermentation, forming a microbial network centered on lactic acid bacteria. These results are expected to be applied in the future as a silage preparation method using local natural fodder tree resources to improve livestock nutrition, which is deficient during the dry season in semi-arid areas, and to increase livestock productivity and farmers' income.