5th Medium to Long-Term Plan
Food
Technology development towards building a new food system with improved productivity, sustainability and resilience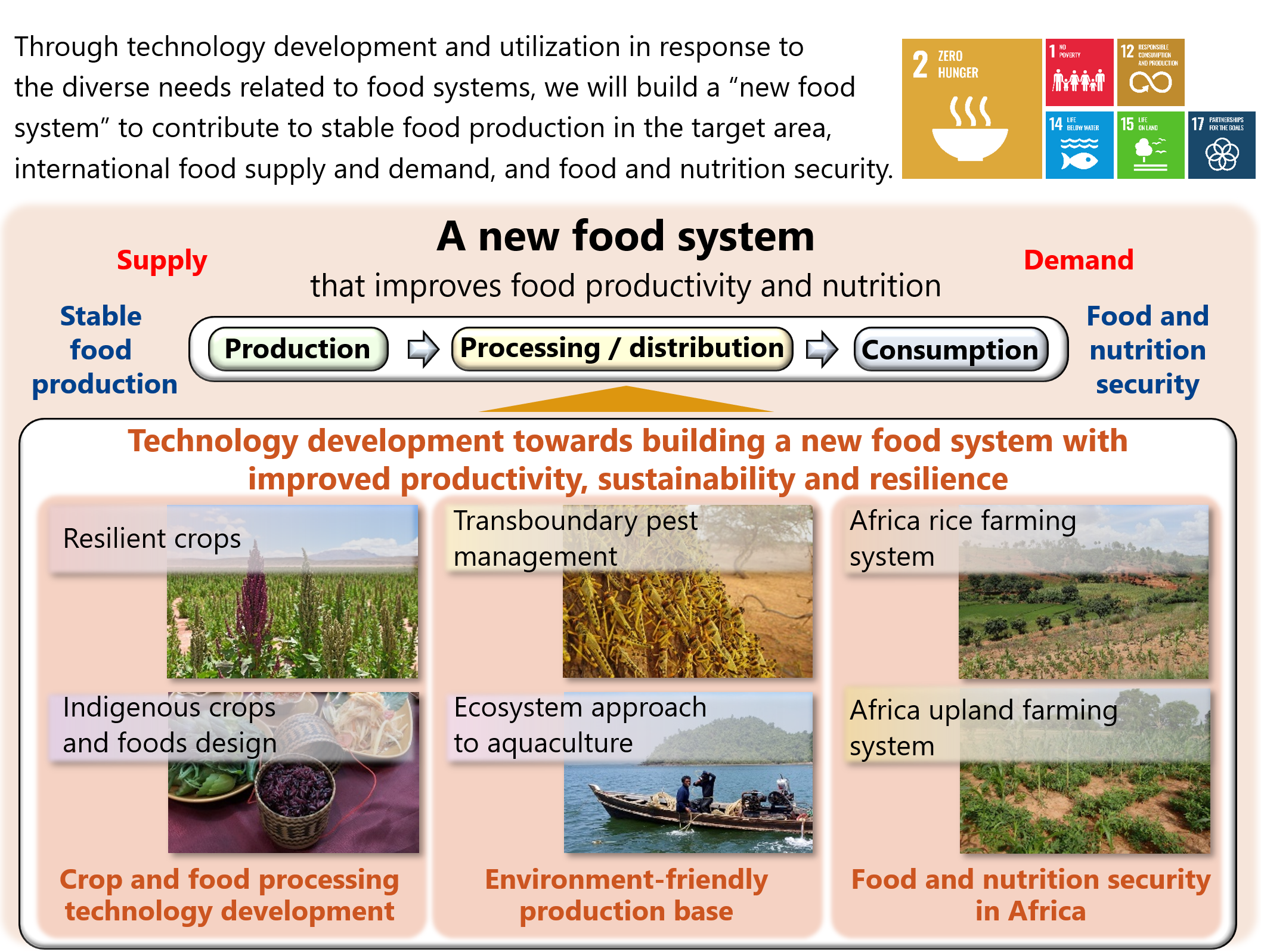 Related JIRCAS Report

A ceremony was held at the Mauritanian National Desert Locust Center (Centre National de Lutte Antiacridienne; CNLA) in Mauritania to celebrate the awarding of the Islamic Republic of Mauritania's Chinguitt Prize for Science and Technology 2020 to Senior Researcher MAENO Kotaro.

Dr. MAENO Kotaro, Senior Researcher in the Crop, Livestock and Environment and Division, has been selected as one of the recipients of the 19th (FY2022) Japan Society for the Promotion of Science (JSPS) Prize.
Events


Field
Pick Up

The hybrid seminar "The application of science and traditional knowledge to foster the utilization of foods obtained from local landscapes for improved nutrition and livelihoods" was successfully held last December 12. The seminar featured presentations by experts in the field of traditional and local food use promotion, genetic resource conservation, and utilization in Africa and Asia that contribute to improved nutrition and incomes. A lively discussion ensued with participants on how to maximize the potential of local food diversity in meeting the nutritional, environmental, and economic needs of the target communities while conserving the diversity of genetic resources and cultural values.

Pick Up

More than 2 billion people worldwide suffer from severe micronutrient deficiencies, known as "hidden hunger". In recent years, attention has focused on the effective use of underutilized crops and genetic resources, known as orphan crops. JIRCAS, together with collaborating institutions, has elucidated for the first time in the world the genetic diversity of "hiyuna" (Amaranthus tricolor L.), a traditional vegetable of the Asian region. A presentation on "hiyuna" research will be given at the seminar to be held next week on December 12. Please register for the seminar.

Pick Up

Exactly one year ago, on December 7-8, 2021, the Tokyo Nutrition for Growth (N4G) Summit 2021 was held in Tokyo. Today, we look back at the Tokyo N4G Summit from last year's Pick Up article.

Pick Up

The JIRCAS International Symposium 2022 "Artisanal Fisheries and Aquaculture in the Sustainable Food Systems" was held on November 22, 2022 under the auspices of the Ministry of Agriculture, Forestry and Fisheries (MAFF) and the Japan Fisheries Research and Education Agency (FRA).

Pick Up

World Soil Day is held annually on December 5 to promote a better understanding of soil resources, recognize the importance of soil health, and advocate for its sustainable management. This year's theme is "Soils: Where food begins". JIRCAS is engaged in technology development, information dissemination, and awareness-raising activities targeting soil fertility management and productivity improvement in oligotrophic soils in Africa.