Information Analysis
Collection, analysis and dissemination of information for grasping trends of international agriculture, forestry and fisheries
The law stipulates that JIRCAS must conduct two major tasks: the first is "to collect, analyze and disseminate domestic and overseas data of the agricultural, forestry and fishery industries in developing regions" and the second is "to carry out technical trials, research and investigation for agriculture, forestry and fisheries in developing regions".
The first task is very essential in providing useful information to national and international researchers or people concerned with the technological advances and economic development of the agricultural, forestry and fishery industries. It is also important in promoting high quality research in more efficient ways. Specifically, the following will be carried out during the 4th mid-term plan period:
In order to solve international food and environmental problems, an analysis of the status quo and a forecast of world food supply/demand, nutrient condition and food systems will be conducted. The outcomes and impacts of our research outputs will be analyzed.
In order to contribute to agricultural research and development and policy implementation like the Global Food Value Chain (GFVC) initiative, collaborations with related organizations in and out of the country will be promoted and JIRCAS researchers will be sent to target areas to continuously collect information and knowledge about international food, agriculture, forestry, fisheries, and rural development. These activities will be implemented in well-coordinated and systematic ways, and the collected information will be made widely available to researchers, administrative agencies, and companies both in Japan and overseas.
In order to facilitate the systematic exchange of information among related organizations in Japan, the Japan Forum on International Agricultural Research for Sustainable Development (J-FARD) will be managed.
The quality and originality of information provided by Program D will be boosted through active interaction with the other three research programs and through effective use of the JIRCAS website and seminars.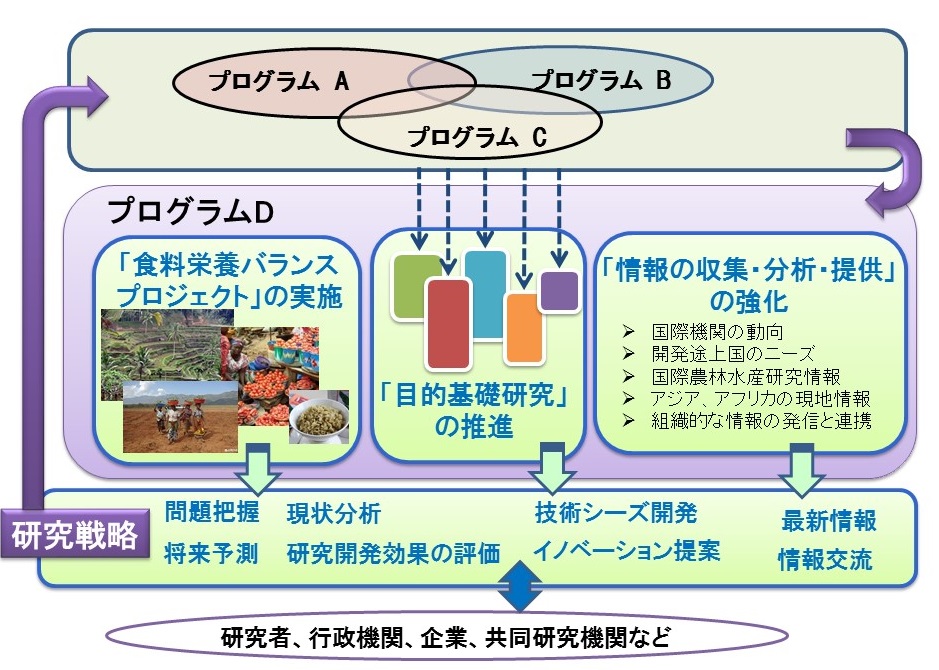 Related JIRCAS Report

The JIRCAS 50th Anniversary International Symposium 2020 featuring the theme, "The role of international collaboration in agricultural research to address challenges in the post-COVID-19 global food system" was successfully held online on November 10, 2020.

Kansai Electric Power Co., Inc. (KEPCO) has adopted the Indoor Shrimp Production System (ISPS), a land-based aquaculture method for production and processing of whiteleg shrimp, developed by the industry-academia-government collaboration that includes JIRCAS, IMT Engineering Inc. etc.
Field
Pick Up

Toward the Paris Agreement, which aims to keep global warming well below 2°C, countries are preparing to materialize their nationally determined contributions (NDCs). A paper published in The Lancet in February 2021 showed the synergistic effect (co-benefits) of climate change and public health policies toward the achievement of the Paris Agreement.

Pick Up

The burden on the environment caused by humans has gradually increased for almost half a century, and is now causing a planetary emergency. In February 2021, the United Nations Environment Program (UNEP) published a synthesis report titled "Making Peace with Nature" with practical recommendations on how to tackle the climate, biodiversity and pollution emergencies, and build a sustainable future.

Pick Up

In February 2021, the British think tank Chatham House published the report "Food System Impacts on Biodiversity Loss". The global food system has been shaped by the 'cheaper food' paradigm over the past 50 years. Without a change in the food system, biodiversity loss will accelerate and it will even be impossible to sustain human survival. The United Nations Food System Summit is scheduled to be held in 2021 and will provide a unique opportunity for food system transformation.

Pick Up

The East and Southeast Asia regions are a treasure trove of regional food resources such as traditional agriculture, forestry and fishery products and traditional fermented foods. The JIRCAS research on unknown functional ingredients contained in foods produced by these raw materials, manufacturing methods, and microbial fermentation have led to the development of functional foods that are useful for human health.

Pick Up

It has been confirmed that 2020 was as hot as 2016, but from the end of 2020 to 2021, the Northern Hemisphere has been hit by several cold waves. According to reports in the US, this is due to polar vortex disruptions. Sudden stratospheric warming (SSW) occurred in January allowing cold air from the Arctic to flow easily into the United States, Europe, and Asia.