4th Medium to Long-Term Plan
Information Analysis
Collection, analysis and dissemination of information for grasping trends of international agriculture, forestry and fisheries
The law stipulates that JIRCAS must conduct two major tasks: the first is "to collect, analyze and disseminate domestic and overseas data of the agricultural, forestry and fishery industries in developing regions" and the second is "to carry out technical trials, research and investigation for agriculture, forestry and fisheries in developing regions".
The first task is very essential in providing useful information to national and international researchers or people concerned with the technological advances and economic development of the agricultural, forestry and fishery industries. It is also important in promoting high quality research in more efficient ways. Specifically, the following will be carried out during the 4th mid-term plan period:
In order to solve international food and environmental problems, an analysis of the status quo and a forecast of world food supply/demand, nutrient condition and food systems will be conducted. The outcomes and impacts of our research outputs will be analyzed.
In order to contribute to agricultural research and development and policy implementation like the Global Food Value Chain (GFVC) initiative, collaborations with related organizations in and out of the country will be promoted and JIRCAS researchers will be sent to target areas to continuously collect information and knowledge about international food, agriculture, forestry, fisheries, and rural development. These activities will be implemented in well-coordinated and systematic ways, and the collected information will be made widely available to researchers, administrative agencies, and companies both in Japan and overseas.
In order to facilitate the systematic exchange of information among related organizations in Japan, the Japan Forum on International Agricultural Research for Sustainable Development (J-FARD) will be managed.
The quality and originality of information provided by Program D will be boosted through active interaction with the other three research programs and through effective use of the JIRCAS website and seminars.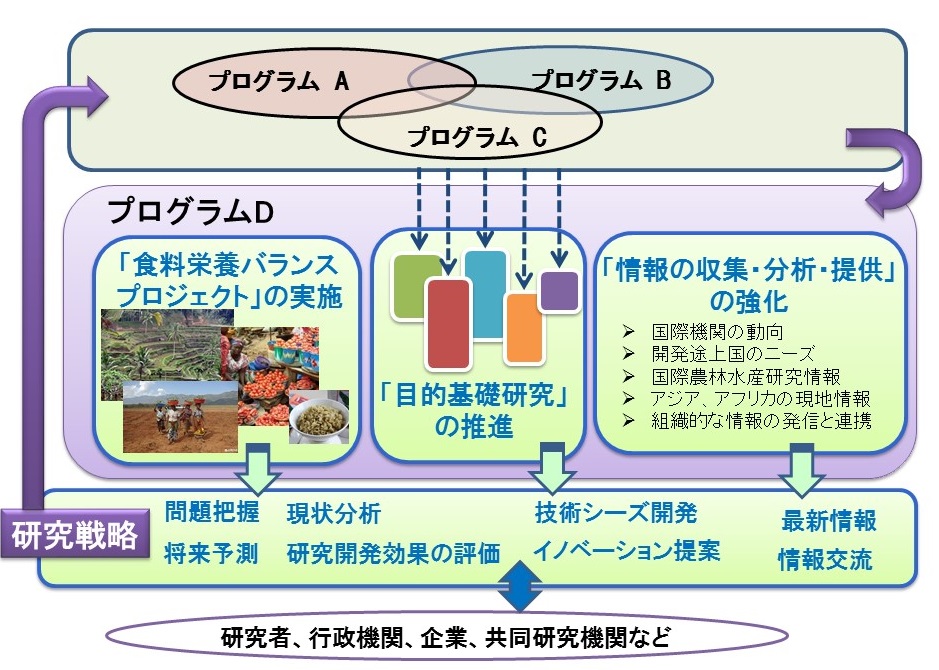 Related JIRCAS Report

Dr. Marcy N. Wilder, Project Leader of the Fisheries Division received the Japanese Society of Fisheries Science Award for 2021 in recognition of her outstanding achievements relating to biochemical/physiological research on mechanisms of reproduction, molting, and osmoregulation in commercially-important shrimp species and the development of new aquaculture technology.

The JIRCAS 50th Anniversary International Symposium 2020 featuring the theme, "The role of international collaboration in agricultural research to address challenges in the post-COVID-19 global food system" was successfully held online on November 10, 2020.
Field
Pick Up

Sugarcane white leaf disease is an insect-borne disease of sugarcane that has caused great damage in sugarcane-producing countries in various parts of Asia, mainly in Thailand. As a countermeasure for this disease, JIRCAS has developed a control technology manual focusing on the production and distribution of healthy seedcane, and published the manual through the Office of Cane and Sugar Board of Thailand.

Pick Up

In many African countries, improving agricultural productivity requires a thorough understanding of soil fertility and the establishment of fertilizer management techniques based on soil information. In recent years, digital maps of soil fertility have been created by compiling a large amount of data from soil fertility surveys in Africa. This time, a team of researchers conducting joint research with JIRCAS and CGIAR has developed a new soil map with a 30 m resolution which was published in Scientific Reports.

Pick Up

The international community must take urgent action to curb greenhouse gas emissions in order to keep the temperature rise to well below 1.5°C above pre-industrial levels. To do so, it is necessary to monitor how greenhouse gases associated with human economic activities are affecting climate change. In March 2021, NASA has confirmed that human activities are blocking the release of energy from sunlight back into space and changing the Earth's energy budget.

Pick Up

The greatest and direct impact of a disaster on agriculture is a decrease in crop and livestock production, which causes direct economic loss to farmers and extends to the entire value chain affecting the growth of national economies. In March 2021, the Food and Agriculture Organization of the United Nations (FAO) published a report summarizing the impact of disasters and crises on agriculture and food security, and warned that the increasing frequency and intensity of natural disasters has become the new normal.

Pick Up

At JIRCAS, we are conducting research using quinoa, a native crop to the Andes of South America. Quinoa has an extraordinary nutritional balance and is becoming popular as a superfood all over the world. Since it can be cultivated in harsh environments such as drought, the Food and Agriculture Organization of the United Nations (FAO) is paying attention to quinoa as a crop that can be a trump card for solving global food and nutrition problems.