Pick Up
350. JIRCAS Efforts to Establish a New Food System〜Food Program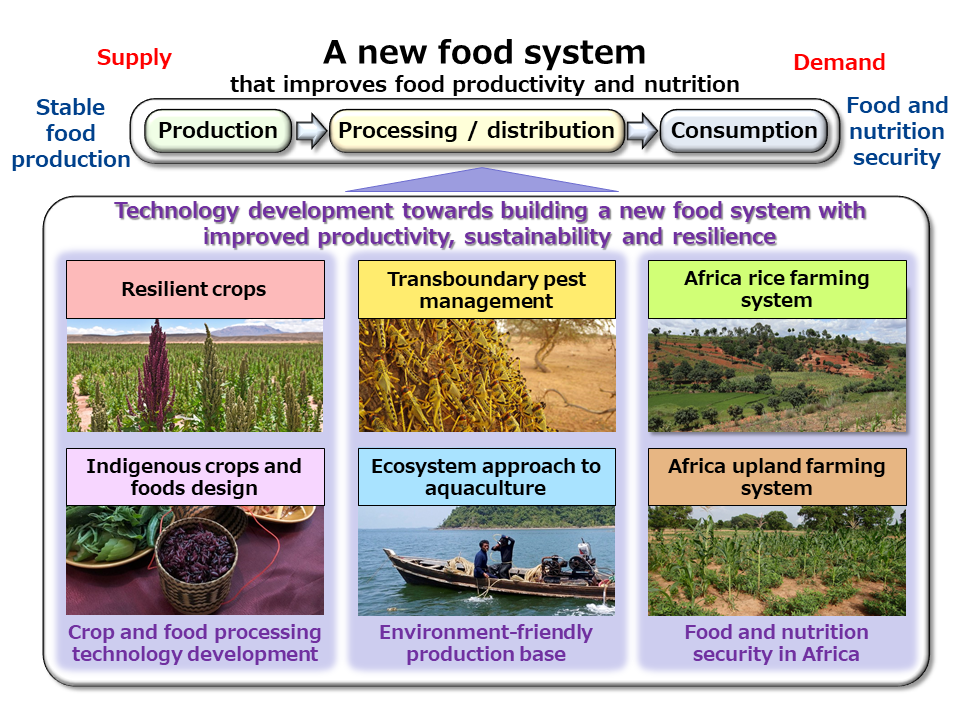 The world's food system is challenged by population growth and climate change. The global pandemic of the new coronavirus has revealed the fragility of the food system and exacerbated the situation. It is essential to strengthen the resilience of food systems to cope with not only pandemics, but also other problems that are occurring or may occur in the future.
To strengthen the resilience of food systems in developing regions, it is necessary to address the diversified needs of food systems, including the following:
Social needs: Quantitative nutritional improvement on a calorie basis; qualitative malnutrition improvement in protein, vitamins, minerals etc.; and realization of good health including measures against lifestyle-related diseases through food.
Economic needs: Reduction of labor and improvement of productivity; maximum utilization of local resources such as biomass, water and land; resilience to risks such as climate change and transboundary pests and diseases.
Biosphere needs: Reduction of chemical fertilizers and pesticides; conservation and regeneration of biodiversity etc.
In order to address these needs, advanced technologies such as ICT (Information and Communication Technology), IoT (Internet of Things), and biotechnology are expected to be utilized.
JIRCAS has been conducting research activities under a new research program and project structure in the 5th Mid- to Long-term Plan (5 years until 2025) that started on April 1, 2021.
The Food Program aims to establish a new food system that achieves improved food productivity and nutrition in order to contribute to stable food production in the target area, international food supply and demand, and food and nutrition security through technology development in cooperation with domestic and overseas research institutes, and the utilization of the developed technologies, in response to the aforementioned various needs related to food systems.
Towards building a new food system with improved productivity, sustainability and resilience, we will promote (1) crop and food processing technology development, (2) environment-friendly production base, and (3) food and nutrition security in Africa. All of these projects will mainly contribute to Goal 2 of the Sustainable Development Goals (SDGs), which is to eliminate hunger.
(1) Crop and food processing technology development
B1 Development of resilient crops and production technologies 【Resilient crops】
B2 Design of crop breeding and food processing of indigenous resources to create new and diversified demands 【Indigenous crops and foods design】
(2) Environment-friendly production base
B3 Development of environment-friendly management system against transboundary plant pests based on ecological characteristics【Transboundary pest management】
B4 Development and dissemination of sustainable aquaculture technologies in the tropical area based on the eco-system approach【Ecosystem approach to aquaculture】
(2) Food and nutrition security in Africa
B5 Development of sustainable rice cultivation and food production system in Africa【Africa rice farming system】
B6 Technology development towards supporting farmers' decision-making to boost sustainable upland farming system in Africa【Africa upland farming system】

References
Contributor: NAKASHIMA Kazuo (Director, Food Program)