Pick Up
519. JIRCAS Online Open House 2022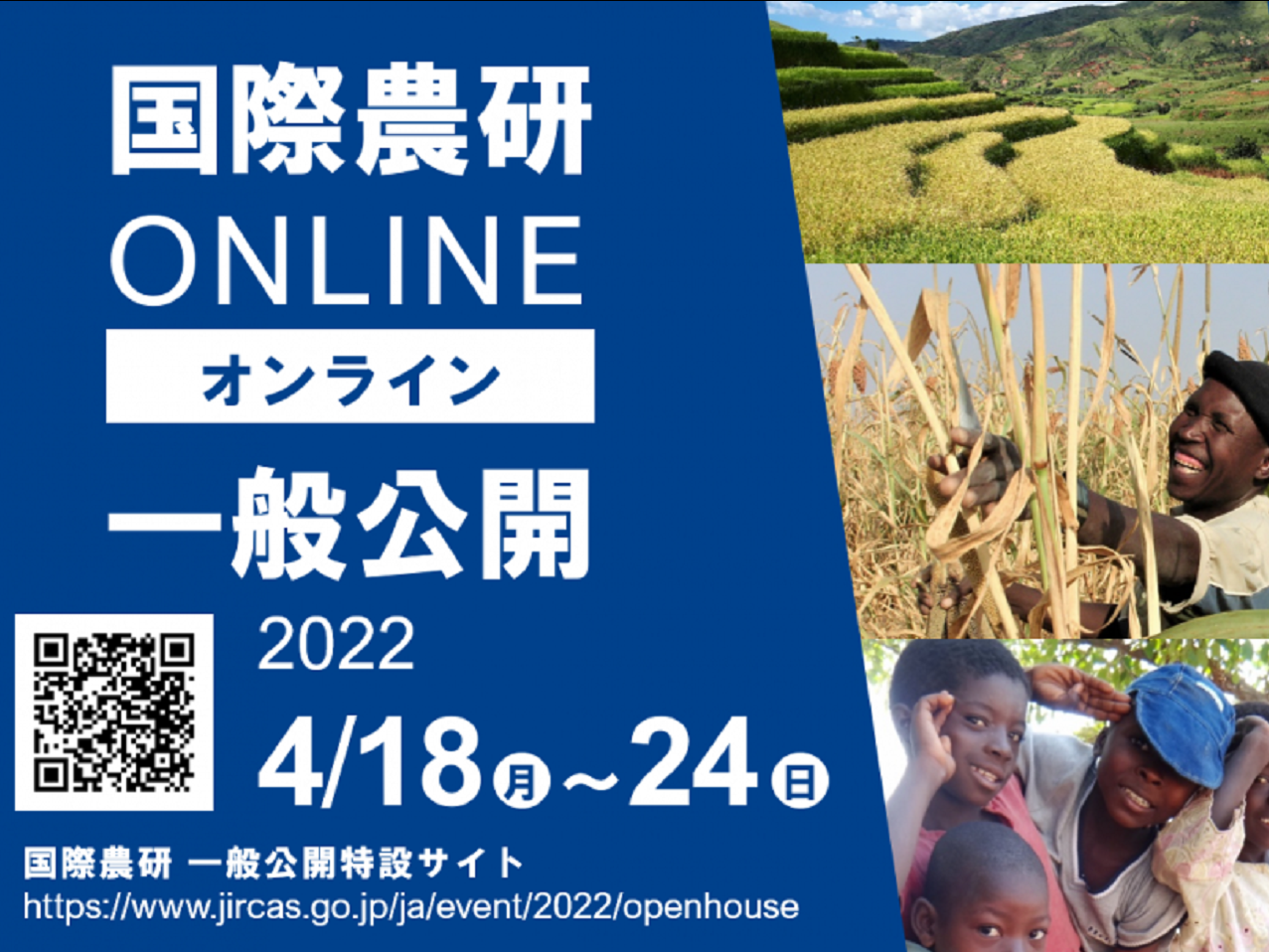 The JIRCAS Open House 2022 will be held from April 18 (Mon) to 24 (Sun). It will be held online at the special website (https://www.jircas.go.jp/ja/event/2022/openhouse).
The highlight of the event will be the mini lectures. Seven leading JIRCAS researchers will introduce their research activities.
Mini-lectures
Palm Oil as the Base Resource for Eco-life in the Future (UKE Ayaka, Biological Resources and Post-harvest Division)
Knowing Trees and Creating Forests - Challenges in Southeast Asia (KAWAI Kiyosada, Forestry Division)
Increase Sea Cucumbers in the Oceans of the World ! (NAMBU Ryogen, Fisheries Division))
The Challenge of Increasing Rice Production in the Harsh Environment of Africa (TSUJIMOTO Yasuhiro, Crop,Livestock and Environment Division)
Realizing Earth-friendly Agriculture with the Power of Microorganisms (SARR Papa Saliou, Crop, Livestock and Environment Division)
Water connects you and Africa ~ SDGs and Agricultural Water Use (OKA Naoko, Rural Development Division)
Various Types of Rice ~ Rich Rice Culture in Asia (CHIEN Fumika, Social Sciences Division)
The videos of the mini-lectures are available at any time on the special website during the Open House period.
On April 24 (Sun), from 1:00 PM (JST), a live panel discussion will be held on the theme of "Changing Africa: Field Researchers' Views on Agriculture and Food in Africa". With the 8th Tokyo International Conference on African Development (TICAD 8) to be held this August in Tunisia, there will be renewed interest in Africa. Please listen to the real voices of JIRCAS researchers as they talk about agriculture and food in Africa at the panel discussion.
In addition, there will be a 360° camera video and a stamp rally quiz, which will be fun for both children and adults.
We hope you will join us.
JIRCAS Online Open House 2022 site
https://www.jircas.go.jp/ja/event/2022/openhouse
Contributor: KANAMORI Norihito (Information and Public Relations Office)

Related Pages