Pick Up
602. Registration for JIRCAS-FFTC Workshop "Innovation and Networking of Sugarcane Research for Future Sugarcane Industry in the Asian and Pacific Region" is Now Open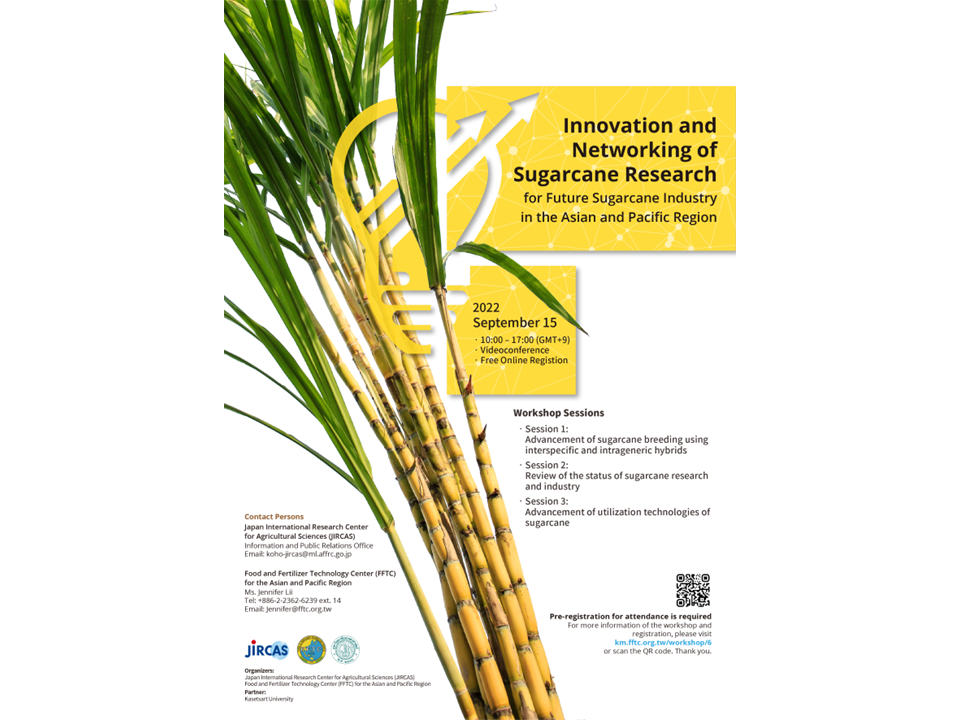 Registration is now open for the workshop "Innovation and Networking of Sugarcane Research for the Future Sugarcane Industry in the Asian and Pacific Region" co-organized by JIRCAS and the Food and Fertilizer Technology Center (FFTC).
Sugarcane (Saccharum spp. hybrid) is one of the major crops and is usually grown in small scale by farmers in the tropical and subtropical regions. It is an economically important crop producing a large amount of biomass used as source food and energy. The sugar produced by sugarcane is used not only as a sweetening agent but also as a source of bioethanol, while the bagasse that remains after extracting the juice from the stalks can be used to generate electricity. Furthermore, biorefinery of sugarcane will produce many beneficial chemicals and value-added products.
Sugarcane breeding requires a long time, and the entire process from crossing to the release of a new variety usually takes more than 10 years. Therefore, sugarcane breeders should have a clear grasp of the needs and challenges in sugarcane production and industry in the foreseeable future.
This workshop will introduce new technologies for the utilization of sugar mill by-products. The development of new sugarcane varieties suitable for multiple uses, using interspecific hybrids between sugarcane and its wild species (Saccharum spontaneum) and intergeneric hybrids between sugarcane and its closely related genetic resource, Erianthus, will also be presented. In addition, this workshop will identify specific problems and demands of sugarcane production in the target areas and discuss the direction for breeding new and improved varieties for the prospective sugarcane industry.
JIRCAS conducts sugarcane research at the Tropical Agriculture Research Front (TARF) located in Ishigaki Island in Okinawa and also conducts collaborative research in Thailand and the Philippines. In October 2018, JIRCAS co-hosted the "International Society of Sugar Cane Technologists (ISSCT) Joint 12th Germplasm & Breeding and 9th Molecular Biology Workshops" in Okinawa, taking advantage of JIRCAS research collaboration on sugarcane and its network.
Please register in the link below.

Innovation and Networking of Sugarcane Research for the Future Sugarcane Industry in the Asian and Pacific Region
Date & Time:September 15 (Thu), 2022 10:30 ~ 16:30 (JST)
Organizers:Japan International Research Center for Agricultural Sciences (JIRCAS)・Food and Fertilizer Technology Center (FFTC) for the Asian and Pacific Region
Partner:Kasetsart University (KU)
Program・Registration (Deadline: September 14, Wed. 17:00 JST)
Link:https://km.fftc.org.tw/workshop/6

JIRCAS Sites
Japanese: https://www.jircas.go.jp/ja/workshop/2022/e20220915
English: https://www.jircas.go.jp/en/workshop/2022/e20220915
Contributor: ANDO Shotaro (Information and Public Relations Office)