Pick Up
598. International Trends in Fertilizer Prices and Innovations in Effective Use of Fertilizers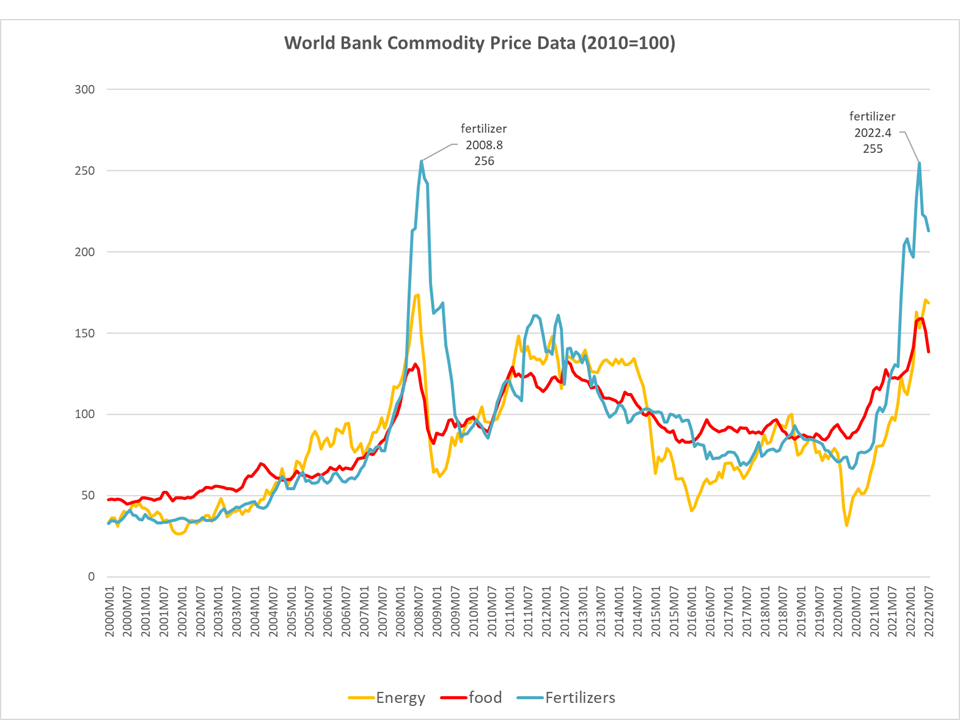 Even before Russia's invasion of Ukraine in February, there was concern about the rising cost of chemical fertilizers in response to higher fuel prices. Soaring fertilizer prices have the potential to strain global food supply and demand in the medium term by affecting producers' ability to plant crops in the next season and beyond, as well as their yields and profits.
In late July, a World Bank blog published a discussion on how to manage the world's fertilizers to avoid a prolonged food crisis caused by high fertilizer prices.

In particular, high natural gas prices led to widespread production cutbacks in ammonia. At the same time, high coal prices in China, a raw material for ammonia production, forced producers to cut production, which in turn led to high fertilizer prices worldwide.

The World Bank blog suggests three actions to be taken that will guarantee access to fertilizer by producers and fair prices in order to avert a food crisis.

First, eliminate export restrictions on fertilizers to avoid, among other things, a food security crisis and the worst crisis for poor developing countries facing hunger.

Second, increase the efficiency of fertilizer use. This can be done through incentives that do not encourage excessive use by farmers. Currently, the efficiency of nitrogen fertilizers is generally considered at 30-50% while the EU Nitrogen Expert Panel recommends the improvements up to 90%. Subsidies for fertilizers encourage overuse and may further exacerbate environmental and climate change. Efficient use of fertilizers can avoid such overusing with subsidies and enable adequate provisions of fertilizers to countries in need. Developed countries use more than 100 kg of fertilizer per hectare, nearly double the amount used in developing countries, while in sub-Saharan Africa, the amount is only 15 kg per hectare.

Third, invest in innovation to develop best practices and technologies that allow for increased productivity per fertilizer use. This includes developing techniques to minimize waste and apply the amount needed for a particular growth stage of a particular crop through precision agriculture such as fertigation, which combines fertilization with irrigation, using fertilizers in measured quantities determined by sensors. Another option is to combine conventional fertilizers with bio-fertilizers and practices to eliminate fertilizer supply constraints, and also aim to reduce climate, soil, and water resource impacts.

JIRCAS will host an official TICAD 8 side event on August 30, 2022, to provide a forum for discussion on issues for sustainable improvement of food production in Africa, together with private companies and NGOs working on fertilizer development and dissemination, as well as efforts to develop technologies for effective utilization and local production for local consumption of fertilizers in Africa. In particular, the seminar will introduce innovations in the effective use of fertilizers developed by JIRCAS in Madagascar and Burkina Faso. The deadline for registration is Monday, August 29. Please register and join us!
TICAD8 Official Side Event "Managing African Soil for Food Security and Environmental Sustainability" - Opportunities and Challenges of Agronomy to Solve Low Fertility/Nutrient Bottlenecks -

Date:August 30 (Tue), 2022, 17:00-19:00 (JST)
Organizer:Japan International Research Center for Agricultural Sciences (JIRCAS)
Supported by:Japan Science and Technology Agency (JST), Japan International Cooperation Agency (JICA)
Web link (Japanese): https://www.jircas.go.jp/ja/event/2022/e20220830
English: https://www.jircas.go.jp/en/event/2022/e20220830
Contributors: NAKASHIMA Kazuo (Director, Food Program), TSUJIMOTO Yasuhiro and NAGUMO Fujio (Crop, Livestock and Environment Division)