Pick Up
427. Flyer for the N4G Side Event Symposium "Fruits and Vegetables– Research and Action Opportunities for Human and Planetary Health"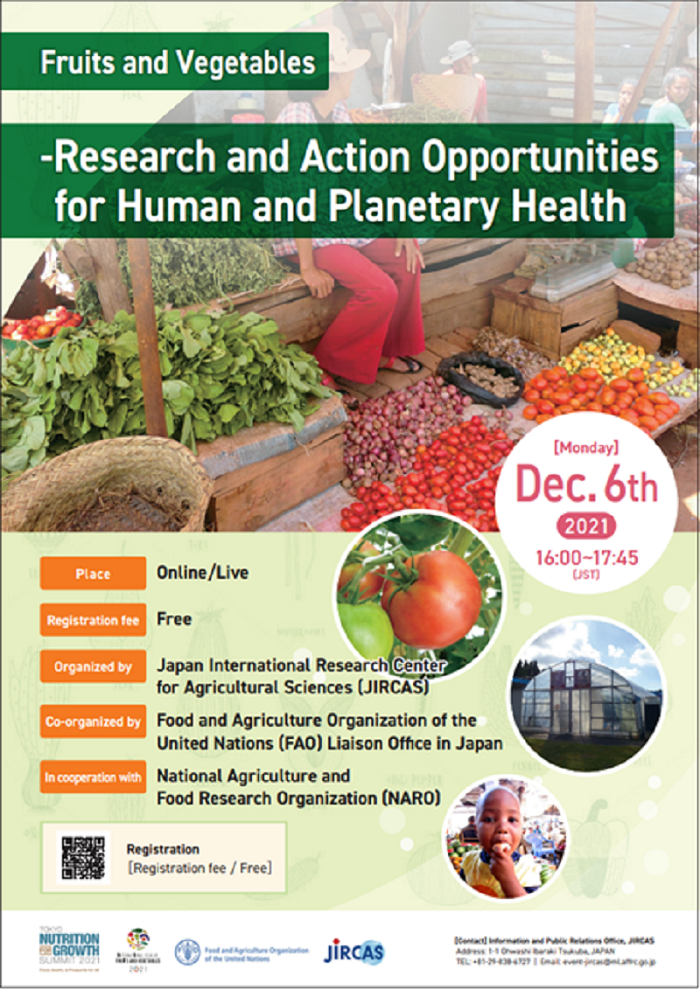 The Symposium "Fruits and Vegetables– Research and Action Opportunities for Human and Planetary Health" will be held online on December 6 (Monday), as an official side event of the Tokyo Nutrition for Growth Summit (N4G) 2021. We are pleased to announce that the Symposium flyer is now available.
This year is the International Year of Fruits and Vegetables as designated by the United Nations. Vegetables and fruits are an important food group to focus on in the recent food system transformation, not only because of their nutritional and health benefits, but also because of their relatively low environmental impact compared to animal products and their contribution to improving the lives of people involved in the value chain.
In the past, research on fruits and vegetables was limited compared to major cereals such as rice and wheat because the emphasis was on meeting caloric needs rather than nutritional balance. Recently, however, cutting-edge technology such as smart technology has been applied to fruits and vegetables. In order to make fruits and vegetables more nutritious, accessible, lean, and safe, the development and dissemination of technology through research plays an important role.
On the other hand, when we look at developing regions, we find that they are facing various problems in production and distribution. Fruits and vegetables are easily damaged and lead to food loss, and fruits and vegetables are more expensive than staple foods, making them unaffordable for many poor people.
This symposium will introduce the research potential of fruits and vegetables to contribute to health, development, and the environment. What kind of future can be envisioned through the development of varieties using new technologies and the use of IoT? In addition, we will discuss issues such as the needs for fruit and vegetable consumption in a global context, especially in developing regions, and areas where research and policy interventions are needed, and consider how we can contribute to humanity and the planet through fruits and vegetables while responding to local needs.
Please register and join us.

Symposium: Fruits and Vegetables - Research and Opportunities for Human and Planetary Health
Program: https://www.jircas.go.jp/en/symposium/2021/e20211206 
Date & Time: December 6 (Mon), 2021 at 16:00-17:45 JST
Format: Online
Registration: Nov 15 (Mon) 09:00 - Dec 6 (Mon) 15:00 JST
URL: https://www.jircas.go.jp/en/symposium/2021/e20211206/entry

For inquiries, please contact the Information and Public Relations Office at:
Email: event-jircas@ml.affrc.go.jp
URL: https://www.jircas.go.jp/en/form/inquiry
Contributor: SHIRATORI Sakiko (Information and Public Relations Office)