Pick Up
416. Announcement of Recipients of the 2021 (15th) Japan International Award for Young Agricultural Researchers (Japan Award)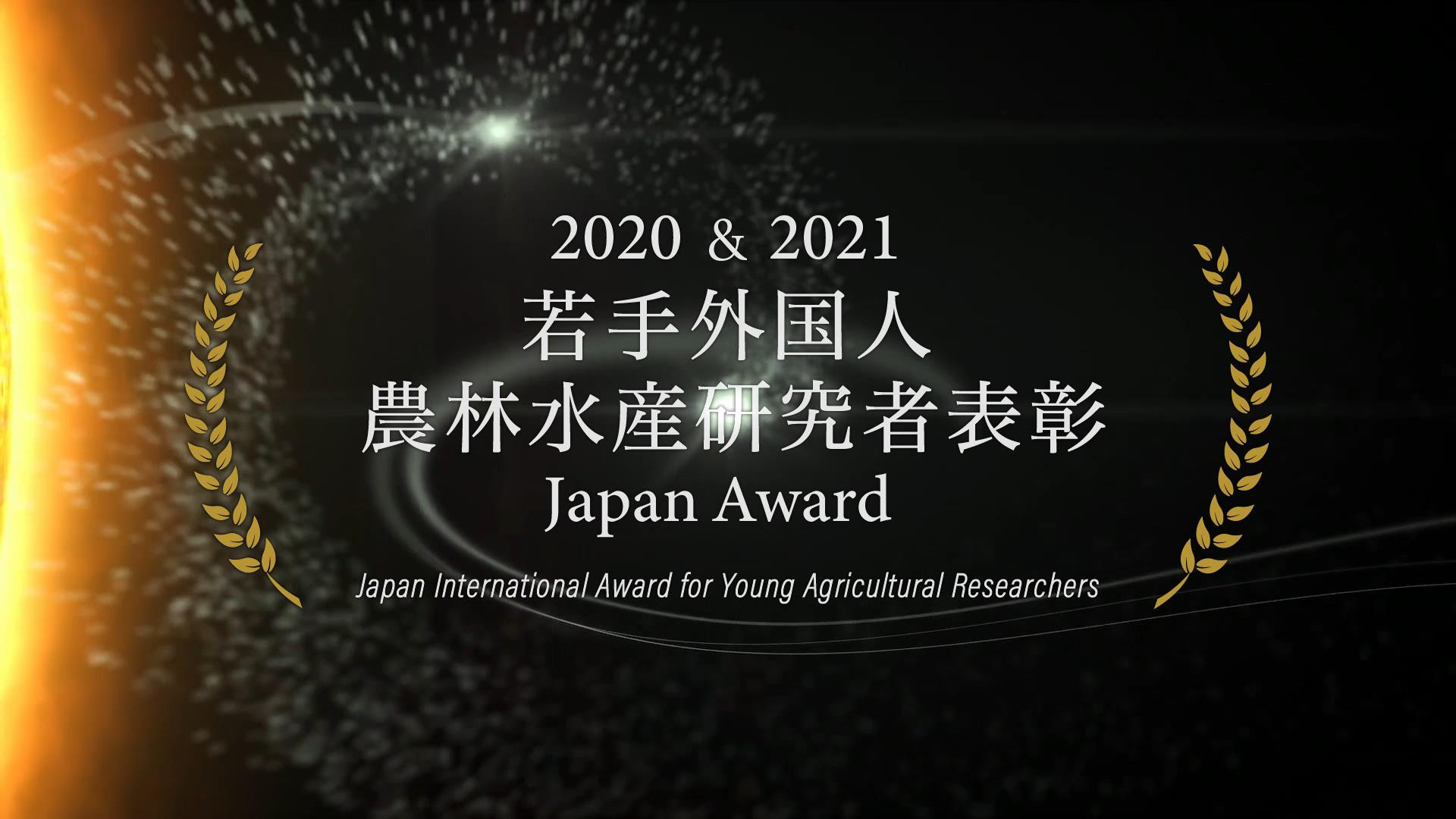 On October 29, 2021, the Ministry of Agriculture, Forestry and Fisheries (MAFF) announced the recipients of the 15th Japan International Award for Young Agricultural Researchers (Japan Award).
Since 2007, this annual award has been organized by the Agriculture, Forestry and Fisheries Research Council (AFFRC), MAFF and supported by JIRCAS. The Japan Award is given to young agricultural researchers from overseas who have made outstanding achievements or achieved outstanding research results that will lead to future technological innovations, with the aim of further motivating young researchers to contribute to research and development on agriculture, forestry, fisheries and related industries in developing regions.
Considering the current situation under the COVID-19 pandemic, this year's awarding ceremony will be filmed in advance and broadcasted on Tuesday, November 16, 2021.
Date and time: November 16, 2021 (Tuesday), 15:00-17:00 (Japan time)
Format: Online (JIRCAS YouTube channel)
Program: Opening, address by the organizer, congratulatory speeches, report on the screening process, speeches by the awardees (including speeches by last year's awardees)
Please visit the JIRCAS YouTube channel (URL below). The video will be available on the day of the event and afterwards.
https://youtu.be/l26Q4OOAkoA
This year's awardees are the following:
Sahadev SHARMA (39, Male, India) University of Malaya (Malaysia)
Research Achievement : Mangrove forest blue carbon research for effective nature-based solutions to mitigate climate change in Asia Pacific region
Hala GAMAL ALI ALI EL DAOUS (30, Female, Egypt) Benha University (Egypt)
Research Achievement : Establishment of a novel diagnostic test for Bovine leukaemia virus infection using direct filter PCR
James Seutra KABA (38, Male, Ghana) Kwame Nkrumah University of Science and Technologyb(Ghana)
Research Achievement : Nitrogen nutrition of cocoa (Theobroma cacao L.) in intercropping systems with gliricidia (Gliricidia sepium (Jacq.) Kunth ex Walp.)

Contributor: OMORI Keisuke (Head, Information and Public Relations Office)