Pick Up
441. Impact of Climate Change on Global Agriculture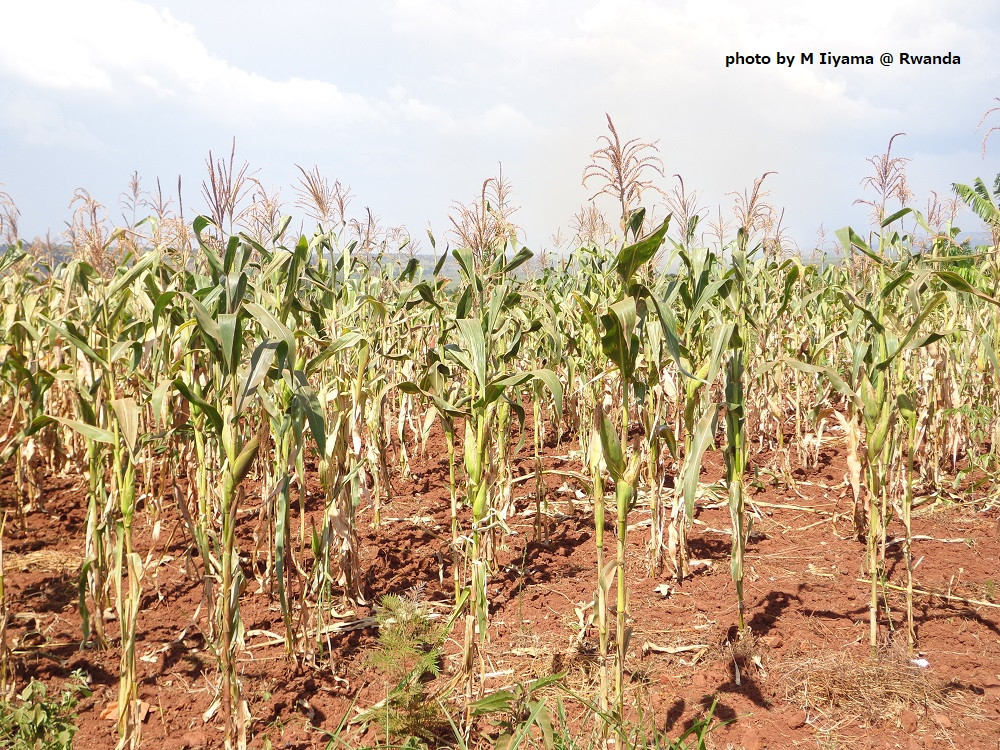 Climate change is expected to have a major impact on agriculture, forestry and fisheries. The National Aeronautics and Space Administration (NASA) has released a study showing that maize yields will begin to decline around 2030 and could fall by 24% by the end of the 21st century if high levels of greenhouse gas emissions continue. In contrast, wheat yields could rise by 17%. The changes in yields will be driven by projected rising temperatures, shifting rainfall patterns, and increasing carbon dioxide concentrations from anthropogenic greenhouse gas emissions. This will make it difficult to grow maize in the tropics, while wheat growing areas may expand.
In the face of these climate change projections, maintaining global food security will require the development of varieties and cultivation technologies that can maintain or improve yield levels in the face of rising temperatures and extreme events.
The JIRCAS-CCFS Society Workshop, which will be held online tomorrow (December 17), will focus on the costs of adaptation to climate change and the impact of climate change on food and nutrient supply. We will also report on the impact of the spread of COVID-19, which has become a major issue in the past year, on future food supply. We hope you will join us.
Effects of Climate Change and the Spread of COVID-19 on Food Supply and Demand - Food Security under Uncertainty
Organizers: JIRCAS, CCFS Society
Date: December 17 (Fri), 2021, 11:30 - 16:15 JST (Site opens at 11:00)
Format: Online (Zoom)
Program: https://www.jircas.go.jp/en/workshop/2021/e20211217
Registration: JIRCAS-CCFS Society Workshop Secretariat
URL: https://www.jircas.go.jp/en/workshop/2021/e20211217/entry
Deadline: Dec16 (Thu), 2021, 17:00 JST
Email: jircas-ccfs@ml.affrc.go.jp
Note: Registration is limited to 500 applicants.
Program
Opening Remarks
Osamu Koyama (JIRCAS): Food supply and demand analysis – Past, current and future
Keynote Speech
David Dawe (FAO Regional Office for Asia and Pacific): Impact of COVID-19 on food security and nutrition in Asia
Session 1: Adaptation to Climate Change (Chairman: Jun Furuya)
Toshichika Iizumi (NARO): Climate change adaptation cost to global production
Tomoaki Nakatani (The University of Tokyo): Timeseries econometrics for climate change research
Daisuke Sawauchi (Hokkaido University): Decomposition of stable food avilability
Session 2: Effects of COVID-19 and Climate Change (Chairman: Tomoaki Nakatani)
Eiichi Kusano (JIRCAS): The scope of global food projection models in the food security concept shifting emphasis on nutrition
Jun Furuya (JIRCAS): Effects of COVID-19 on supply of food and nutrition in the world
Gen Furuhashi (PRI-MAFF), Tatsuji Koizumi (OECD): Effects of climate change on global indica and japonica rice markets
Session 3: Panel discussion (Chairman: Miyuki Iiyama)
All Speakers: Effects and countermeasures of climate change and the spread of COVID-19 on food and nutrition supply
Closing remarks
Toshihiro Hasegawa (NARO)

Reference
NASA. Climate Change Could Affect Global Agriculture within 10 Years. Released on November 1, 2021. https://svs.gsfc.nasa.gov/13979 
Contributors: FURUYA Jun and KUSANO Eiichi (Social Sciences Division)