Pick Up
394. Practical application of global research results and establishment of a model platform for promoting private-sector research collaboration and creating new business ventures (Research applications/ventures)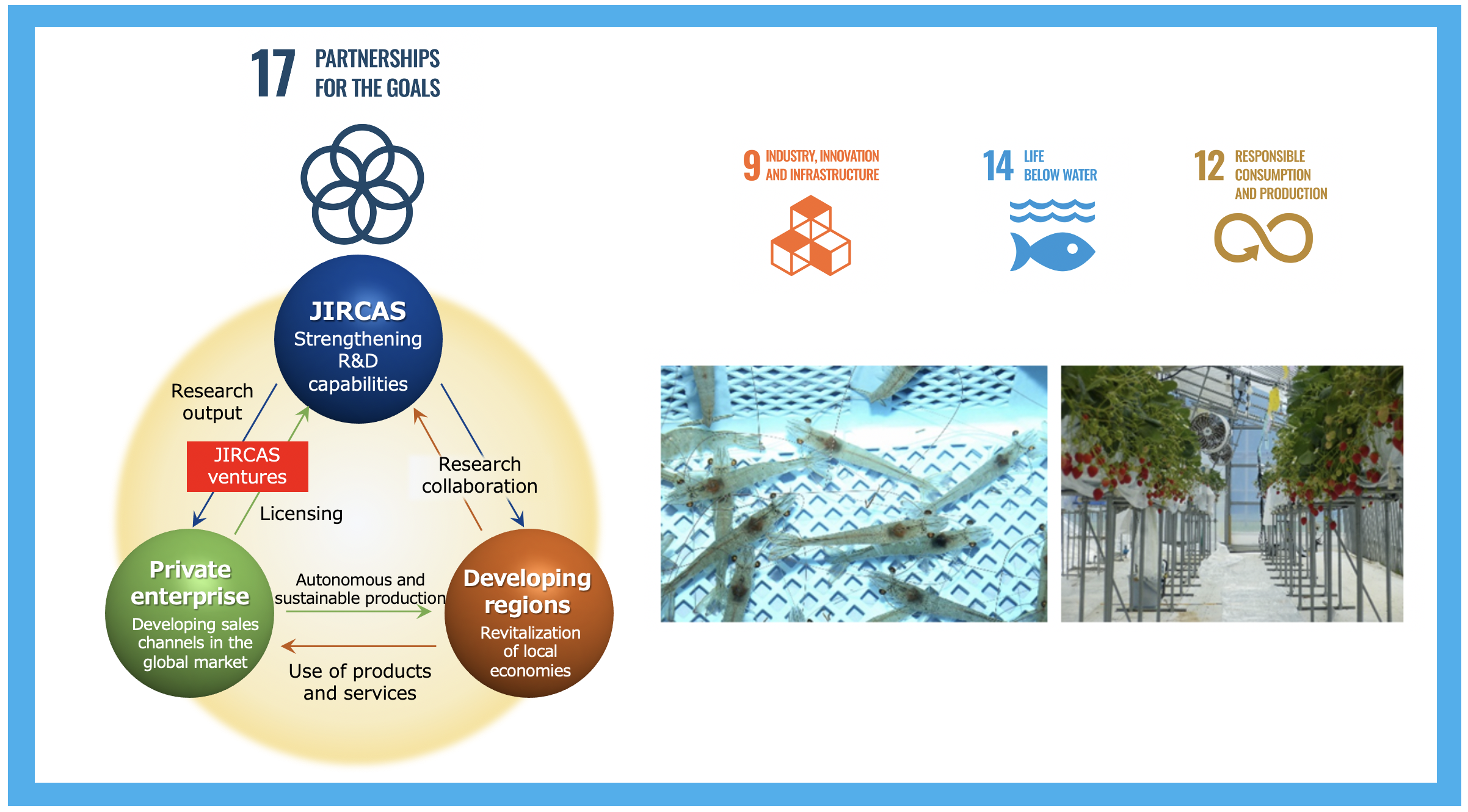 The "Research applications/ventures" project is being implemented under JIRCAS Program C "Strengthening function as an international hub for providing strategic information on agriculture, forestry and fisheries, and mobilizing new research partnerships". Up until the present, research results/technologies generated by JIRCAS have been mainly disseminated and established by research organizations and government agencies in the relevant target countries. In this way, examples of institute researchers directly utilizing their research results to contribute to their rapid development and dissemination have been limited. In the "Research applications/ventures" project, JIRCAS will take up the challenge of establishing a business model for the first time, in order to create a platform for disseminating research results and revitalizing research activities. Such activity will serve to refine JIRCAS-generated technologies in context of the needs of the relevant target countries and regions, and optimize their usage through various collaborations with domestic/overseas organizations and the private sector.
In this context, with the enactment of the "Law on the Revitalization of Science, Technology and Innovation Creation" in fiscal year 2019, the creation of venture-type companies by national research institutes such as JIRCAS has become possible, and thus, the strengthening of collaboration with private companies and the licensing of intellectual property can be promoted more efficiently.
In this regard, JIRCAS has jointly developed with other organizations, for example, the "Indoor Shrimp Production System" for the production of useful shrimp species, and the "Asian Monsoon Model Plant Factory" for the cultivation of strawberries and tomatoes. In addition, JIRCAS holds "know-how" related to a myriad of other technologies. From herein, in order to meet the needs of society both at home and abroad in a timely and efficient manner, JIRCAS will make use of its pre-existing intellectual property and current know-how to conduct more active technology transfer and promote related business development activities.
In this project, as our first challenge at JIRCAS, we will establish a business model that will allow us to effectively disseminate our research results and provide incentive to staff researchers to optimize their technologies and bring them to the market both domestically and overseas.
Specifically, we will establish a research and development platform to link research results to societal implementation. In accordance with the above-mentioned "Law on the Revitalization of Science, Technology and Innovation Creation", we will create business ventures originating from JIRCAS research activity, conduct joint research with the private sector, license intellectual property, and actively promote other relevant activities that will allow us to contribute to society in a new manner. This project consists of the following three research themes:
(1) "Commercial deployment of shrimp seed production technology towards the realization of a complete closed-cycle aquaculture system": We will promote the further implementation of pre-existing technologies such as the Indoor Shrimp Production System (ISPS), and develop new seed production technology with the aim of realizing actual business applications.
(2) "Asian Monsoon Model Plant Factory": We will realize the efficient production of tomatoes, strawberries, and passion fruit using the Asian Monsoon Model Plant Factory system, and engage in the transfer of this technology and related business activities.
(3) "Support and promotion of practical applications/societal implementation of research results": We will identify core research results and know-how that have clear implications for technology development, and provide management support to both JIRCAS researchers and private enterprises in Japan and overseas. The over-arching goal will be to verify their practicality and develop these results into viable products and services.
Based on all of the above, with the launch of this new project type, we have high expectations for the active promotion of the innovative intellectual property and know-how held by JIRCAS.

References
1)Kang, B.J., Bae, S-H., Suzuki, T., Niitsu, S., and Wilder, M.N. (2019). Transcriptional silencing of vitellogenesis-inhibiting hormone (VIH) subtype-I in the whiteleg shrimp, Litopenaeus vannamei. Aquaculture, 506: 119-126.
2)Nakayama M. et al., 2021. The effect of greenhouse cultivation under a heat insulation film covering on tomato growth, yield, and fruit quality in a subtropical area. Hort. J. https://doi.org/10.2503/hortj.UTD-249
3)FAO. 2020. FAO Yearbook. Fishery and Aquaculture Statistics 2018/FAO annuaire. Statistiques des pêches et de l'aquaculture 2018/ FAO anuario. Estadísticas de pesca y acuicultura 2018. Rome/Roma. (http://www.fao.org/fishery/statistics/yearbook/en)
Contributor: Marcy WILDER (Fisheries Division)