Pick Up
844. Seminar: Millets - How to unlock their potentials to address nutritional, agricultural, and climate challenges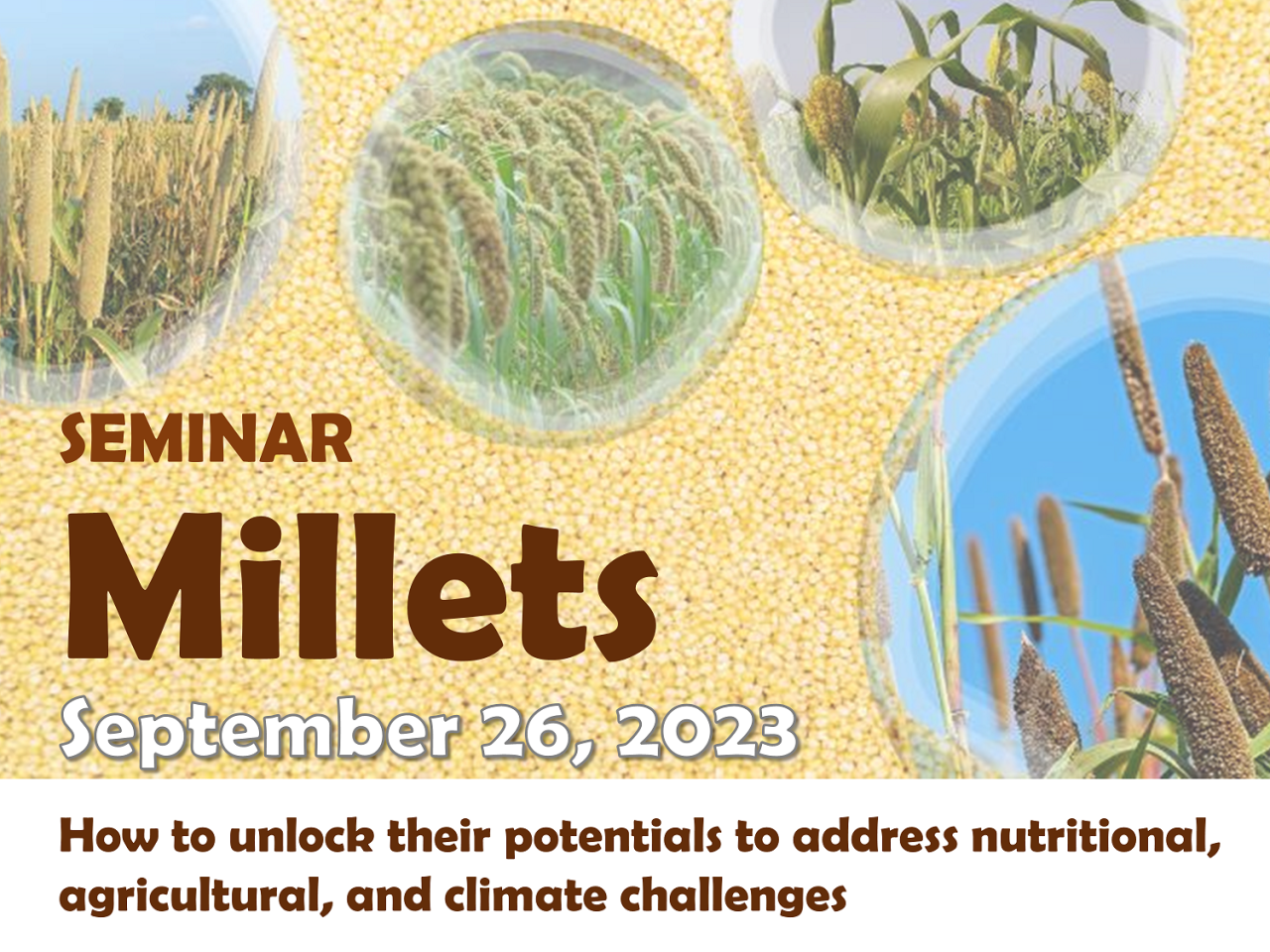 844. Seminar: Millets - How to unlock their potentials to address nutritional, agricultural, and climate challenges
Millets have emerged as a significant crop in arid and semi-arid regions across the globe due to their exceptional drought tolerance, setting them apart from major cereals like rice, wheat, and corn. Their ability to thrive in non-irrigated environments is a testament to their resilience. Furthermore, millets are often referred to as "nutri-cereals" because they boast exceptional nutritional profiles, brimming with essential vitamins, minerals, substantial protein, dietary fiber, and resistant starch (indigestible starch). Given these attributes, millets hold immense promise for bolstering global food security and alleviating hunger, offering both superior nutrition and adaptability.
Despite their remarkable potential, millets have remained relatively overlooked. However, the United Nations has designated 2023 as the International Year of Millets (IYM2023), recognizing their pivotal role in combatting nutritional, agricultural, and climate-related challenges. The objective is to spotlight millets' climate-resilient properties and nutritional merits and to advocate for diverse, balanced, and healthy diets by encouraging sustainable millet production and consumption.
In celebration of IYM2023, JIRCAS is organizing a seminar dedicated to millets, scheduled for September 26. This event will adopt a hybrid format, allowing participation either in person at a Tokyo venue or virtually online. The seminar serves as a unique platform for foreign and Japanese scientists immersed in millet research to deliberate on the potential of minor grains in mitigating global climate change and nutritional concerns. It also seeks to amplify awareness regarding the climate resilience and nutritional advantages of these minor grains.
We cordially invite you to consider attending this significant seminar and contributing your expertise to this crucial discussion. Your participation would be highly appreciated.

Organizer:Japan International Research Center for Agricultural Sciences
Date & Time:September 26, 2023 (Tuesday) 09:30~12:00 (JST)
Venue:Hybrid Event (Hibikoku Conference Square + Online)
(Address: Uchisaiwaicho 2-2-3, Chiyoda-ku, Tokyo 100-0011) Access:https://hibikoku.tokyo/access/
Registration link https://www.jircas.go.jp/ja/event/2023/e20230926 
Contributors: KANAMORI Norihito (Information and Public Relations Office), NAKASHIMA Kazuo (Food Program), YOSHIHASHI Tadashi (Biological Resources and Post-harvest Division), Guntur V. SUBBARAO (Crop, Livestock and Environment Division), IIYAMA Miyuki (Information Program)
Related Pages