Pick Up
771. April 2023 World Food Price Index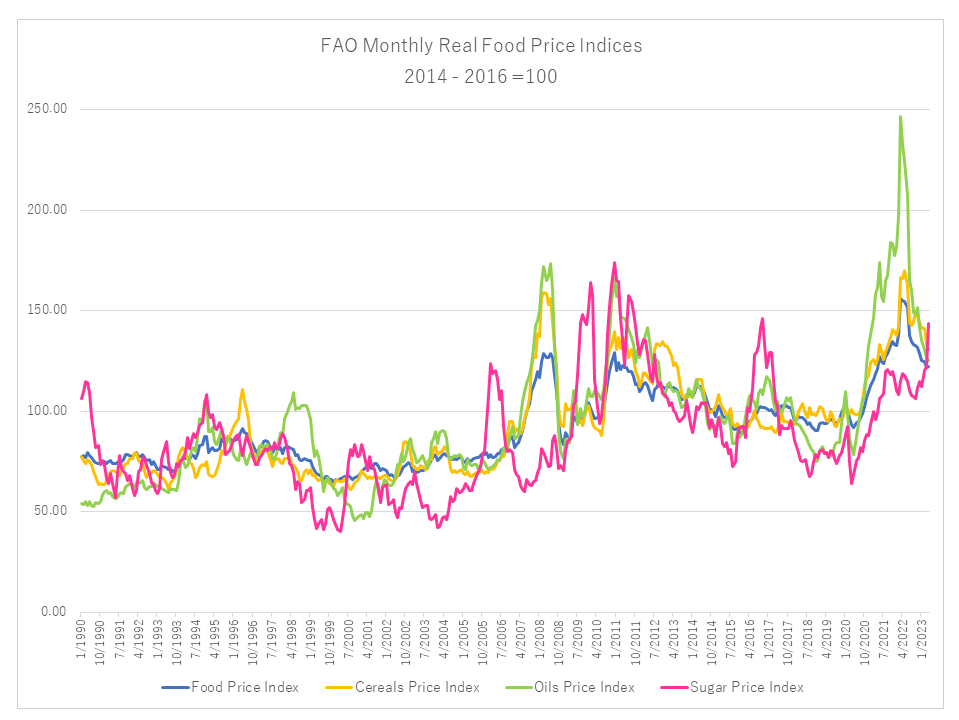 771. April 2023 World Food Price Index
Over the past three years, COVID-19 has affected food supply chain trends, but on May 5, the World Health Organization (WHO) announced that it would end ending the emergency declaration for new coronavirus infections.
On the same day, the UN Food and Agriculture Organization (FAO) released its World Food Price Index, which averaged 127.2 points in April 2023, a slight increase of 0.8 points (0.6%) from the previous month and 31.2 points (19.7%) lower than the level reached in April 2022. The increase in the overall price index reflected a reversal in the meat price index and a sharp increase in the sugar price index, while the price indices for cereals, dairy, and vegetable oil continued to decline.
Cereal price index stood at 136.1 in April, down 2.4 points (1.7%) from March and down 33.5 points (19.8%) from a year ago. Reflecting export-oriented supply capacity from Russia and Australia, international wheat prices fell 2.3% to their lowest level since July 2021. Strong planting conditions in Europe and an agreement in late April on a transit from EU countries imposing import restrictions on Ukrainian wheat also eased market concerns. World maize prices also fell 3.2% on South American crop performance and forecasts for an improved harvest, as well as historical production in Brazil. In contrast, exports to Asia boosted international rice prices in April, reversing the decline in export prices seen in March.
Vegetable oil price index decreased by 1.8 points (1.3%) to 130.0 in April. This decrease reflected stable palm oil prices and low estimates for soybean, rapeseed and sunflower oil prices.
Dairy price index decreased by 1.7% compared to the previous month, while the meat price index increased by 1.3%, the latter reflecting higher international price estimates due to higher production costs in exporting countries and supply constraints due to animal health problems, contrasting with higher pork imports by Asian countries. At the same time, poultry prices rose in April after nine consecutive months of declines, reflecting increased import demand from Asian countries and supply constraints due to the outbreak of avian influenza in many regions.
Sugar price index rose to 149.4 points in April, up 22.4 points, or 17.6 percent, from March, the third consecutive monthly increase and the highest level since October 2011. The increase reflected concerns about tight global supplies for the 2022/23 season, following downward revisions to production forecasts in India and China, and lower-than-expected production estimates in Thailand and the EU. Despite a strong production outlook in Brazil, harvest delays due to above-average rainfall put upward pressure on prices. Higher international crude oil prices and the strengthening of the Brazilian real against the U.S. dollar also contributed to higher world prices for sugar.
Meanwhile, the May 18 deadline for the Black Sea Grain Initiative, which guarantees Ukrainian grain exports via the Black Sea, is approaching, and according to a May 5 report, concerns over uncertainty over Russia's refusal to extend the agreement have led to a drop in the number of cargo ships receiving grain from 3-4 per day in the past three weeks to 2, requiring close monitoring.
Contributor: IIYAMA Miyuki (Information Program)