Pick Up
754. March 2023 World Food Price Index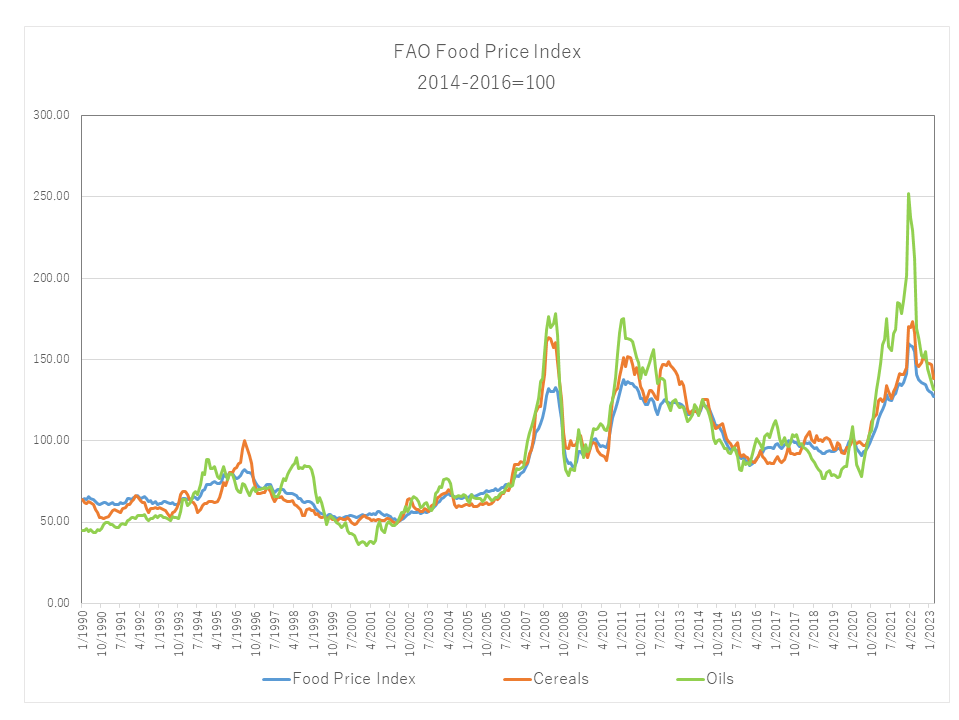 754. March 2023 World Food Price Index 
On April 7, the UN Food and Agriculture Organization (FAO) released its World Food Price Index, and the March 2023 value averaged 126.9 points, down 2.1% from the previous month, the 12th consecutive monthly decline, and 32.8 points (20.5%) lower than the high reached a year ago in March 2022. The decline reflected drops in cereal, vegetable oil, and dairy price indeces.
Cereal prices were at 138.6 points in March, which is 8.2 points (5.6%) lower than in February and 31.6 points (18.6%) higher than a year ago. This month's decline reflected lower international prices for major cereals. International wheat prices fell 1%, reflecting oversupply and competition among exporting countries. The extension of the Black Sea Grains Initiative also contributed to lower prices. Production in Australia and forecasts of favorable crop conditions in the EU fostered a sense of security in the global supply situation. Competition from Russia also exerted downward pressure on prices. World maize prices also fell 4.6% in March on forecasts of improved harvests from South America, historic production in Brazil, and the extension of the Black Sea Grains Initiative. For rice, the price fell 3.2%, factoring in the upcoming harvests in major exporting countries such as India, Vietnam, and Thailand.
The vegetable oil price index fell 4.1 points, or 3.0%, month-over-month to 131.8 points in February, 47.7% lower than a year ago. This downward trend appears to reflect cooler international demand for soy, rapeseed, and sunflower oil, offsetting a three-month rise in palm oil, which suffered from sluggish production due to unfavorable weather and other factors.
The Black Sea Grain Initiative, signed last July 12, which guarantees the export of Ukrainian grain via the Black Sea for 120 days, was extended for 120 days in November. Its re-extension was agreed on March 18, just before the deadline, but Russia did not budge and this time it is valid for only 60 days. News reports also indicate that Russia is flirting with pulling out of the initiative, claiming that it is discriminated against in international logistics related to finance and insurance for exports of Russian grains and fertilizers, and that the agreement not to impose sanctions on Russian grains and fertilizers is not being honored. In fact, some of the world's major cereal traders are reportedly considering pulling out of Russian grain exports.
The disruption of the food supply chain due to Russia's invasion of Ukraine may have a prolonged impact.
Contributor: IIYAMA Miyuki (Information Program