Pick Up
658. Awarding Ceremony for the 2022 (The 16th) Japan International Award for Young Agricultural Researchers (Japan Award)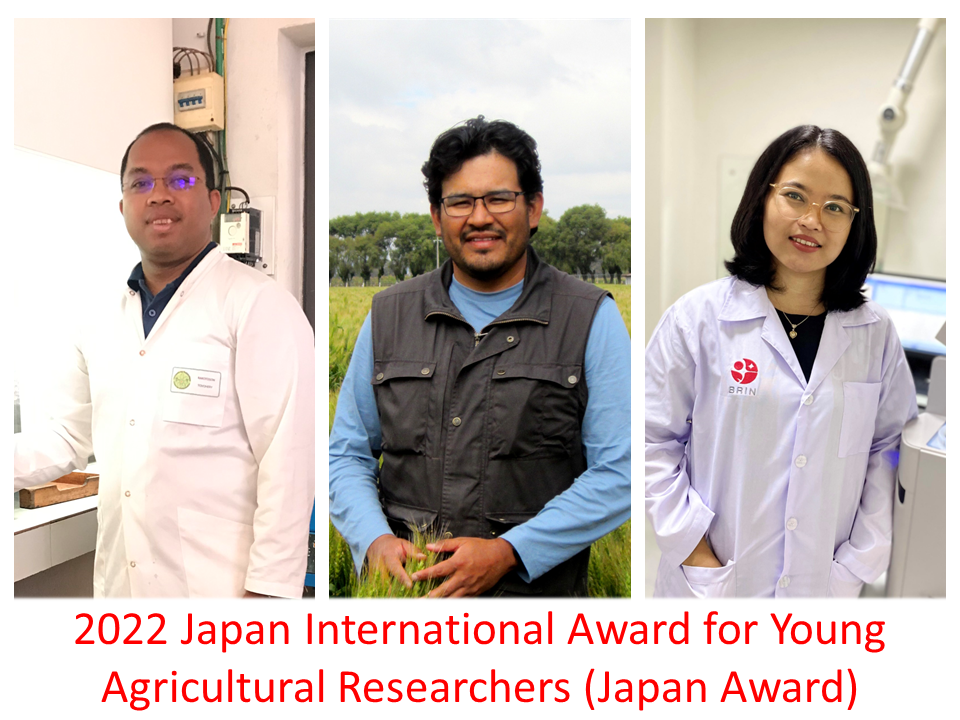 The awarding ceremony for the 2022 (The 16th) Japan International Award for Young Agricultural Researchers (Japan Award) will be held as follows. The Japan Award was started in 2007 by a generous donation from Mr. MOTAI Shigeru, former Chairman of the Agriculture, Forestry and Fisheries Research Council (AFFRC), and this year marks the 16th time the award is given. JIRCAS, in cooperation with the Ministry of Agriculture, Forestry and Fisheries (MAFF), is administering the award.
1. Awarding Ceremony
(1) Date and Time
November 22 (Tue), 2022
9:30~ Registration
10:00~10:45 Awarding Ceremony
10:55~11:40 Lectures by the Awardees
11:45~12:30 Congratulatory Reception
(2) Format
Hybrid (In-person and Online
Venue: Hitotsubashi Hall (capacity of up to 150 people) Location: National Center of Sciences Bldg. 2F, 2-1-2 Hitotsubashi, Chiyoda-ku, Tokyo
2. Registration for Participation
(1) How to apply
The general public is welcome to attend the awarding ceremony and lectures by the awardees. Please apply using the application form at https://www.jircas.go.jp/en/event/2022/e20221122_japanaward/entry
(2) Application deadline
November 18 (Fri) 16:00
The purpose of this Award is to motivate young researchers who engage in research and development in agriculture, forestry, fisheries and related industries in developing regions. The following three researchers were selected from a record number of 46 candidates.
Name of Awardees / Affiliation / Achievement
Tovohery RAKOTOSON
39, Male, Malagasy
University of Madagascar
Addressing phosphorus deficiency in rice in Sub-Saharan Africa
Leonardo CRESPO HERRERA
39, Male, Mexican
International Maize and Wheat Improvement Center (CYMMIT), Mexico
Genetic improvement of global wheat, including progress for enhancing insect resistance
Athanasia Amanda SEPTEVANI
37, Female, Indonesian
National Research and Innovation Agency (BRIN), Indonesia
The Value of Agricultural Waste: Cellulose as a Building Block for Materials
In the past two years, 2020 and 2021, the awarding ceremonies were held in video streaming format due to the COVID-19 pandemic. This year will be the first time in three years that the event will be held at the venue. In addition to the 2022 awardees, three 2020 awardees, for a total of six awardees will be coming to Japan.
Past awardees can be viewed on the Agriculture, Forestry and Fisheries Research Council (AFFRC) website.
https://www.affrc.maff.go.jp/kokusaikenkyu/young_foreigner_researcher_e.htm
The JIRCAS International Symposium 2022 "Artisanal Fisheries and Aquaculture in the Sustainable Food System"* will also be held at the same venue on the same day from 1:00 PM.
We are taking basic infection control measures to ensure so that everyone can attend the symposium with peace of mind
*JIRCAS International Symposium 2022: Artisanal Fisheries and Aquaculture in the Sustainable Food System
Organizer : Japan International Research Center for Agricultural Sciences (JIRCAS)
Supported by : Ministry of Agriculture, Forestry and Fisheries (MAFF), Fisheries Research and Education Agency (FRA)
Date : November 22 (Tue), 2022, 13:00-16:15 (JST).
Format : Hybrid (Hitotsubashi Hall and Online) Venue (Limited to 150 participants) : National Center of Sciences Building 2F, 2-1-2 Hitotsubashi, Chiyoda-ku, Tokyo 101-8439
Registration at https://www.jircas.go.jp/en/symposium/2022/e20221122_jircas/entry 
Deadline: November 18 (Fri) 16:00 (JST)
Contributor: OMORI Keisuke (Information and Public Relations Office)