Pick Up
636. JIRCAS International Symposium 2022 Special Site is Now Open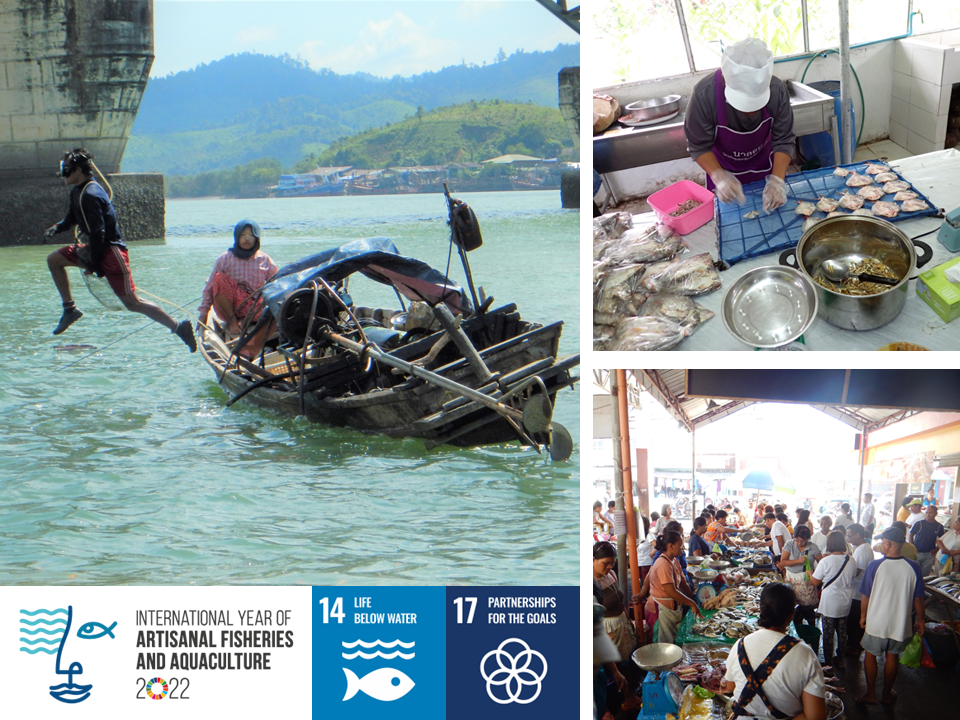 With the world population projected to increase to 10 billion by 2050, the question of how to create a sustainable food system that ensures food and nutrition security while avoiding climate change and biodiversity loss, while leaving no one behind is being raised. Against this backdrop, the importance of blue foods (marine products including fish, shellfish, and seaweed) is attracting attention.
Seafood is diverse and rich in a variety of micronutrients, contributing to diversification of nutritional sources. In addition, fisheries and aquaculture are the most resource-efficient means of producing animal protein foods and can reduce carbon emissions per unit of production. Fisheries and aquaculture are expected to play an ever more important role in building a sustainable food system.
At the same time, small-scale artisanal fishers play a major role in this context, as seafood is an essential part of a healthy diet and culturally very important for humanity. The United Nations has designated 2022 as the "International Year of Artisanal Fisheries and Aquaculture" to highlight the importance of small-scale artisanal fisheries and aquaculture for our food systems, livelihoods, culture and the environment.
The JIRCAS International Symposium, held every fall, has chosen this year's theme, "Artisanal Fisheries and Aquaculture in the Sustainable Food Systems", against the backdrop of discussions at the 2021 UN Food Systems Summit and the 2022 International Year of Artisanal Fisheries and Aquaculture 2022. The symposium aims to form a common understanding on the importance of the role of artisanal fisheries and aquaculture in sustainable food systems, and the current status and challenges of implementing scientific and technological innovations that can both sustain and improve productivity, and to provide an opportunity to exchange views on the direction of international joint research.
The symposium's special website has been opened at the following link, and registration for participation is now open.

JIRCAS International Symposium 2022: Artisanal Fisheries and Aquaculture in the Sustainable Food System
Organizer : Japan International Research Center for Agricultural Sciences (JIRCAS)
Supported by : Ministry of Agriculture, Forestry and Fisheries (MAFF), Fisheries Research and Education Agency (FRA)
Date : November 22 (Tue), 2022, 13:00-16:15 (JST). Awarding ceremony for the Japan International Award for Young Agricultural Researchers will be held in the morning.
Format : Hybrid (Hitotsubashi Hall and Online) Venue (Limited to 150 participants) : National Center of Sciences Building 2F, 2-1-2 Hitotsubashi, Chiyoda-ku, Tokyo 101-8439 (Access: https://www.hit-u.ac.jp/hall/accessen.html)
Registration https://www.jircas.go.jp/en/symposium/2022/e20221122_jircas/entry Deadline: November 18 (Fri) 16:00 (JST)
Contributors: NAKASHIMA Kazuo (Food Program), MIYATA Tsutom (Fisheries Division), KANAMORI Norihito (Information and Public Relations Office), IIYAMA Miyuki (Information Program)