Pick Up
424. Highest World Food Prices Since July 2011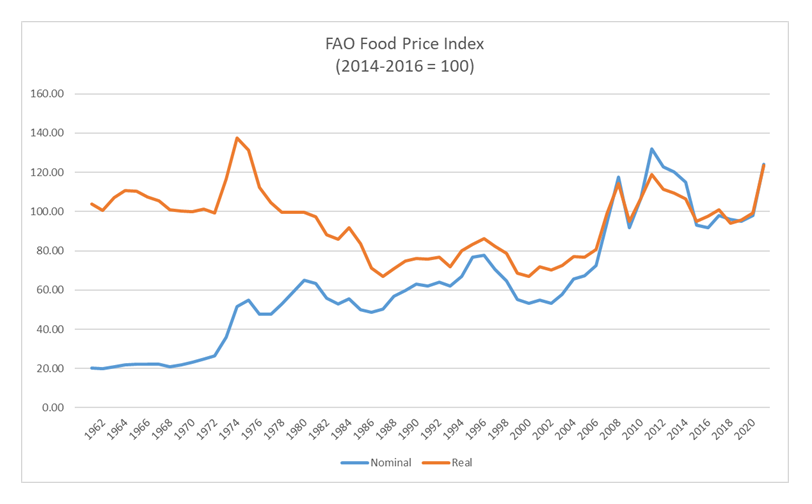 The Food and Agriculture Organization of the United Nations (FAO) released its World Food Price Index on November 4, 2021, reporting that world food prices are at their highest level since July 2011.
In October, the FAO's Food Price Index averaged 133.2 points, up 3 percent from September. The increase is said to reflect a 5% rise in wheat prices and higher prices for edible oils such as palm oil, soy, sunflower and rapeseed oils due to falling production and tight markets in major exporting countries such as Canada, Russia and the USA.
Cereal production in 2021 is projected to be at an all-time high, but stockpile levels for 2020 and 2021 are expected to be tight. World cereal production is projected at 2.793 billion tons, while cereal utilization is projected at 2.812 billion tons, due to factors such as the projected increase in wheat demand to meet the growth of the world's population and the increased feed and industrial use of maize. Reflecting these factors, the stockpile level is projected to decrease slightly from 29.4% to 28.5% compared to the previous year, although still in the safe range.
Soaring food prices have a major impact on the food security of food-importing countries, and in 2008, a sharp rise in global grain prices led to hoarding and hoarding riots in developing regions that depend on grain imports, and worsened political instability. The background to the international panic at the time was drought in grain-producing countries, the overheating of the biofuel boom in response to rising oil prices, and the influx of speculative money from around the world into grain markets due to policy interest rate cuts. In addition to these factors, changes in food demand in Asia (especially increased demand for meat), cuts in agricultural research budgets and stagnation in yield improvement, and other long-term factors are also believed to have contributed to the dramatic rise in global food prices. 
In March 2020, a new coronavirus pandemic was declared and movement restrictions were imposed around the world, raising concerns about the impact of disruptions in the food supply chain and the risk of food price hikes. Although the crisis at the global grain market level was averted thanks to the prompt provision of information on grain stockpile levels and production forecasts by international organizations and calls for international cooperation, COVID-19 served as an opportunity to highlight the potential vulnerability of the distribution side of the global food supply chain.
In order to maintain global food security, it is essential to collect and analyze information on short-, medium-, and long-term trends that may lead to food supply and demand imbalances in the extremely closely connected global food system, and to be prepared for international collaboration. Recently, rising fuel and fertilizer prices due to soaring crude oil prices have affected food production and distribution costs. In the medium- and long-term, the environment surrounding world food supply and demand is becoming increasingly complex, including changes in the quality and quantity of food demand due to population growth and economic development in developing countries, production conditions in major exporting countries due to climate change and extreme events, and the implementation of climate change adaptation and mitigation measures in agriculture, forestry, and fisheries. Japan, which relies heavily on international trade for its food security, must also contribute to the stability of the global food market through the sustainable development of the international agriculture, forestry, and fisheries industry through innovation.
Contributor: IIYAMA Miyuki (Director, Information Program)