Why 'Quality' Matters in International Agriculture Research?
JIRCAS International Symposium Proceedings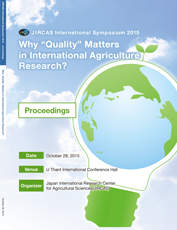 Why 'Quality' Matters in International Agriculture Research?
Date : October 28, 2015
Venue : U Thant International Conference Hall, United Nations University (53-70,Jingumae 5-chome, Shibuya-ku, Tokyo, Japan)
JIRCAS has been organizing the JIRCAS International Symposium, an annual meeting where experts discuss a subject based around themes of central importance in international agricultural research. The symposium presentations and discussions specifically deal with research topics that are aimed at solving problems in agriculture, forestry, fisheries and related industries towards sustainable development in developing countries.
Recently, in addition to well-known international development 'keywords' such as 'climate change,' 'food security,' and 'poverty alleviation,' international groups have also been paying attention to several new and relevant keywords such as 'nutrition security,' 'establishment of food value chains,' 'resilience' and 'inclusive development.' These emerging keywords focus on the qualitative development, rather than the quantitative expansion of the economy as represented by GDP growth rates.
JIRCAS International Symposium 2015, therefore, will focus on 'quality,' which is a common factor of these emerging keywords in international development.
In research, we recognize 'quality' to mean not only the quality of research outputs but also development objectives and the quality of research approaches such as promoting trilateral cooperation (e.g., a south-south cooperation involving a developed country), strengthening linkages between public research institutes and private companies, and transferring research output to the users.
In this symposium, we will showcase some highlights of JIRCAS international research collaborations implemented under the current mid-term plan covering FY2011-2015 and other studies by our research partners while considering how these researches relate to 'quality.' Finally, we will identify the future direction of international agricultural research and the steps that must be taken in order to contribute towards high 'quality' development.
Program
Masa Iwanaga
Masamichi Saigo
Kazuhiko Takemoto
Keynote Speeches
Session 1: Researches for climate-resilient and sustainable agriculture
Session 2: Approaches to enhance stable food production and consumption in Africa
Session 3: Evaluation of the various uses of indigenous resources and establishment of value chains in Asia
| | |
| --- | --- |
| 刊行年月日 | |
| 作成者 | Japan International Research Center for Agricultural Sciences |
| 公開者 | Japan International Research Center for Agricultural Sciences |
| オンライン掲載日 | |
| 国立情報学研究所メタデータ主題語彙集(資源タイプ) | Conference Paper |
| 巻 | 2015 |
| 言語 | eng |