Pick Up
792. May 2023 World Food Price Index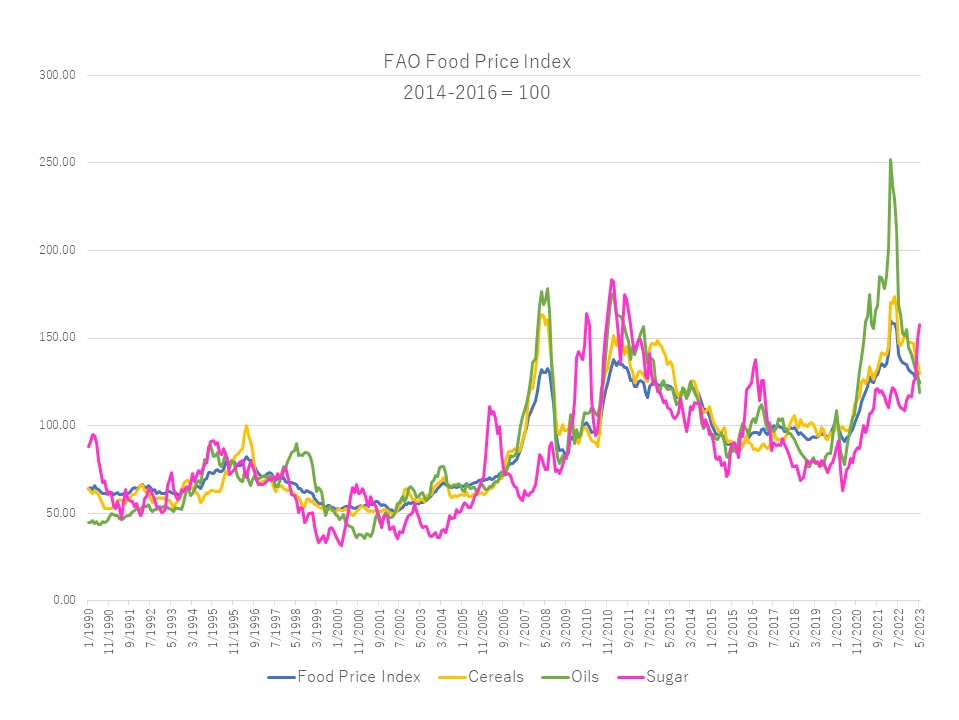 792. May 2023 World Food Price Index
The UN Food and Agriculture Organization (FAO) released its latest World Food Price Index on June 3, 2023, and the May 2023 value averaged 124.3 points, down 3.4 points (2.6%) from the previous month and 35.4 points (22.1%) below the record high reached a year ago in March 2022. The decline in May reflected sharp falls in vegetable oil, cereal, and dairy price indexes, although some of the decline was offset by higher sugar and meat prices.
Cereal prices were at 129.7 points in May, 6.5 points (4.8%) lower than in April and 43.9 points (25.3%) lower than a year ago, when they reached an all-time high. International wheat prices fell 3.5% from the previous month due to strong world supply prospects for the 2023/24 season and the extension of the Black Sea Grain Initiative. World maize prices also fell 9.8%, reflecting expectations of improved supplies due to the 2023/24 harvest outlook in the two largest exporters, Brazil and the United States. Delays in exports from the U.S. and cancellations of Chinese purchases also put downward pressure on world maize prices. In contrast, international rice prices rose on the back of the execution of export contracts to Asia and tightening export supplies in Vietnam and Pakistan.
Vegetable oil price index fell 11.3 points, or 8.7%, from the previous month to 118.9 points in April, 48.2% lower than at the beginning of the year. International palm oil prices fell sharply in April due to weak international demand and the prospect of increased production in major producing countries, while soybean prices fell for the sixth consecutive month due to strong production in Brazil and a larger-than-expected inventory buildup in the United States.
Dairy price index fell 3.2% month-over-month, while the meat price index rose 1.0%, the latter for the fourth consecutive month, but is 4.1% lower than a year ago.
Sugar price index averaged 157.6 points in May, up 8.2 points from April, the fourth consecutive month of increase and 37.3 points (30.9%) higher than a year ago. Concerns about uncertainties surrounding the development of the El Niño phenomenon have caused uncertainty about the 2023/24 supply and demand outlook, and lower-than-expected supplies in 2022 and 2023 have also contributed to the price increase. Competition from soybean and maize with respect to shipments from Brazil is also putting upward pressure on prices, while Brazil's not-so-poor 2023 harvest forecast and low oil prices are limiting the escalation of price increases.

Contributor: IIYAMA Miyuki (Information Program)