Pick Up
551. FAO Food Price Index — Two consecutive months of decline but 20-30% higher than last year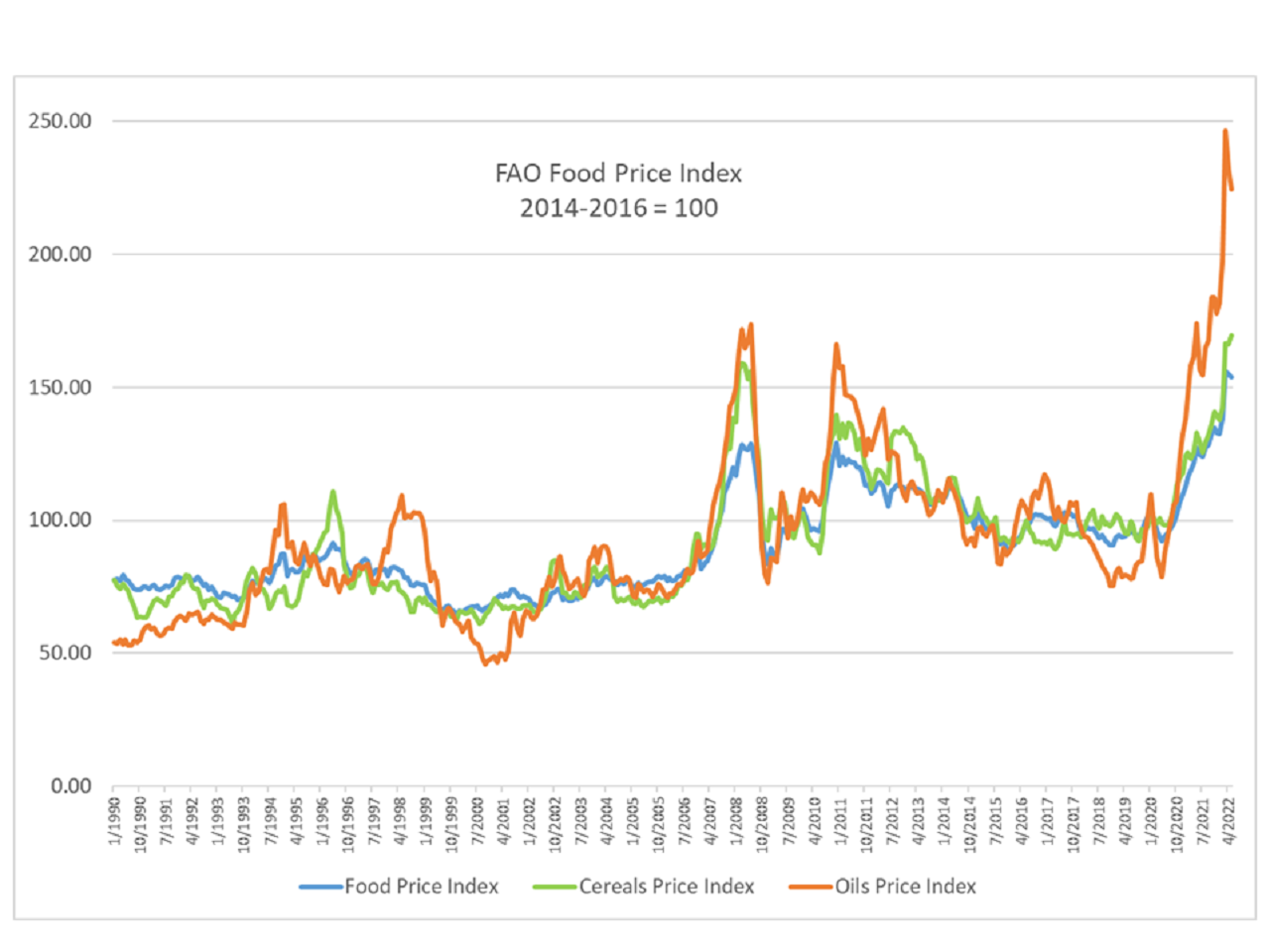 The Food and Agriculture Organization of the United Nations (FAO) released its Food Price Index on June 3, reporting that the global food price index, which reached an all-time high in March 2022, declined for the second consecutive month in April and May.
The FAO Food Price Index fell 0.9 points (0.6%) from the previous month to 157.4 points in May 2022, the second consecutive month of decline, but remained 29.2 points (22.8%) higher than the same period last year. This drop reflects declines in vegetable oil and dairy price indeces.
The FAO Grain Price Index rose 3.7 points (2.2%) from April to a value of 173.4 points, 39.7 points (29.7%) higher than in May 2021. International wheat prices have been high for four consecutive months, averaging 56.2% higher than last year and only slightly lower than the high reached in March 2008. The surge in wheat prices was the result of a reaction to export restrictions announced by India amid concerns about developments in major exporting countries and the prospect of production cuts in Ukraine. In contrast, prices for coarse grains, maize, and sorghum were down about 3%, but remain higher than last year. Rice prices increased for the fifth consecutive month.
The FAO vegetable oil price index dropped 8.3 points (3.5%) from the previous month to 229.3 points, reflecting lower prices for palm oil, sunflower oil, soybean oil, and rapeseed oil. The palm oil price decline was due to the lifting of Indonesia's short-lived export ban along with demand quotas. Sunflower oil prices have also come down from their all-time highs. Soybean and rapeseed oil prices also dropped due to lower demand following too high costs in recent months.
June 3 also marked the 100th day since the start of the war in Ukraine. The UN reported that various agencies were working hard to negotiate with Russia and other countries involved to supply global farmers with grain shipments from Black Sea ports and Russian fertilizers to avert a food security crisis in the wake of the Russian invasion of Ukraine.
Contributor: IIYAMA Miyuki (Director, Information Program)