Pick Up
515. World Food Price Trends-FAO Food Price Index Hits Record High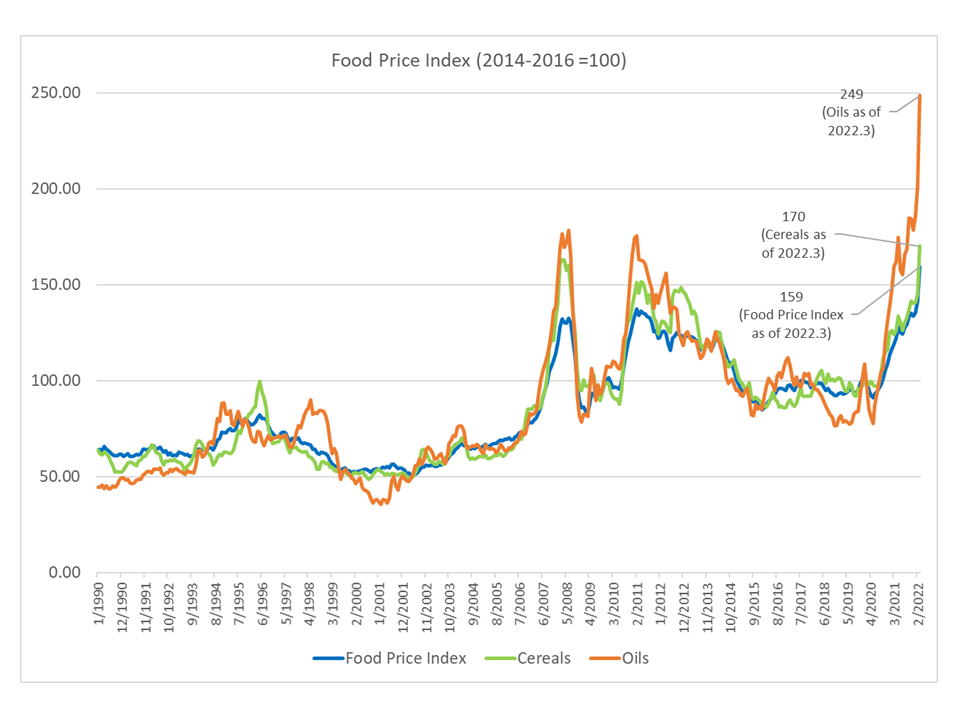 On April 8, the Food and Agriculture Organization of the United Nations (FAO) released its World Food Price Index and reported that the food price index hit an all-time high in March 2022 due to unstable international social conditions.
The FAO Food Price Index* increased by 17.9 points (12.6%) in March 2022 from the previous month, averaging 159.3 points, reaching its highest level since 1990. This surge reflects, among other things, the highest prices recorded for vegetable oil, cereals, and meat.
The FAO Cereal Price Index rose 24.9 (17.1%) from the previous month to 170.1 points, its highest level since 1990. This month's increase reflects higher world prices for wheat and coarse grains (corn, barley, sorghum etc.) in general following export disruptions in Ukraine and Russia. In contrast, the price index for rice has remained virtually unchanged since February and is 10% lower than at the beginning of the year.
The FAO Vegetable Oil Price Index averaged 248.6 points in March, increased by 46.9 points (23.2%) from the previous month and hit a new record high. This was driven by higher sunflower, palm, soybean, and rapeseed oil prices. In particular, international sunflower oil prices rose markedly due to export reductions brought about by the war in the Black Sea region. Palm soybean and rapeseed oil prices also rose, reflecting concerns about sunflower oil supply disruptions.
Today, as the world becomes more closely linked through the food system, we are reminded that maintaining food and nutrition security requires efforts to preserve world peace.
Contributor: IIYAMA Miyuki (Director, Information Program)