Pick Up
511. Simple Virus-free Technology Video Manual for Passion Fruit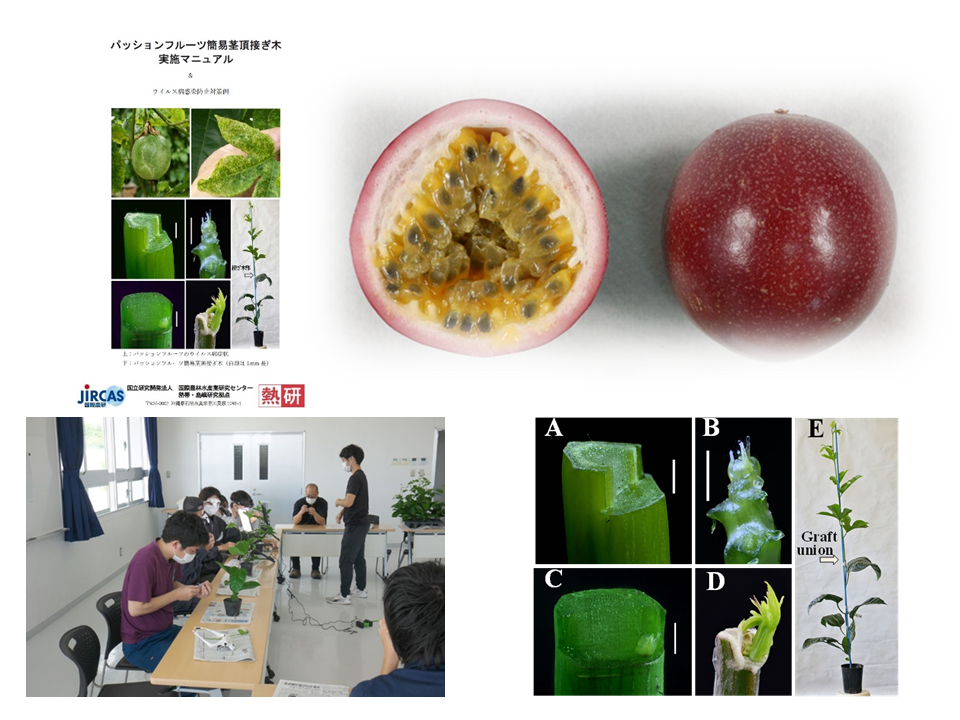 The introduction of tropical fruit tree varieties and technologies in response to global warming and other factors has the potential to make a significant contribution to future agricultural development and diversification of food and nutrition sources not only in tropical and subtropical countries but also in Japan. The JIRCAS Tropical Tropical Agriculture Research Front (TARF) located on Ishigaki Island is taking advantage of the climatic and geographical conditions to conserve and evaluate genetic resources of tropical crops, develop breeding materials, and develop varieties and cultivation techniques for the Nansei Islands.
In the Tropical crop genetic resources project under the Information Program, we are mainly conducting research on the utilization of genetic resources of mango and passion fruit for the subject of tropical fruits. Passion fruit accounts for the third largest amount of tropical fruit production in Japan, after pineapple and mango. As a measure against the continuous global warming, demand is also expected to increase and further expansion of domestic production is anticipated. Although passion fruit is a tropical fruit tree, it is susceptible to extremely high temperatures during the flowering and fruiting periods, and in recent years damage caused by virus diseases has been increasing.
Today, we would like to introduce the virus-free technology, which is one of the High-impact research of JIRCAS Research Highlights in FY2021, for domestic passion fruit growers and seedling producers as the beneficiaries.
Passion fruit is mainly propagated vegetatively through cuttings, and is therefore prone to the spread of virus infection. In some cases, it has been difficult to secure healthy stock (mother tree) for propagation because the infection has already spread if symptoms of the virus are unrecognizable. The shoot-tip tissue culture method was used for virus-free propagation from infected individuals, but it has not been put to practical use because it is time-consuming and labor intensive.
The simple micrografting (shoot-tip grafting) method developed this time is practical and easy to introduce to the field because it does not require aseptic manipulation or special facilities. Technical training sessions have already been held in Kagoshima and Okinawa prefectures, which are major production areas in Japan (both prefectures account for approximately 84% of the domestic production).
An implementation manual and explanatory video have now been released. Please click on the link below.
Manual: https://www.jircas.go.jp/ja/publication/manual_guideline/passion_fruit
Explanatory video: https://youtu.be/sQ26IFv2Sl0
It is our great pleasure to introduce and disseminate the technology to passion fruit growing regions.
Contributor: YAMANAKA Shinsuke (Tropical Agriculture Research Front)