Pick Up
465. Water Resources and Impact of Disasters in Tonga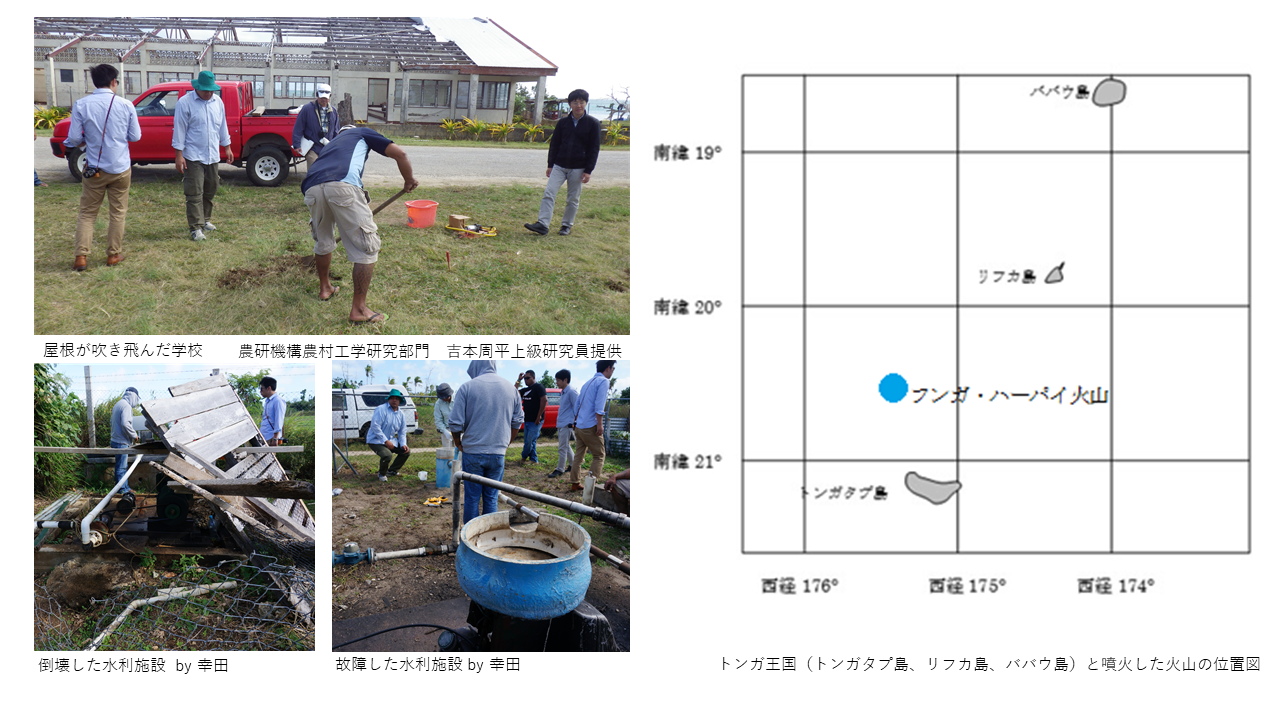 On January 15, 2022, Hunga Tonga-Hunga Ha'apai volcano (hereinafter referred to as Hunga Ha'apai volcano) in the South Pacific Kingdom of Tonga erupted, and the scale of the damage is becoming clearer. 
Located in Western Polynesia in the Pacific Ocean, Tonga is an island nation with a population of about 100,000, consisting of about 170 islands and four archipelagos.
The Lifuka Island, where the author of this article conducted a field survey as a JICA short-term expert in 2014, is located in the Harpai Archipelago, about 135 km northeast of the Hunga Ha'apai volcano. The Ha'apai archipelago, including Lifuka Island, is far away from magma-driven volcanic activity and has many low islands with old formation ages, making it susceptible to meteorological disasters with rising sea levels. At the time of the author's visit, the island was still affected by the cyclone that occurred in January of that year, and public facilities, water facilities and houses were still damaged.
The islands of Tonga, including Lifuka, are vulnerable to overwash caused by extreme weather conditions which endanger human lives and delay the recovery of infrastructure. With the exception of a few islands, there are no rivers or lakes. In dry seasons and droughts, fresh groundwater including "fresh groundwater lens" (hereinafter referred to as FGL) becomes an important water resource. A FGL is an area of freshwater that floats in the form of a lens above an aquifer containing seawater due to density differences on the islands. The water resources of low-lying small islands, which depend on FGL for their water sources, are expected to become saline due to the rise in sea level caused by global warming, and are also susceptible to the increase in water withdrawal and decrease in recharge volume due to droughts, etc. Therefore, technological development for their conservation is necessary. 
On Lifuka Island, the freshwater lens is used for drinking and irrigation, especially in drought years when agricultural dependence on the freshwater lens for irrigation is high. The main agricultural products grown on Lifuka Island include taro and cassava (staple foods), banana, breadfruit, watermelon and beans, but vegetables such as pumpkin, tomato, bell pepper and chili pepper are also grown. However, in recent years, due to the increasing demand for drinking water and irrigation water, the FGL has become saline due to excessive extraction of groundwater from the FGL. A field survey conducted by JIRCAS and NARO Institute for Rural Engineering showed that 64% of the groundwater extracted from the intake wells has become quite saline.
The eruption of the Hunga-Ha'apai volcano also reportedly caused a tsunami on Lifuka Island. While the problem of drinking water contamination due to volcanic ash in the Tonga Islands has been reported, there is still no detailed information on the overwash caused by the tsunami. However, based on past research conducted by JIRCAS on other tropical islands, the use of FGLs for drinking water and irrigation may become impossible as the islands become increasingly saline. There have been few studies on islands affected by volcanic eruption tsunamis and flooded by seawater to (1) monitor the upper and lower boundaries of the freshwater lens, (2) calculate the amount of water stored in the lens, and (3) measure changes in water quality. Therefore, research towards monitoring the progress of salinization and developing technologies to reduce and prevent salinization is extremely necessary
Contributor: KODA Kazuhisa (Rural Development Division)