Pick Up
870. JIRCAS International Symposium 2023 "Innovations to enhance the resilience of tropical forests and sustainability of the forest industry"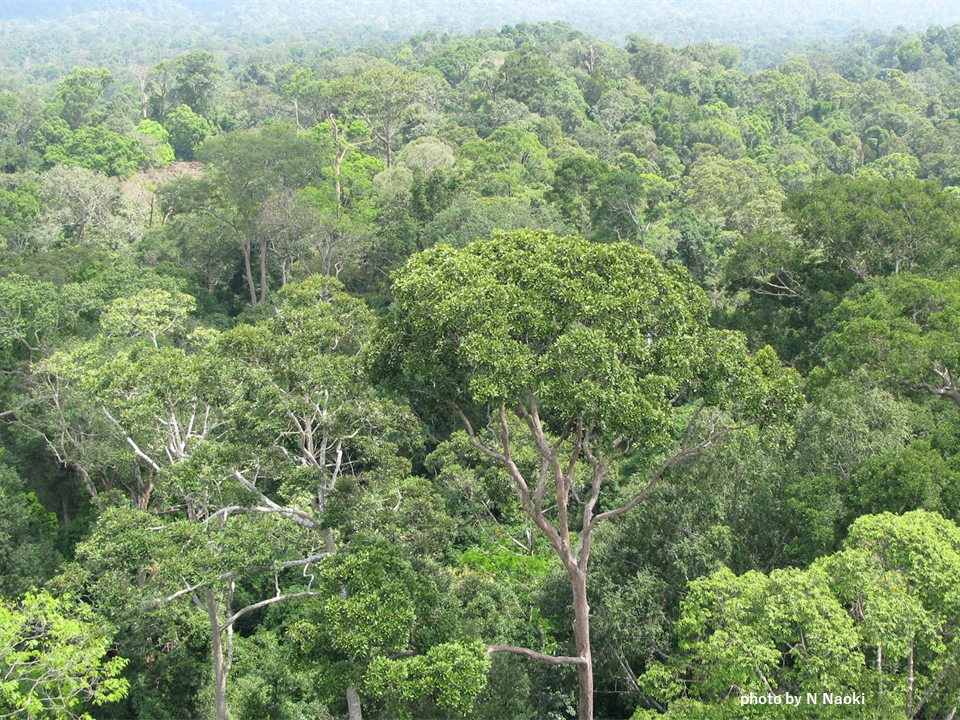 870. JIRCAS International Symposium 2023 "Innovations to enhance the resilience of tropical forests and sustainability of the forest industry"
The low-latitude equatorial regions of Asia, Africa, and Latin America experience consistent and abundant rainfall throughout the year, supporting the growth of extensive tropical forests, often referred to as tropical rainforests. These lush ecosystems actively absorb significant amounts of carbon dioxide from the atmosphere, facilitated by vigorous photosynthesis under the abundant solar radiation that prevails in these regions. These tropical forests are estimated to be responsible for 40-50% of the carbon dioxide absorption by terrestrial vegetation. In addition to effectively sequestering carbon, these forests provide habitats for a wide range of organisms, from large animals to insects, small creatures and microorganisms, forming complex and diverse ecosystems. The presence of trees, which store significant amounts of carbon and achieve substantial growth, is crucial to this ecosystem. In addition, tropical forests play a critical role in regulating the Earth's climate and environment through their contributions to carbon sequestration and biodiversity. They are an essential subsystem for stabilizing the Earth system.
Tropical forests have historically been a vital source of natural resources, including timber, medicinal raw materials, and seeds for agricultural crops that are essential for human sustenance and livelihoods. However, the onset of globalization in the mid-20th century has significantly impacted these forests. Overexploitation of rare natural resources and conversion of forested areas into cash crop plantations have become widespread, resulting in the loss of primary tropical forests. It is estimated that approximately 3.75 million hectares of primary tropical forests will be lost by 2021 (WRI). This rampant deforestation and degradation, driven primarily by human economic activities, poses a serious environmental threat. The consequences of deforestation and degradation are profound, ranging from global warming to the release of carbon stored in trees and soils. In addition, the loss of biodiversity resulting from the destruction of the biosphere can disrupt the delicate balance of Earth's climate and environmental controls. These adverse effects create a feedback loop that disrupts the functioning of the entire Earth system.
In recent years, global discussions at international conferences and negotiations focused on climate change mitigation and biodiversity conservation have highlighted the importance of enhancing the climate and environmental regulating role of tropical forests. At the same time, these dialogues have highlighted the need to implement regulations to curb deforestation caused by industries operating in tropical forests. Achieving a harmonious coexistence of environmental conservation and sustainable industry requires the practical and tangible implementation of innovative approaches to tropical forest resource management and local institutions.
JIRCAS plays a key role in making international contributions and fostering national and international collaboration in agriculture, forestry and fisheries research. By developing technologies that address the unique challenges of agriculture, forestry, and fisheries in Asia, Africa, and Latin America, JIRCAS is making a significant contribution to the achievement of the Sustainable Development Goals (SDGs). Central to these efforts is active engagement in international collaborative research, with a particular focus on tropical forests in the Asian region. Notable efforts include the advancement and widespread adoption of technologies that enhance the resilience of tropical forests through the use and management of climate-smart forest genetic resources. In addition, sustainable land-use practices and high value-added uses of oil palm plantations are being explored as alternatives to uncontrolled deforestation in tropical forest areas.
Building on these initiatives, this symposium invites tropical forest researchers, companies and policy makers from around the world, with a particular focus on Asia. The aim is to facilitate discussions on the prospects and challenges of balancing the resilience of tropical forests with the sustainability of related industries. In particular, the year 2023 marks the 50th anniversary of Japan-ASEAN friendship and cooperation, providing an opportune moment to shine a spotlight on tropical forests in Asia. The symposium aims to propose innovative solutions from Asia that can significantly strengthen the resilience of tropical forests and the broader Earth system.
JIRCAS International Symposium 2023 "Innovations to enhance the resilience of tropical forests and sustainability of the forest industry"
Date & Time: November 17 (Friday), 2023 13:30~17:30
Venue: Hybrid (U Thant International Conference Hall + Online)
Registration Period: September 29 (Friday) 9:00~ November 16 (Thursday) 17:00
Website: https://www.jircas.go.jp/en/symposium/2023/e20231117_jircas
registration link: https://www.jircas.go.jp/en/symposium/2023/e20231117_jircas/entry 
Contributor: JIRCAS International Symposium 2023 Organizing Committee
Related Pages