Pick Up
645. JIRCAS International Symposium 2022 Poster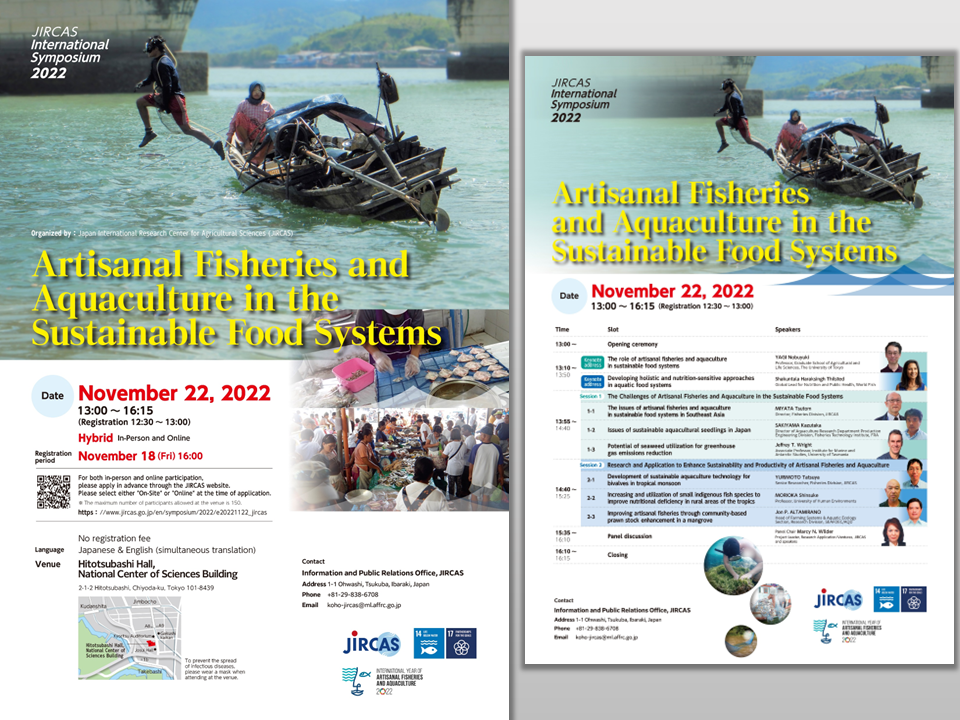 The poster for the JIRCAS International Symposium 2022 "Artisanal Fisheries and Aquaculture in the Sustainable Food Systems", which was first announced in a recent Pick Up, is now available.

The poster image shows the flow from "fishing" → "processing" → "marketing". Our researchers took the photos on site.

This year is the International Year of Artisanal Fisheries and Aquaculture (IYAFA 2022) as established by the United Nations. IYAFA 2022 aims to raise awareness on the role of artisanal or small-scale fisheries and aquaculture, to enhance the interaction between science and policy in order build new partnerships and strengthen existing ones, and to enable stakeholders to take action.

Against the background of discussions at the 2021 UN Food Systems Summit and IYAFA 2022, the JIRCAS International Symposium will discuss the importance of the role of small-scale fisheries and aquaculture in a sustainable food system, and the current status and challenges of implementing science and technology innovation that combine sustainability and productivity improvement, and provide an opportunity to assess the directions of international collaborative research.

Due to the COVID-19 pandemic, for the past two years, we have delivered information in the form of online events and distribution of recorded videos. This year, we will hold a hybrid event at the venue (Hitotsubashi Auditorium) for the first time in about three years, as well as online. We are working diligently to prepare for the event by taking basic infection control measures and creating a safe and comfortable environment for everyone to attend.

For a more detailed program and registration, please see the following links.
JIRCAS International Symposium 2022: Artisanal Fisheries and Aquaculture in the Sustainable Food System
Organizer : Japan International Research Center for Agricultural Sciences (JIRCAS)
Supported by : Ministry of Agriculture, Forestry and Fisheries (MAFF), Fisheries Research and Education Agency (FRA)
Date : November 22 (Tue), 2022, 13:00-16:15 (JST). Awarding ceremony for the Japan International Award for Young Agricultural Researchers will be held in the morning.
Format : Hybrid (Hitotsubashi Hall and Online) Venue (Limited to 150 participants) : National Center of Sciences Building 2F, 2-1-2 Hitotsubashi, Chiyoda-ku, Tokyo 101-8439 (Access: https://www.hit-u.ac.jp/hall/accessen.html)
Registration https://www.jircas.go.jp/en/symposium/2022/e20221122_jircas/entry 
Deadline: November 18 (Fri) 16:00 (JST)
Contributor: OMORI Keisuke (Information and Public Relations Office)