RICE GALL DWARF VIRUS
Technical bulletin of the Tropical Agriculture Research Center
| | |
| --- | --- |
| ISSN | 03889394 |
| 書誌レコードID(総合目録DB) | AA00857848 |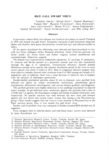 A previously undescribed virus disease was found on rice plants in central Thailand in 1979 and named rice gall dwarf. Symptoms consisted of gall formation along leaf blades and sheaths, dark green discoloration, twisted leaf tips, and reduced number of tillers.
Of the plants inoculated the followeing were infected and back-inoculated to rice; wild rice Oryza rufipogon, barley Hordeum distichum, wheat Triticum aestivum, rye Secale cereale, oat Avena sativa and Italian ryegrass Lolium multiflorum and suzumenoteppo Alopecurus aequalis.
The disease was transmitted by Nephotettix nigropictus, N. cincticeps, N. malayanus,N. virescens and Recilia dorsalis in a persistent manner and was also transmitted through the eggs of N. nigropictus. Transmission efficiency showed marked differences among vector species and colonies. Incubation period of the virus in every vector species was about 2 weeks at 25°C. Rate of congenital infective progeny born from infective females showed wide variations from 0 to 100% among test broods of N. nigropictus and, in addition, there was a steep decrease of infective rate of progeny with the advance of leafhopper generations.
Double-shelled polyhedral particles about 65 nm in diameter were purified from infected rice plants by carbon tetrachloride clarification, polyethylene glycol precipitation, differential centrifugation, and sucrose density-gradient centrifugation.
The purified particles were highly infectious to rice seedlings inoculated via injected insect nymphs. In gel diffusion tests, antiserum against the particles had a titer of 1:2,048 and 1:2 against the homologous antigen and double-stranded ribonucleic acid, respectively. No specific reaction was seen between the new virus and antisera against the rice dwarf and wound tumor viruses that belong to the Phytoreovirus group. These results suggest that the virus is a new member of Phytoreovirus in the Plant reovirus group; thus, it was named rice gall dwarf virus.
Nucleic acid of purified virus was composed of double-stranded RNA divided into 12 segments.
Virus antigens both in infected plants and individual insect vectors were detected by latex flocculation test.
刊行年月日
作成者

Toshihiro OMURA

Hitoshi INOUE

Tadashi MORINAKA

Tadaaki HIBI

Masaichi TSURUMACHI

Akira KOBAYASHI

Dara CHETTANACHIT

Methie PUTTA

Amara PAREJAREARN

Somkid DISTHAPORN

Tawat PATIRUPANUSARA

ONG Ching ANG

公開者

Tropical Agriculture Research Center

巻
21
開始ページ
41
終了ページ
64
言語
eng
国名
タイ