Height Increment of Pinus caribaea var. hondurensis in Thailand
Tropical agriculture research series : proceedings of a symposium on tropical agriculture researches
| | |
| --- | --- |
| ISSN | 03889386 |
| 書誌レコードID(総合目録DB) | AA00870529 |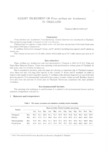 Pinus caribaea var. hondurensis from Honduras, Central America was introduced to Thailand.
The annual average height increment is 1.21 m in 10 years.
Thailand has two species of pine which cover only less than one percent of the total forest area (less than 2,000 square kilometres).
P. caribaea thrives best among P. kesiya, and P. merkusii as indigenous species and P. patula as exotic one.
The volume of one tree is 0.12 cubic metres which adds up to 74.7 cubic metres per acre in 10 years.
| | |
| --- | --- |
| 刊行年月日 | |
| 作成者 | Parasert BHODTHIPUKS |
| 公開者 | Japan International Research Center for Agricultural Sciences |
| 巻 | 12 |
| 開始ページ | 7 |
| 終了ページ | 10 |
| 言語 | eng |
関連する刊行物