Linking Agriculture to Nutrition: The Role of Beans
JIRCAS International Symposium Proceedings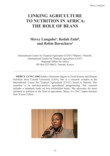 Despite the clear potential for improvements in agriculture to enhance maternal and child nutrition outcomes the evidence for this is scarce. Recent reviews on agricultural interventions for improving nutrition reveal that more and better-designed research is needed to generate evidence of impact and information on what kinds of agricultural investments will have positive benefits for nutrition and health.
CIAT responds to this challenge by generating research that creates a shared understanding of the nexus between agriculture, food systems, nutrition, and resilience; generating evidence on what works, when, and how in linking agriculture interventions to nutrition outcomes and high quality diets; and catalyzing policy dialogue advocating for better diets.
CIAT has led biofortification efforts, through supporting breeding for enhanced iron and zinc in beans. There is documented evidence by HarvestPlus in Rwanda that eating beans biofortified with iron can reduce iron deficiency in women of reproductive age. CIAT continues to promote utilization of biofortified bean varieties while also promoting food diversification using the food basket approach. In Malawi for example, CIAT promotes nutrition education and behavior change communication to influence caregivers' preferences towards more nutrient-rich foods, better intra-household allocation of food to benefit vulnerable groups, and other nutrition practices related to child feeding, caregiving, sanitation and hygiene.
Moreover, policymakers urgently need to recognize that poor diets are compromising economic productivity and well-being. Agricultural programs and investments are needed to support an enabling policy environment to contribute to improved nutrition. CIAT strives to lead the policy dialogue in its focal countries such as Madagascar towards national policies, action plans, and development activities that explicitly support nutrition through a multi-sectoral approach.
CIAT also focuses on promoting increased, responsible private sector engagement in targeted communities; encouraging processing and consumption of nutritious and safe foods; and harnessing the expertise of the private sector to shape healthy consumption patterns in its focal countries for example Kenya.
The results we seek in Africa are aimed at ensuring that consumers have better access to more nutritious food; that there are improved national systems to plan, manage, and evaluate nutrition-sensitive agricultural programs; and that we generate evidence of the links between agricultural interventions and improved nutrition.
別タイトル
農業と栄養とのリンク:豆の役割
刊行年月日
作成者

Mercy Lungahoa

Rodah Zulup

Robin Burucharaa

著者キーワード

Agriculture

nutrition

biofortification

policy

private-sector

公開者

Japan International Research Center for Agricultural Sciences

オンライン掲載日
国立情報学研究所メタデータ主題語彙集(資源タイプ)
Conference Paper
号
2017
開始ページ
53
終了ページ
56
関連する刊行物