Opening remarks
JIRCAS International Symposium Proceedings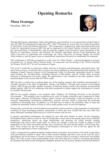 Distinguished guests, participants, ladies and gentlemen, good morning. It is my great honor and privilege to open the JIRCAS International Symposium 2017, titled "Promoting an Active Role for Female Researchers in Agriculture, Food and Nutrition Research." This symposium is organized by Japan International Research Center for Agricultural Sciences (JIRCAS) and co-organized by the United Nations University Institute for the Advanced Study of Sustainability, with the generous support of the Research Council Secretariat of the Ministry of Agriculture, Forestry and Fisheries, the National Agriculture and the Food Organization, the Tokyo University of Agriculture and Technology, the Tokyo University of Foreign Studies, the Greater Tokyo Initiative, and the Japan Forum on International Agricultural Research for Sustainable Development.
This symposium is officially recognized as a side event for "Shine Weeks," a period designated to promote movements for "A Society Where Women Shine," in connection with the hosting of the "World Assembly for Women: WAW 2017" by the Government of Japan.
First of all, I would like to extend my cordial welcome to all guests and participants, particularly those who came from overseas. I would also like to express my sincere gratitude to our prominent keynote speakers, Dr. Ismahane Elouafi, Director General of the International Center for Biosaline Agriculture based in United Arab Emirates, Dr. Howarth Bouis, Founding Director of HarvestPlus, and Dr. Noriko Sudo, Associate Professor at Ochanomizu University, Japan. My appreciation is also extended to the other speakers, chairs and participants in the sessions that will follow today.
JIRCAS plays a central role in making Japan one of the leading countries that contribute internationally to scientific research in the field of agriculture, forestry and fisheries. Through joint research in developing regions, JIRCAS has provided valuable assistance in fostering human resource development and promoting gender equality. JIRCAS will collaborate with other institutions to further support the contribution of women to scientific advancement.
JIRCAS has recently adopted a new program titled "Initiative for Realizing Diversity in the Research Environment." This program seeks to promote active roles for female researchers and is supported by funds from Japan's Ministry of Education, Culture, Sports, Science and Technology. Under the program, we are currently implementing international collaborative research activities aimed at improving the nutritional conditions in developing areas. In addition, we will find ways to improve the nutritional value of crops and evaluate the nutritional content of foods as well as tackle gender issues in rural development.
Women play a pivotal role in food production and nutrition, and account for a large proportion of agricultural workforce in many developing countries, particularly in Africa and Asia. Despite this fact, they often face many challenges including limited access to critical resources and services.
In general, agricultural technologies are mapped by men with male farmers in mind. On the technology development front, I believe, however, that we should take a closer look at the gender aspect from a different perspective, identifying clearly our target beneficiaries and directing our efforts towards creating technologies that cater to their actual needs. In Africa, for example, women are usually in charge of food preparation for the whole household and thus, they would know the kind and the quality of food crops they need. These women are the real targets of development technologies as well as the key agents for the adoption and application of these technologies.
Today's symposium has gathered together leading female researchers and scientists in the field of agriculture, food and nutrition research to share with us their research findings and their views on the need for active participation and involvement of women scientists in research aimed at securing a food-secure and healthy future. We hope to gain a deep understanding of the vital roles played by women in advancing agricultural development and food security through the insightful speeches by our keynote speakers and the presentations of four invited female researchers who are currently working on these issues from various perspectives such as indigenous foods, gender role in food security, and the link between agriculture and nutrition.
In this symposium, we will discuss matters aimed at promoting active roles for female researchers in agriculture, food and nutrition research, and hopefully come up with a good support initiative for empowering female researchers and achieving gender equality in research.
Finally, I would like to express my sincere hope that with your precious contribution, this symposium will become fruitful and will achieve the objective for which it was organized. Thank you very much.
| | |
| --- | --- |
| 別タイトル | 開会の挨拶 |
| 刊行年月日 | |
| 作成者 | Masa Iwanaga |
| 公開者 | Japan International Research Center for Agricultural Sciences |
| オンライン掲載日 | |
| 国立情報学研究所メタデータ主題語彙集(資源タイプ) | Conference Paper |
| 号 | 2017 |
| 開始ページ | 5 |
| 終了ページ | 6 |
| 権利 | Japan International Research Center for Agricultural Sciences |
| 言語 | eng |
関連する刊行物