News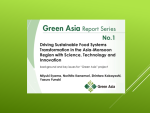 News
Green Asia Report Series No. 1
The Ministry of Agriculture, Forestry and Fisheries (MAFF) launched the national initiative known as the Sustainable Food System Strategy "MIDORI" in May 2021. Based on this initiative, MAFF initiated the "Green Asia" project to promote the application of technologies that contribute to climate change mitigation and sustainable agriculture in the Asia-Monsoon region, which is currently being implemented by JIRCAS.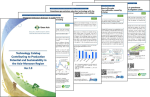 News
Technical Catalog Featured in TAP Newsletter
The Tropical Agriculture Platform (TAP) is a G20 initiative dedicated to strengthening knowledge sharing to support capacity building in agricultural innovation in the tropical regions. The most recent issue of the "TAP Newsletter" features a catalog of technologies that contribute to both increased productivity and sustainability in the Asia-Monsoon region.