JIRCAS Photo Archives
A Photohistory of JIRCAS's overseas research activities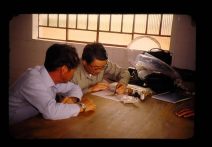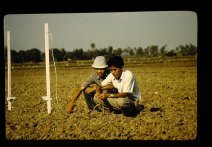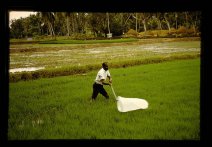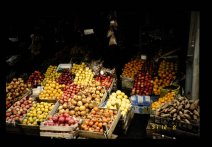 The slides in this photo archive were created from photographs collected through field surveys and research cooperation in various countries around the world by researchers of JIRCAS and the Tropical Agriculture Research Center (now called the Tropical Agriculture Research Front) of the Ministry of Agriculture, Forestry and Fisheries. These were stored in a slide image information database (TROSIS) [1] in the then Survey Information Division. The slides were later converted to image files and assigned metadata and relevant information to allow everyone to have access to Japan's international contribution and record of research activities covering 85 countries between the 1970s and 1990s.
To date, JIRCAS has been accumulating and saving a lot of pictures from field surveys and business trips. Slides in past databases were not searchable, thus the challenge was on how these materials can be properly utilized.
In addition to digitizing the slide images to image files, we also retrieved information stored in TROSIS, such as titles, photographers, and country names, as metadata in the digital images. This makes the data easier to manage and search with image-sharing services like Flickr and other commercial applications.
[1] Suzuki Daisuke and Mitsuo Suzuki. "Tropical Agriculture and Forestry Research: Technical Information and Database User Manual." Tropical Research Data No. 95, September 1993.
To view and use the photos
In addition to the above link (Flickr), it can also be accessed through the links below. User registration is not required.
The content may be used on condition that the source is properly cited in accordance with the Government of Japan Standard Terms of Use Version 2.0 (compatible with the Creative Commons Attribution 4.0 International License (CC BY)). Please refer to the "JIRCAS Website Terms of Use" for the terms and conditions of using the content. If the content will be used in printed materials, investigative research, etc., please let JIRCAS know using the inquiry form (optional).
Data Item
The data stored in the slide image information database (TROSIS) is appropriately converted to Exif (metadata or image information).
The country names, regions / places, and contents of the slide were all recorded at the time of filming. The naming method and descriptions at the time of filming may differ from the current method.
| Item Name | flickr | Exif |
| --- | --- | --- |
| Author's/Creator's name (Japanese) | Description | EXIF:XPAuthor, XMP:Creator |
| Author's/Creator's name (English) | Description | |
| Affiliation (abbreviation/acronym) | Description | |
| Date taken: Year and Month (Western calendar) | Date Taken | EXIF:DateTimeOriginal, EXIF:CreateDate |
| Subject/Theme (Japanese) | Description, Tag | IPTC:Keywords, IPTC:Category |
| Title (Japanese) | Title | IPTC:Headline |
| Title (English) | Title | IPTC:Headline |
| Country name (Japanese) | Description, Tag | |
| Country name (English) | Description, Tag | IPTC:Country-PrimaryLocationName |
| Region/Place (Japanese) | Description, Tag | |
| Region/Place (English) | Description, Tag | IPTC:Province-State |
| Target area | Description, Tag | IPTC:Keywords, IPTC:Category |
| Keywords (English) | Description, Tag | IPTC:Keywords, IPTC:Category |
| Slide content (Japanese) | Description | IPTC:Caption-Abstract |
Slide image information database (TROSIS) data

JIRCASphotoarchive_data.xlsx

1.25 MB
Photo count per country/region
| Country/Region, etc | Count |
| --- | --- |
| Afghanistan | 3 |
| Africa | 1 |
| Asia/Oceania | 1 |
| Australia | 27 |
| Bangladesh | 65 |
| Bolivia | 42 |
| Brazil | 180 |
| Brunei | 79 |
| Burkina Faso | 1 |
| Cambodia | 6 |
| Canada | 2 |
| Chile | 97 |
| China | 228 |
| Colombia | 52 |
| Costa Rica | 108 |
| East Africa | 1 |
| East Pakistan | 24 |
| Ecuador | 37 |
| Egypt | 39 |
| Ethiopia | 168 |
| Fiji | 31 |
| France | 1 |
| Gambia | 18 |
| Germany | 1 |
| Great Britain | 6 |
| India | 483 |
| Indonesia | 411 |
| Iran | 20 |
| Italy | 2 |
| Ivory Coast (Cote d'Ivoire) | 17 |
| Japan | 748 |
| Kenya | 142 |
| Kinabalu (Malaysia) | 5 |
| Korea | 2 |
| Madagascar | 59 |
| Malaysia | 1026 |
| Mali | 6 |
| Mauritius | 14 |
| Mexico | 1 |
| Morocco | 17 |
| Myanmar | 67 |
| Nepal | 35 |
| Netherlands | 5 |
| New Caledonia (France) | 19 |
| Niger | 30 |
| Nigeria | 49 |
| Pakistan | 130 |
| Papua New Guinea | 29 |
| Paraguay | 13 |
| Peru | 860 |
| Philippines | 235 |
| Portugal | 2 |
| Reunion (France) | 5 |
| Senegal | 20 |
| Sierra Leone | 20 |
| Singapore | 10 |
| Solomon | 127 |
| South Asia Federation | 1 |
| Spain | 6 |
| Sri Lanka | 249 |
| Sudan | 24 |
| Syria | 114 |
| Taiwan | 9 |
| Tanzania | 7 |
| Thailand | 3783 |
| Tonga | 99 |
| Tunisia | 25 |
| Turkey | 100 |
| Upper Volta (Ghana) | 1 |
| USA | 7 |
| Vanuatu | 65 |
| Vietnam | 149 |
| Western Samoa | 76 |
| Zaire | 1 |
| Zimbabwe | 44 |
Number of film sheets (slides) produced by decade
| Recording years/period | Number of sheets/slides |
| --- | --- |
| 1950-1959 | 11 |
| 1961-1969 | 321 |
| 1970-1979 | 852 |
| 1980-1989 | 5484 |
| 1990-1999 | 3136 |
| unknown | 2612 |