Laboratory manual for studies on soybean rust resistance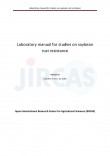 About the copyright and the notice with regard to use
The copyright of this manual belongs to Japan International Research Center for Agricultural Sciences (JIRCAS). This manual may not be modified or copied in whole or in part without the permission of JIRCAS (headquarters: 1-1, Ohwashi, Tsukuba, Ibaraki 305-8686, Japan), except for brief excerpts in connection with reviews or academic activities. In case you make the research results based on this manual public via articles, meetings, print, Internet, etc., you must cite this manual and its URL. In addition, please contact us through this form.
The experimental data in this manual were obtained by the methods in it, however, they may fluctuate according to the differences in cultivation conditions. Please be aware that the contents of the manual will be periodically updated and check the date and the version of the downloaded manual. In case you have any questions or comments regarding for this manual, please mail to us through this form.
Please download the files if you confirm and agree to the above conditions. This manual was made through the collaborative research project "Development of Management Technologies against Migrating Pests and Diseases over Countries."
About the content of update
Version 26 ( Updated in July 21, 2021): Updated information on the severity scale, spray inoculation, and version information etc.
Last updated: June 21, 2021
Published: July 16, 2013