Impact Assessment of Rice Research: Issues and Challenges
JIRCAS International Symposium Proceedings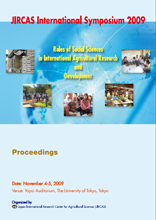 The economic impact of past rice research has been established to be high in terms
of the rate of returns on investments. Nevertheless, considerable opportunities exist for
further enhancing the impact, in both irrigated and rainfed environments. The
presentation provides an overview of the magnitude of the past impact, strategies for
increasing impact in the future, and methodological challenges in assessing the future
impact, as other indicators such as environmental and poverty impacts are also
considered in addition to the usual production gains.
| | |
| --- | --- |
| Date of issued | |
| Creator | Sushil Pandey |
| Publisher | Japan International Research Center for Agricultural Sciences |
| Available Online | |
| Issue | 2009 |
| spage | 107 |
| epage | 111 |
| Rights | Japan International Research Center for Agricultural Sciences |
| Language | eng |