High-yielding Technologies in China
JIRCAS International Symposium Proceedings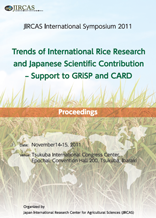 Increasing crop yield is a major challenge for modern agriculture. In China hybrid rice has contributed greatly
to the self-sufficiency of food supply. To meet the future demand for rice production, a series of national
programs on super-rice breeding, functional genomics and GM breeding have been established in China since
1996. We have cloned some important high yield-related genes, IPA1 (Ideal Plant Architecture 1),
DEP1(dense and erect panicle 1), GIF1(grain-filling 1), Ghd7(grain weight, plant height and heading date)
and GW2(grain width 2). The development of new plant type of IPA, has been proposed as a means to
enhance rice yield potential over that of existing high-yield varieties. IPA1, a semidominant quantitative trait
locus, profoundly changes rice plant architecture and substantially enhances rice grain yield. IPA1 encodes
OsSPL14 (SOUAMOSA PROMOTER BINDING PROTEIN-LIKE 14) and is regulated by microRNA
(miRNA) OsmiR156 in vivo. We demonstrate that a point mutation in OsSPL14 perturbs OsmiR156-directed
regulation of OsSPL14, generating an 'ideal' rice plant with a reduced tiller number, increased lodging
resistance and enhanced grain yield. So these yield genes have been used in super-rice and GM breeding to
improve rice grain yield. Actual yield of a japonica rice variety XS11-ipa1 could increase 10% over its CK
XS11.
Date of issued
Creator

Qian Qian

Subject

rice

yield

IPA1 gene

cloning

super-rice breeding

Publisher

Japan International Research Center for Agricultural Sciences

Available Online
Issue
2011
spage
137
epage
145
Rights
Japan International Research Center for Agricultural Sciences
Language
eng